Hall of Honor
History of the Hall of Honor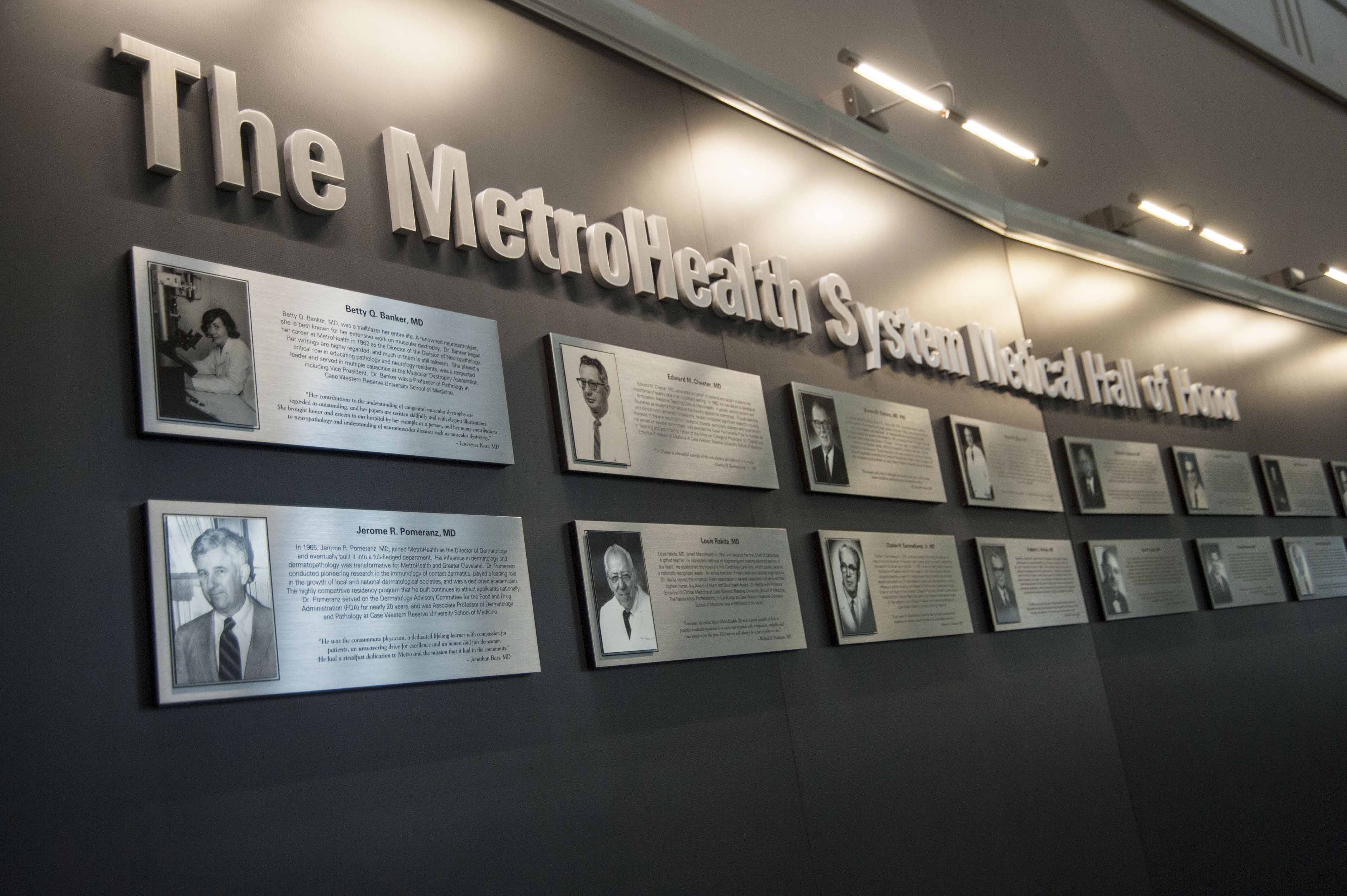 The MetroHealth Medical Hall of Honor pays tribute to individuals who have transformed MetroHealth and the practice of medicine.
The Hall of Honor was established in 2011 to mark MetroHealth's 175th anniversary. Over 140 letters of nomination were received from alumni, faculty and former faculty. A distinguished panel of MetroHealth physicians and volunteer leaders evaluated the nominations using a prescribed set of criteria and a rigorous rating system.
Honorees demonstrate academic excellence and superior evidence of innovation in medical education, research, patient care and/or health care management.
Twenty individuals were selected for the first class of the Hall of Honor. They were officially inducted at The Champions Ball on October 15, 2011.
The unveiling of the Hall of Honor, on May 16, 2013, was attended by several of the inductees, their families and friends. You can find the Hall of Honor in the Rammelkamp Atrium, where its engraved plaques provide testament to the visionary work of these MetroHealth luminaries.
2022 Nominations
2017 Inductees
MetroHealth is pleased to announce that eight individuals have been selected as 2017 inductees to the MetroHealth Medical Hall of Honor. The honorees are the third class of inductees to the Hall of Honor.
MetroHealth alumni, faculty and former faculty submitted more than 40 letters of nomination, which were reviewed by a selection committee comprised of MetroHealth physicians.
Read more about the 2017 class.
Robert C. Bahler, MD
Alfred F. Connors Jr., MD
Alvin A. Freehafer, MD
Jerome I. Kleinerman, MD
John H. Lowman, MD
Mark A. Malangoni, MD
Anthony S. Tavill, MD
John A. Toomey, MD
2014 Inductees
Read more about the second class of the MetroHealth Medical Hall of Honor:
Kenneth W. Clement, MD
Leroy J. Dierker, MD
Carl A. Hamann, MD
Muhammad Asim Khan, MD
Mary L. Kumar, MD
Ulysses G. Mason Jr., MD
Emma K. Plank
David S. Rosenbaum, MD
2011 Inductees
Learn more about the inaugural class of the MetroHealth Medical Hall of Honor:
Betty Q. Banker, MD
Edward M. Chester, MD
Brown M. Dobyns, MD, PhD
Robert M. Eiben, MD
Richard B. Fratianne, MD
John W. Harris, MD
Howard Karsner, MD
Irving Kushner, MD
Henry Manning
Edward G. Mansour, MD
Jerome R. Pomeranz, MD
Louis Rakita, MD
Charles H. Rammelkamp Jr., MD
Frederick C. Robbins, MD
Roy W. Scott, MD
Fiorindo Simeone, MD
Robert M. Stecher, MD
Maurice Victor, MD
Robert J. White, MD, PhD
Emanuel Wolinsky, MD