Social Work
The MetroHealth Social Work team advocates for patients and families and assists them in obtaining resources, solving problems and adjusting to new and difficult circumstances.
To schedule an appointment, call 216-778-5551.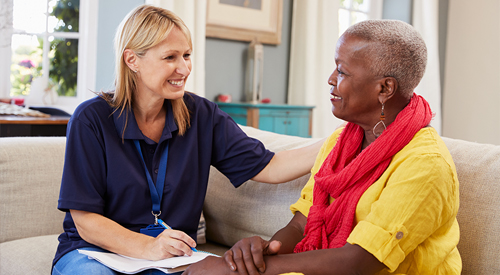 Social Work
MetroHealth social workers are master's-level practitioners who are experienced and licensed by the state of Ohio. They advocate for patients and families and assist them in obtaining resources, solving problems and adjusting to new and difficult circumstances.
Our Core Values
Commitment to the social work profession
Advocating on behalf of vulnerable clients
Maintaining strong collaborative relationships within The MetroHealth System and with key community agencies and institutions
Our Services
The following services can be requested by a patient or by a family member, healthcare provider or community agency working with a patient:
Discharge Planning: Coordinating discharge to appropriate level of care and helping to ease the transition to a new environment.
Crisis Intervention: Assisting patient and family in managing immediate problem, coping and making decisions while dealing with a traumatic event.
Psychosocial Assessment: Obtaining information regarding patient's development, history and functional capacity within the community to identify factors that could impact patient's recovery or compliance with medical plan.
Short Term Counseling: Addressing issues such as grief, caregiver support, domestic violence, sexual assault, pregnancy, substance abuse, mental health and behavior problems and referring to appropriate agency for follow up.
Referral to Community Resources: Linking patient to community resources based on identification of need.
Medicaid and Disability: Providing patients/families with what they need to access services.
Medication Assistance: Assisting patients in determining the most economical means of obtaining medications.
Consultation: Providing healthcare team with psychosocial information and recommendations to assist with medical management and planning.
Advanced Directives/Guardianship: Providing assistance in completing the Health Care Power of Attorney process and living wills, as well as information and guidance regarding guardianship, custody issues and adoption.
Quick Links
Additional Resources