News and Events
November 2022
PHRI Collaborating Faculty, Katie Davis, named to Crain's Forty under 40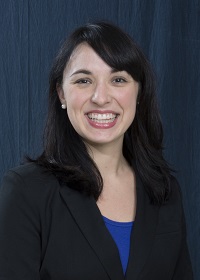 Congratulations to Katie Davis, MSN, RN, PHNA-BC, for just been named to Crain's Forty under 40.
Katie is a recent addition to the PHRI collaborating faculty and this fall received a HRSA grant focused on Community Health Workers along with Aleece Caron. The Crain's profile of Davis described her dedication:
"Davis' passion, combined with her professional competence and expertise, makes her a dynamic leader and a great peer," said Susan Fuehrer, president of MetroHealth's Institute for H.O.P.E., which houses the school health program. "Immediately anyone that meets her, you just immediately know she's a superstar," she said. "She is 1,000% committed to helping kids and families of kids get easy access to health care."
Read more about the Crain's "Forty Under 40" for 2022.
October 2022
Dr. Neal Dawson given the Distinguished Service Award from the Society for Medical Decision Making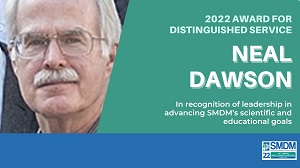 Dr. Neal Dawson, longtime faculty member of the Center for Healthcare Research and Policy, was recently awarded the 2022 Distinguished Service Award from the Society for Medical Decision Making.
The SMDM Award for Distinguished Service recognizes service to SMDM in terms of leadership, role in the operations of the Society, and contributions to the scientific and educational activities of the Society. Dr. Dawson has been a member of the SMDM since 1987 and has held several roles within the society throughout his career including coordinator and subcommittee member for teaching, outreach health care outcomes & cost effectiveness and mentorship. He has been an Emeritus member since 2014 as he continues to remain involved and active within the SMDM and CHRP.
Founded in 1979, the Society for Medical Decision Making is an international, interdisciplinary society dedicated to the study and improvement of all aspects of medical decision making. SMDM's mission is to improve health outcomes through the advancement of proactive systematic approaches to clinical decision making and policy-formation in health care by providing a scholarly forum that connects and educates researchers, providers, policy-makers, and the public.
Previous recipients of the SMDM Award for Distinguished Service include:
Lee Lusted, MD; Stephen Pauker, MD; Dennis Fryback, PhD; J. Robert Beck, MD; Robert Wigton, MD; Robert Centor, MD; Milton Weinstein, PhD; John Clarke, MD; Michael J. Barry, MD; Margaret Holmes-Rovner, PhD; David Rovner, MD; Sankey Williams, MD; Roy Poses, MD; Arthur Elstein, PhD; Frank A. Sonnenberg, MD; John C. Hershey, PhD; Joel Tsevat, MD; Bruce E. Hillner, MD; Myriam Hunink, M.D., Ph.D., Kathryn McDonald. MM.; Michael Kattan, PhD; John Wong, MD, Mark Helfand, MD, MPH, David Sugano, PhD, Scott Cantor, PhD, Mark Eckman, MD, Karen Kuntz, ScD, Anne Stiggelbout, PhD, Marilyn Schapira, MD, MPH, Uwe Siebert, MD, MPH, MSc, ScD, Murray Krahn, MD, MSc, FRCPC, Alan Schwartz, PhD, Ahmed Bayoumi, MD, MSc; Angie Fagerlin, PhD and Robert Hamm, PhD
10/20/2022
New Techniques for Modeling Health Inequalities Published by PHRI Researchers and Collaborators
A team of researchers in the Population Health Research Institute (Drs. Kristen Berg, Douglas Gunzler, Douglas Einstadter and Adam Perzynski) recently collaborated with our Cleveland Clinic colleagues (as part of the NEOCARE project) to publish a paper (PDF attached) on methods for analyzing neighborhood health inequality using electronic health records. Our paper describes new techniques for modeling health inequalities with several examples drawing from combined data covering more than 3 million patients at our two institutions.
We state, "Ongoing improvements in the quality, scale, and accessibility of EHR data and corresponding methodological advances provide an unprecedented opportunity for high-resolution insights into the mechanisms of social and neighborhood-level health disparities." Our work provides practical solutions to some of the challenges encountered in this type of analysis.
The paper is part of a special issue on EHR research published by Medical Decision Making and can be viewed here.
10/10/2022
MetroHealth is Lead Partner on a $2 Million NIA Study for a Device that Recognizes the Need to Intake Water (Code Name: D.R.INK Band)
Mary Joan Roach (MetroHealth Population Health Research Institute and Dept. of Physical Medicine & Rehabilitation), Joseph Piktel (MetroHealth Department of Emergency Medicine) and Mr. Eamon Johnson (CEO of TritonX ) are Multiple PIs for a STTR (R42) Award from the National Institute on Aging, "Clinical Effectiveness of a Wearable Hydration Device." This is a $2 million project for which MetroHealth is the lead academic partner in a clinical trial and commercialization project for a Device that Recognizes the Need to Intake Water (currently code named the D.R.INK band). The project has two phases; in Phase 1, we will conduct a comparative study of the device among acutely ill dehydrated older adults being cared for in the emergency department and in Phase 2, we will conduct a clinical trial of continuous home monitoring of fluid levels among patients returning home after an acute care episode for dehydration.
The PIs are joined by Adam Perzynski from the MetroHealth Population Health Research Institute, Lance Wilson from the MetroHealth Department of Emergency Medicine, and Nathan Makowski from the MetroHealth Center for Rehabilitation Research as Co-Investigators on the project.
9/28/2022
Teaching Students to Teach About Stroke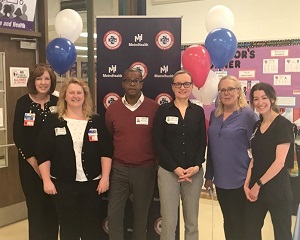 Inadequate stroke prevention and stroke symptom identification delays contribute to higher stroke incidence and worse outcome in African American patients and those living in disadvantaged communities.
Dr. Agnieszka Ardelt, Chair of Neurology at MetroHealth, and her team were funded by the Population Health Research Institute's Pilot Grant Program to investigate whether high school students make good teachers. Sophomore Lincoln West High School students (Student Teachers) were taught to teach Junior and Senior students (Student Learners) about stroke.
The project goal to increase awareness of stroke risk factors and stroke signs/symptoms/call 911 in an urban high school was met. Thirty-three Student Learners showed significant improvement on post-tests as well as retention tests one-month later.
Dr. Ardelt will continue this stroke education program with Lincoln West High School next year with a plan to roll it out to additional Cleveland-area high schools subsequently.
Pictured above from left to right are individuals who contributed to the project: Robynn Cox, Manager of the MetroHealth Stroke Program; Julie Fisher, Lead for Coverdell Stroke Program; Steve Lewis, Statistician; Dr. Ardelt, Principal Investigator; Alice Liskay, Project Coordinator and Jacqueline Bucci, Physical Therapist.
9/28/2021
Virtual Care Adoption—Challenges and Opportunities From the Lens of Academic Primary Care Practitioners
New research article co-authored by Dr. Aleece Caron.
Telehealth and virtual care have quickly become important tools in caring for patients while the COVID-19 pandemic evolves. Telehealth implementation can increase affordability for patients, eliminate access barriers, and improve patient satisfaction. Multiple challenges to successful telehealth implementation have been documented in the literature and are generally categorized as structural barriers of the health system, clinical barriers of the provider, and patient-centered barriers.
In this study, we sought to collect themes and observations about this rapid transition to telehealth from practicing primary care clinicians, with the goal of identifying opportunities to improve adoption of telehealth. Participants identified 5 major themes that affected telehealth delivery in an academic medical system: Reimbursement and productivity, Social determinants of health (SDOH), Privacy, Environment of care concerns, and Teaching and communication skills.
The publication link can be found here.
9/9/2022
An Epic day for Dr. David Kaelber
David Kaelber, MD, PhD, MPH, is one of the fiercest champions of the Epic electronic health record at The MetroHealth System and, perhaps, even the world.
So, to be invited on stage at Epic's recent Users Group Meeting (UGM) at the company's headquarters in Wisconsin was certainly the thrill of a lifetime.
"This was an amazing opportunity for me and MetroHealth to be the first healthcare system to do a live demonstration connecting two Epic systems during Epic's annual UGM," said Dr. Kaelber, MetroHealth's Chief Medical Informatics Officer and Vice President of Health Informatics and Patient Engagement Technologies. "MetroHealth was chosen to participate in this live demonstration because of our over 20-year relationship with Epic and over 10-year involvement in using the Epic electronic health record for ground-breaking research."
Epic's UGM is the electronic health record software provider's major annual conference in Verona, Wisc., attended by thousands of healthcare and information technology professionals from around the globe.
Dr. Kaelber was invited on stage by Phil Lindemann, Epic's Vice President of Business Intelligence, to demonstrate a new feature coming soon to Cosmos – the largest set of de-identified electronic health record data ever assembled.
Under Dr. Kaelber's leadership, MetroHealth was the first health system to sign-up for Epic's Cosmos project, the first to contribute data and first to publish research using Cosmos. Today, Cosmos contains data for more than 160 million patients worldwide.
Traditionally, only Epic executives take the stage during the main-stage presentation, which kicks off with an address from Epic's CEO, Judy Faulkner. But with Lindemann, Dr. Kaelber demonstrated a new feature in Cosmos that will make it significantly easier for health systems like MetroHealth to connect patients with multi-site clinical trials. This will enable patients at MetroHealth and beyond to access groundbreaking medical treatments more quickly.
Traditionally, a clinical trial's organizer, for example, would manually query individual health systems that would then have to sort through their own data to identify qualifying patients – a process that could take weeks. With Cosmos, identifying possible patients for a trial would take only seconds.
"Few people have the excitement and passion to change the world for the better like David does," said Lindemann. "He is an excellent ambassador for how both MetroHealth and the Cosmos research community are working to improve health care."
Under Dr. Kaelber's watch, MetroHealth has become one of Epic's most advanced users. Having earned HIMSS' Stage 7 validation and the prestigious Davies Award, MetroHealth ranks among the top 1% of health systems in terms of electronic health record implementation and use. In fact, MetroHealth was one of the first public health systems to install the Epic electronic health record.
Dr. Kaelber has also led the team that has empowered hundreds of thousands of patients to take control of their health. To date, more than 325,000 MetroHealth patients (top 10% of all Epic public/safety-net healthcare systems) have signed up for MyChart, MetroHealth's electronic personal health record. With MyChart, patients can communicate with their providers, self-schedule appointments, refill medications, view their test results and more.
8/9/2022
Population Health Research Institute Pilot Grants Awarded to Dr. Juan Pablo del Rincon Jarero and Dr. Michael Kelly
The Population Health Research Institute Pilot Grant Program for the 2022-2013 cycle has been awarded to two MetroHealth faculty researchers. This cycle's awardees are Juan P. del Rincon Jarero, MD; Biopsychosocial vulnerability in a gender diverse population: Understanding lower urinary tract symptoms and social needs, and Michael Kelly, MD; Reconciling Cardiovascular and Trauma Risk Among Older Adults.
Dr. del Rincon Jarero's project will look at the relationships between hormone treatment and lower urinary tract symptoms (LUTS), and additional biological, behavioral, psychological, and socioeconomic factors. We will also investigate key variables involved in the well-being of transgender populations, including social determinants of health and quality of life. Dr. Kelly's project will develop a risk model that includes multiple characteristics of pre-injury patient reported health status to estimate the risk of trauma events among people taking anticoagulation therapy. Learn more here.
6/2022
Dr. Kaelber Awarded NIH Grant to Focus on Oral Health Disparities
David Kaelber, MD, PhD and collaborators, Greg Heintschel, DDS of MetroHealth and Suchitra Nelson, PhD (PI) at the CWRU School of Dental medicine have been awarded a 2-year NIH-NIDCR grant for $695,000. The project, titled "Multi-Level Interventions to Reduce Oral Health Disparities Among Adults in Primary Care Settings" which will test innovative interventions at the practice and provider levels to increase dental attendance and improve overall health and quality of life for adults aged ≥ 55 years attending primary care visits at MetroHealth and 10 diverse regional practices. If successful, there is potential for the 2-year pilot to transition to a 5-year $6.4 million dollar project to reduce oral health disparities.
6/2022
Dr. Gaglioti Presents at National Academy of Medicine Workshop
Anne Gaglioti spoke at a National Academy of Medicine workshop on June 17, 2022, aimed at speaking to AHRQ-PCORI-ASPE about how they should use their funds to advance health equity. Anne's talk was focused on patient engaged work centered at National Center for Primary Care at the Morehouse School of Medicine.
The link to the workshop can be found here.
6/14/2022
Dr. Sajatovic Receives AHA Grant
Long-time collaborator, Martha Sajatovic, MD and her colleagues Jennifer Levin, PhD and Danette Conklin, PhD have received a new one-year grant from the American Heart Association (AHA). The project titled "RCT of a Remote Self-management Program (TEAM-Red) for Young Depressed African American Women at Risk for Hypertension" looks to evaluate the role of health-related social needs (HRSN) in hypertension outcomes in women at risk.
5/2022
Final Round of CRHD Pilot Grants Awarded
The Center for Reducing Health Disparities have awarded five early-stage investigators $50,000 for projects utilizing community engaged approaches to reduce health disparities. This investigator development program is part of the center's U54 grant through the NIMHD and has awarded 3-5 pilots annually since 2018 to help provide both funding and mentorship to young investigators affiliated with Case Western Reserve University. The awardees include Dr. Kirsten Eom (PHRI); Dr. Elliane Irani (CWRU- Nursing); Dr. Erika Kelley (University Hospitals); Dr. Maeve Macmurdo (Cleveland Clinic – Respiratory Institute) and Dr. Brittany Meyers (MetroHealth - Psychiatry). More details about each investigator, project and partner can be found here: Round 5.
4/22/2022
Congratulations to Thomas Love, PhD, and Douglas Gunzler, PhD, both elected to ASA leadership roles
Thomas E. Love, PhD, was elected as the 2023 Chair-Elect of the American Statistical Association's Council of Sections Governing Board. He will serve as Chair of this Board in 2024.
Douglas Gunzler, PhD, MA, was elected 2023 Chair-Elect of the Mental Health Statistics Section and will serve as its Chair in 2024.
The American Statistical Association (ASA) is the world's largest community of statisticians, the "Big Tent for Statistics." It is the second oldest, continuously operating professional association in the country. Since it was founded in Boston in 1839, the ASA has supported excellence in the development, application, and dissemination of statistical science.
The Council of Sections facilitates exchange and coordination across multiple association sections representing a wide range of professions from biomedical research to defense and economics.
Learn more about the Council of Sections
Learn more about the Mental Health Statistics Section
3/31/2022
Dr. Aleece Caron Presented Workshop at the Central Group on Education Affairs (CGEA)
Aleece Caron, PhD was selected and presented a virtual workshop entitled: "Something for Everyone: How Continuing Professional Development Can Advance Your Educational Goals" at the Central Group on Educational Affairs annual meeting on March 31, 2022.
3/28/2022
Welcome Ms. Jacqueline Dolata!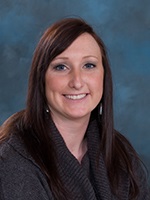 We would like to welcome Ms. Jacqueline Dolata into her new role as the Population Health Research Institute (PHRI) Manager beginning Monday March 28th, 2022. Ms. Dolata has been working in research for over 15 years at MetroHealth and has been serving as Manager for the Center for Reducing Health Disparities for over 5 years.
Ms. Dolata received her MBA from Baldwin Wallace University and brings a wealth of passion and commitment toward population health research, staff development, and leadership. She will be modifying her time and effort on current grants over the next 6-12 months to ensure a smooth transition and we look forward to having even stronger cohesion and leadership support across our Centers.
3/17/2022
Dr. David Kaelber was Site Lead for Recently Published Asthma Study in New England Journal of Medicine
Dr. David Kaelber, CCIRE Director, was a site lead for MetroHealth in a recently published study in The New England Journal of Medicine entitled Reliever-Triggered Inhaled Glucocorticoid in Black and Latinx Adults with Asthma - PubMed (nih.gov). In this study, African American and Hispanic patients with asthma received one-time instruction to use inhaled corticosteroids (ICS) when they used their asthma reliever (in addition to whatever medications they were taking for asthma). This new use of ICS, not commonly studied in minority populations, decreased the risk of severe asthma exacerbations by 15%, reduced asthma symptoms, days of work missed and hospitalizations. MetroHealth participated as one of the top recruitment sites in the multi-centered population trial, providing more than 100 patients for the study with substantial benefits to our patient population.
3/11/2022
Dr. Aleece Caron has New Publications Out
Dr. Aleece Caron and Stephanie Kanuch were co-authors on one publication to assess the impact of patient education and shared decision making on influenza vaccination rates in outpatient care clinic (Beachwood) titled Improving Influenza Vaccination Rates in an Underserved Primary Care Clinic Using a Simple Educational Tool. It was recently published in Quality Management in Health Care.
Another of her publications titled "Virtual Care Adoption - Challenges and Opportunities from the Lens of Academic Primary Care Practitioners" was just accepted by the Journal of Public Health Management and Practice. It explores the use and challenges of implementing virtual visits during COVID-19 in primary care and identifying opportunities to improve virtual care.
3/11/2022
Dr. Kristen Berg Publishes Manuscript Examining Consequences of Witnessing Intimate Partner Violence for Children's Physiological Functioning
Dr. Kristen Berg recently published a systematic literature review in collaboration with colleagues at Case Western Reserve University's Center on Trauma and Adversity and Department of Psychological Sciences. This manuscript examined how witnessing intimate partner violence (i.e., domestic violence) affects children's physiological functioning and is one in a series published as a special section in the Journal of Family Violence.
Findings suggest that exposure to intimate partner violence may have a deleterious effect on children's endocrine, nervous, cardiovascular, and immune functioning, and that those physiological effects may render children more vulnerable to behavioral or physical health problems in the context of violence exposure. The publication link can be found here.
3/11/2022
Dr. Kristen Berg to Participate in Northwest University's Summer Institute on Biological Approaches in the Social Sciences (SIBASS)
Kristen Berg, PhD was selected by the Russell Sage Foundation (RSF) to participate in their 2022 week-long Summer Institute on Biological Approaches in the Social Sciences (SIBASS) to be held this upcoming June at Northwestern University. RSF's interest in her application was partly based upon her PHRI pilot award and the biosocial work among young MetroHealth patients it has supported.
3/11/2022
World Kidney Day Podcast
The Center for Reducing Health Disparities' Erika Hood M.Ed. sat down on World Kidney Day with Ann Huml, MD and Marquisha Marbury to talk about kidney health and organ donation, on this month's Point Blank Podcast.
3/11/2022
Center for Reducing Health Disparities hosted 3rd annual Research Collaboration Occasion (RCO)
On Thursday, March 10th, the Center for Reducing Health Disparities (CRHD) hosted its 3rd annual Research Collaboration Occasion (RCO). The RCO is an opportunity for all the passionate partners of the Center to meet with our pilot awardees, and their study teams, to talk all things dissemination! The goal of this event is to create impactful and novel ways to disseminate study findings and resources to the broader community. Our network of community experts and stakeholders helped to guide dissemination ideas for our 8 current pilot projects. Special guest, Chris Benninger, who is the founder and CEO of Your Story on Film, spoke to participants about innovative ways that his company has created to speak to various audiences.
3/10/2022
Dr. Adam Perzynski Selected as Google Cloud Research Innovator
Congratulations to Center for Health Care Research and Policy faculty, Adam Perzynski, PhD, who was recently selected as a Google Cloud Research Innovator. This is a global community of researchers using cloud-based big data resources to drive scientific breakthroughs.
3/7/2022
Dr. Mary Jo Roach Served on Expert Panel for Spine Injury
Mary Jo Roach, PhD served on the expert panel for the newly released Practice Guidelines for Spine Injury by The American College of Surgeons, Trauma Quality Program. This updated information is critical to health care professionals as they make treatment decisions with their patients.
3/7/2022
The MetroHealth School Health Program
The MetroHealth System will be able to increase its comprehensive school-based health services with two school district partners, expand health clinics in Cleveland schools and begin to offer dental care in some schools thanks to a new state grant of nearly $4.5 million. The MetroHealth School Health Program – part of the Institute for H.O.P.E.™ – was the largest single recipient among the $25.9 million awarded for 136 new or expanded School-Based Health Centers throughout Ohio. The MetroHealth School Health Program was developed to make sure all children get the health care they need, including children who may not have access to a health care provider. It brings the power of MetroHealth to a very convenient place: a child's school.
3/1/2022
Annual PHRI Awards
This year, we started a new tradition of faculty and staff awards in the categories listed below. Please help congratulate them with us. Congratulations to all our PHRI award winners!!!
Above and Beyond Staff Award – Ms. Maria Zebrowski went above and beyond in so many ways that we could not count them all. Our place would crash and burn without you! Thank you!!!
Community Partnership Award - Aleece Caron PhD; Adam Perzynski PhD; Doug Einstadter MD, MPH; Eileen Seeholzer MD, MS; Stephanie Kanuch MEd. Nominated by: Neighborhood Family Practice, Care Alliance and Signature Health for the team's dedication to changing their curriculum to meet their community of practices' needs during COVID. The work by participants has led to improved care practices among many primary care sites throughout the community. To learn more about the Training Primary Care Champions grant, visit Current Research Projects | The MetroHealth System

.

Dissemination Award

(highest cited PHRI paper published in the last 5 years using SCOPUS) – Perzynski AT, Roach MJ, Shick S, Callahan B, Gunzler D, Cebul R, Kaelber DC, Huml A, Thornton JD, Einstadter D. Patient portals and broadband internet inequality. J Am Med Inform Assoc. 2017 Sep 1;24(5):927-932. doi: 10.1093/jamia/ocx020.
2/4/2022
Dr. Ash Sehgal Discusses How Climate Change Impacts Health
Dr. Sehgal, co-Director of the Center for Reducing Health Disparities, was quoted in the Plain Dealer discussing how climate change impacts health. If you are interested in learning more, you can register for the Case Western Reserve University course on Climate Change which is offered annually.
2/2/22
The National Clinical Care Commission (NCCC) Announces Recommendations for Improving Federal Diabetes Prevention and Treatment Programs
Dr. Bolen, Director of the Population Health Research Institute, recently completed a 3-year term on The National Clinical Care Commission (NCCC). She was selected as one of 14 non-governmental employees along with 13 governmental employees to outline evidence-based, actionable recommendations to improve federal diabetes awareness, prevention and treatment programs. The National Clinical Care Commission, a federal advisory committee, has released its final report to Congress outlining these recommendations.
The Commission's report — the first of its kind since 1975 — calls for additional federal efforts to improve access to health care, address the social determinants of health, and improve collaboration among different federal agencies.
Download and read the full report: National Clinical Care Commission Issues Final Report on Improving Diabetes Prevention and Treatment - News & Events | health.gov