Expert Ear, Nose and Throat Care in Northeast Ohio
Medical and surgical expertise from our caring team of providers in the treatment of ear, nose, & throat disorders and common head & neck issues.
To schedule an appointment, call 216-778-5791.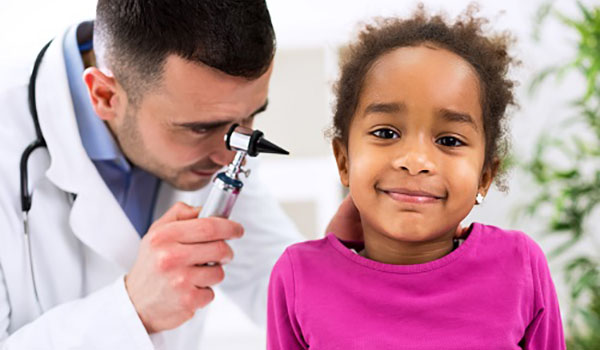 Swallowing Disorders
Difficulty swallowing, also called dysphagia, is a widespread disorder that affects millions of Americans. At times, symptoms can be temporary, or due solely to anxiety, while other times dysphagia can be much more serious. When food or secretions (saliva) enter the lungs, initial dysphagia often results in the breathing in of particles, which can lead to pneumonia. In either case, the Department of Otolaryngology-Head and Neck Surgery and the other specialists at MetroHealth Medical Center are uniquely qualified to answer any questions you may have about swallowing disorders.
Causes of Swallowing Disorders
Strokes. Having a stroke is a major cause of most of the 300,000 to 600,000 new cases of dysphagia diagnosed each year.
Other neurological conditions (e.g., Parkinson's Disease, Lou Gehrig's Disease)
Head and neck trauma
Throat cancer
Neck arthritis
Certain medications, such as tranquilizers
Pills or foreign bodies being stuck in the food pipe
Infections, such as sore throats
Newborns and small children who have a difficult time eating or are experiencing unexplained coughing should also be thoroughly evaluated for congenital or neurological causes, in addition to others.
Managing Swallowing Disorders
Since the treatments for dysphagia vary based on the cause of the disorder, more than one type of specialist may be involved. To initially identify the cause of swallowing difficulties, physicians — generally an ENT specialist — will place a small, flexible tube down the patient's throat; the tube enables the doctor to get a closer view of potential disorders. As an integral part of the swallowing team, the speech-language pathologist may be consulted to help evaluate swallowing, along with the radiologist. They work together to perform what's called a modified barium swallow, where the patient is orally given radio-opaque dye so that the swallowing function can be observed by viewing an on-screen image of the neck. MetroHealth Medical Center prides itself on the excellent relationships present between all specialists involved in treating swallowing problems.
If you have difficulty swallowing, and would like to schedule an appointment, please call MetroHealth's Department of Otolaryngology at 216-778-8890.