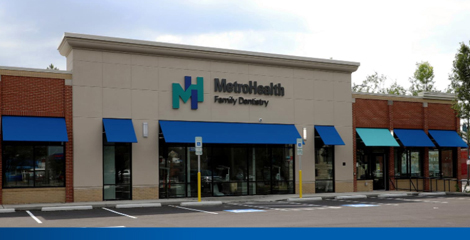 Family Dentistry Services Now In Ohio City
Ohio City Family Dentistry is located at 3701 Lorain Avenue near the corner of Lorain and Fulton.
This location is in a separate building a half -mile down the street from the MetroHealth Ohio City Health Center, and just a few miles from Main Campus Medical Center.
Services: Adult Family Dentistry, Pediatric Dentistry, and Dental Imaging
Learn more
Pediatric Dentistry
To make an appointment with Pediatric Dentistry, please call Ohio City Family Dentistry at 216-778-4725.
Compassionate Care for Kids of All Ages
Tooth decay is one of the most common childhood conditions in the United States. Thankfully, routine care can keep dental problems at bay. And comprehensive dental services can help kids avoid tooth problems that could impact their ability to eat, speak, play and learn.
Pediatric Dentistry You Can Trust
Whether it's time for a routine checkup or a complex procedure, we can help. Our pediatric dentistry services include:
Exams
Teeth cleaning
Dental x-rays
Fluoride treatments
Dental sealants
Silver and tooth-colored fillings
Stainless steel crowns
No matter what type of dental care is needed, your family will be warmly welcomed. Our dentists love working with kids, and they're exceptional communicators. We'll explain everything we find in an exam, and if your child needs a procedure, we'll explain your options carefully.
What Makes Us Special
It's not hard to find a dentist. But finding one who specializes in pediatric dentistry and works in a hospital environment isn't easy.
At MetroHealth, our pediatric dentistry team understands the challenges of dental care for kids. And since we're part of the larger MetroHealth community, we have numerous resources at our fingertips.
We can manage medically complex cases. And our specially trained team can use sedation and general anesthesia when needed. We're able to offer this special care thanks to our hospital setting and the expertise of our dentists. And you don't need a referral – we welcome your family to reach out to us directly.
Our Doctors/Medical Providers