Allergy and Immunology
MetroHealth's Allergy and Immunology Clinic helps diagnose and treat allergy and asthma symptoms.
To schedule an appointment, call 216-778-2213. Referrals are not required.
Allergy and Immunology Clinic
Our physicians are board-certified or board-eligible, with backgrounds in internal medicine, pediatrics or both. They've received specialized training in allergy treatment and immune system disorders, and provide expert care with open communication. After every appointment with our team, you'll know more about what's causing your symptoms and what you can do to feel better.
MetroHealth's registered nurses answer calls, perform tests and communicate with our patients. Well-educated and routinely evaluated, their role in your care makes us different from other allergy clinics, where only a medical assistant might manage your care.
Allergy Symptoms
Allergy symptoms such as hay fever (allergic rhinitis) or allergy-induced asthma affect your health and quality of life. People come to our clinic with a variety of symptoms, including:
dermatitis
runny nose
sneezing
itchy eyes, mouth or skin
hives
food or drug allergies
recurring sinusitis
Comprehensive Allergy Testing
Allergy and asthma symptoms can mimic the symptoms associated with other conditions, including colds and some infections. The triggers that set off allergy symptoms in one person leave another person unaffected. That's why allergy testing is so important. The most common allergy tests are skin pricks and intradermal tests.
Skin Prick (Epicutaneous) Test: a drop of solution is placed on the skin. The solution contains an allergen.
Intradermal Test: a small amount of an allergen is injected into the skin.
These tests help determine your allergies and their severity. The Allergy and Immunology Clinic also performs tests for asthma and immune deficiencies. We use a breathing test called spirometry to diagnose asthma. To check for immune deficiencies, we perform a series of blood and skin tests. These help us monitor and evaluate your health.
MetroHealth allergists have access to advanced diagnostic tools. Our allergists and immunologists work closely with doctors in other departments, and can refer you to additional specialists as needed.
Allergy Treatment Options
Many people with allergies benefit from medications that treat the symptoms of an allergy, not the underlying cause. Allergen Immunotherapy (or "allergy shots") can decrease allergic reactions over time, treating the immune system itself.
We also teach you how to:
Reduce your exposure to common indoor allergens
Manage outdoor activities, to reduce exposure to pollens
Amend your diet, if food allergies are a problem
Identify serious symptoms, so you can get the right help at the right time
Infusion Therapy
The Infusion Center administers injectable medications, intravenous immunoglobulin (IVIG) and blood transfusions. For people with primary immune deficiency disorders, infusions may be part of the treatment plan. We also provide therapies for cancer, arthritis and hematology disorders, as well as anemia, osteoporosis and Crohn's disease.
We offer private infusion bays that have recliners, private television sets and dimmable lights. Keeping you relaxed and comfortable during therapy is important to us.
To make an appointment, call 216-778-2213.
Referrals are not required.
Our Doctors/Medical Providers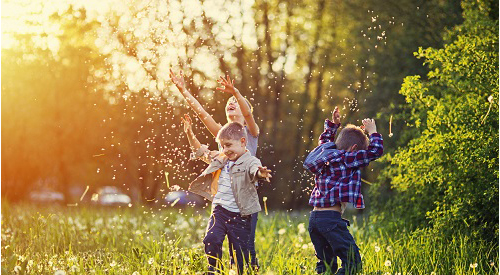 Allergy Relief for Your Little Ones
Spring is in the air, but so are allergens. While your kids are looking forward to running around outside in the warmer weather, you may be bracing for their seasonal sniffles. Two common culprits? Tree and grass pollen.
Learn more