Herb Werner: Our Most Recognized and Admired Volunteer
Herb Werner knows exactly when his first life ended.
It was 2007. He was on his garage roof in Bay Village, ready to climb down after unclogging a downspout. Herb, then in his mid-50s, stepped on the ladder. It slipped from under him.
"I fell maybe 10 or 12 feet, not a big fall," he remembers, "but I landed wrong."
Herb also knows exactly when his second life began.
It wasn't then, as he lay on the ground, unable to move his legs, paralyzed from the waist down. It wasn't in the days that followed, as he embarked on a long journey of healing and rehabilitation.
His second life began more than a year later, when he realized a calling.
"The 'a-ha' moment came when I said, 'I'm ready to give back. I want to help someone else get through this. I want to share my story and my experience.'
"That's when I knew my rehab was a success."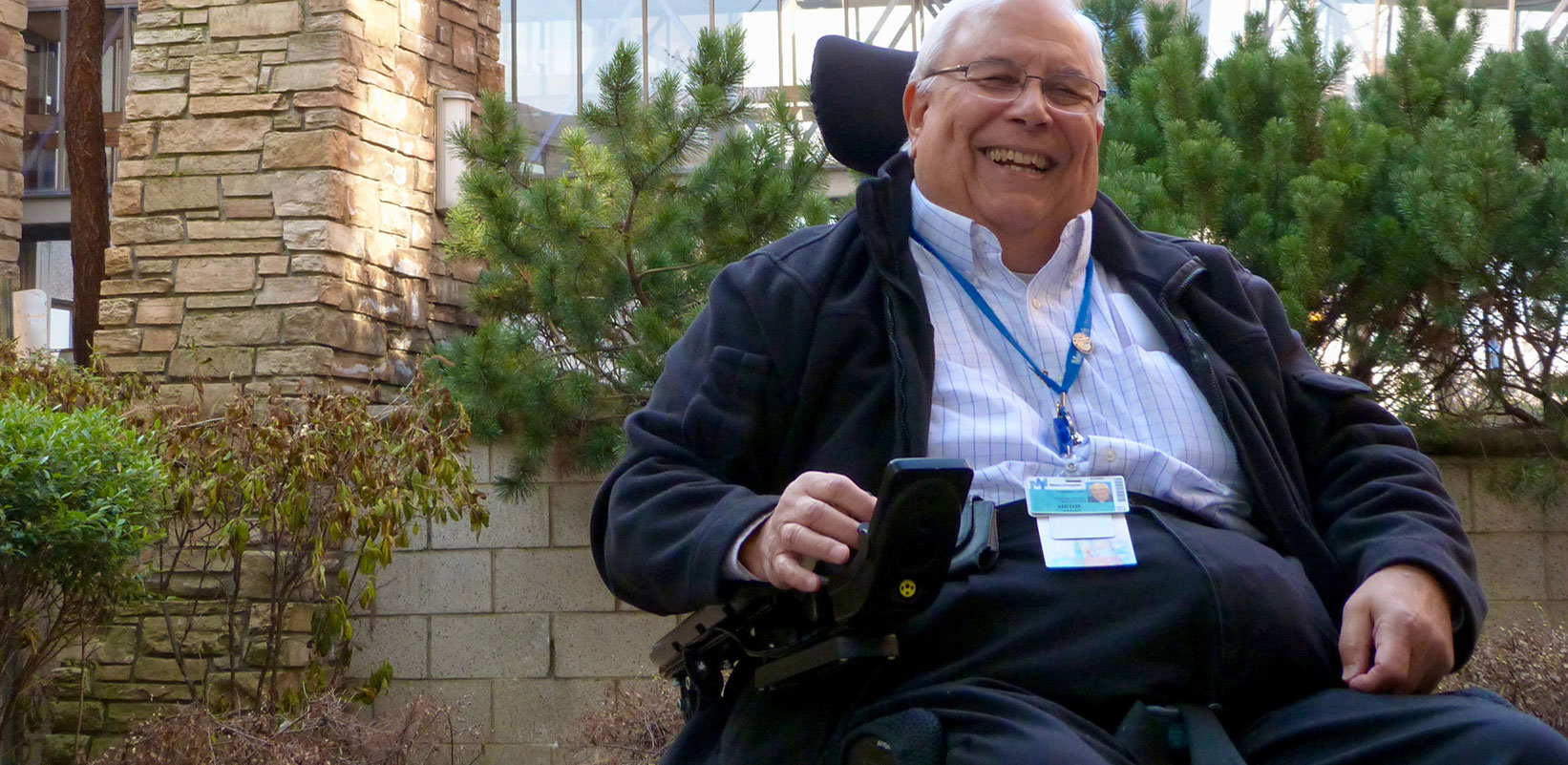 "The 'a-ha' moment came when I said, 'I'm ready to give back. I want to help someone else get through this. I want to share my story and my experience.'"
Herb doesn't want to leave the impression that his rehab is finished, even 11-plus years after his accident.
"What I am doing now," he says, "is a continuation of my rehab."
Herb steers his motorized chair toward a group of people in the middle of the therapy gym at MetroHealth's Old Brooklyn Medical Center.
In the middle of the group is a patient who looks to be in his mid-50s. His unshaven face grimaces as he pulls down on a weight-machine cable, his body rising slightly out of his wheelchair. A therapist urges him on. A young man and woman – the man's son and niece, we later find out – sit a few feet away.
Only the therapist is smiling as the whir of Herb's chair announces his arrival.
"Hello, I'm Herb."
The man stops pulling and looks over. "Hi," he says softly.
"Is it OK if I say hello?" Herb asks.
The patient motions for Herb to come closer and asks, "Do you have enough space?"
Herb inches his 350-pound chair forward and smiles devilishly. "If it's in my way," he jokes, "I just crush it."
Suddenly everyone is smiling.
Herb can do that, in just seconds. He is one of MetroHealth's most recognized and admired volunteers. The hats he wears could fill a lost-and-found: Twice-a-week, four-hour volunteer shifts in the therapy gym; patient and family adviser; member of the system's Privacy Board; adviser to the Transformation design team and leader of a group working to construct a new therapy garden at Old Brooklyn.
In the parlance of the kids today, he is, indeed, crushing it.
For more than five years, Herb has been returning to MetroHealth's inpatient rehab center, where he received treatment in the weeks and months after his accident. Every Thursday and Friday at 11 a.m., he stops up on the sixth floor in Old Brooklyn, picks up a list of the spinal-cord patients getting rehab that day and then heads down to the therapy gym.
"A resident told me that when she was going through medical school, she thought the surgeons, with their stainless steel, were the ones who saved the lives," Herb says as he motors into the gym on a recent Thursday. "Then she said she came here to rehab and realized that this is where the lives are saved."
This isn't your typical gym, where the goal is to get in shape or max out on the bench press. The goal here is to max out on returning to everyday life. The equipment includes kitchen and laundry appliances that patients re-learn how to use, steps and ramps to practice on, computer keyboards to re-master, a mock car to get in and out of and much, much more.
While the therapists and the equipment work patients' muscles and bodies, Herb works on their mindset.
He knows his paralysis and his wheelchair give him credibility with patients facing a daunting new life without the use of parts of their body. He knows that when they look at him, they see themselves.
Herb wants to make sure they see optimism and potential.
His strategy when rolling up on a spinal-cord-injury patient for the first time is simple: start a conversation – the weather, hospital food, anything – and then quickly start talking about returning to life and the better days that lie ahead.
"I talk about driving. I talk about flying. About going to Progressive Field or to a Cavs game – normal activities," Herb says. "At the end of the day, there's not much you'll be missing out on. You're going to have to plan and allow extra time. But the emphasis is that a very good quality of life is to be had.
"You're the same person you were the day before your illness or injury," he adds. "You're just going to do things differently. When you run into 'disabled,' you find an adaptation to make it 'enabled.'"
A sense of humor is crucial.
"If you can't laugh about it, you're going to be doing a lot of crying," he says.
Asked for an example, Herb recalls family members bringing his 1-year-old grandson for a visit during his inpatient rehab.
"I told him, 'Tim, it looks like we're going to have a race to see which one of us is going to be the first one out of diapers.'"
The positive outlook is no act.
Herb likes to cite a study from the 1970s that surveyed people one year after winning the lottery and one year have suffering paralysis from injury or illness. The lottery winners were less happy.
"[Paralysis] really gives you a perspective," he says. "It gives you the opportunity to prioritize and realize what's not worth worrying about.
"Compared to being successful at business or anything else, this is the greatest thing I've ever done in my life," he says. "I tell some of the people I talk to, who are in the funk, 'This is going to sound crazy but listen to me now and remember me later: This half of my life has been more enriching, more rewarding than the first portion of my life.'"
Before other patients can join him in a fulfilling – even better – new life, Herb says, they need to realize that their "new normal" offers the same joys as their lives before their injuries – the joys of family, friends, laughter.
And nature.
During an inpatient rehab stay, patients are often cut off from the basic joys that come with breathing fresh air, soaking in the warmth of the sun, feeling a breeze, hearing birds sing and inhaling the aroma of flowers.
Herb is out to change that.
As a Patient and Family Advisor serving on the TeamSTEPPS Action Council, he is part a group of doctors, nurses and other caregivers working to transform the old fountain area near the front door at Old Brooklyn into a fully accessible outdoor therapy garden.
Herb gave an emotional presentation during a MetroHealth's Fast Pitch event in 2018.
He told the judges that the garden will offer "an important reminder of all the simple joys in life, a reminder of things that have not been taken away by disability.
"It offers warmth and power similar to the visits by loved ones, laughter with friends or a container of homemade chicken soup. … It is another source of strength in coping through the rehabilitation journey."
The judges awarded the project $5,000 of funding.
Herb expects the total cost to be much more, perhaps as much as $40,000. He's optimistic (of course) that the group will get the support it needs.
"If we are going to call ourselves a rehabilitation facility, we should really make sure we have all the attributes and then some," he says, "Dr. Boutros has a vision of a 'hospital in the park.' We should have our own park at this facility."
Back in the therapy gym, the man has paused his exercises and is grilling Herb with questions about how he takes commercial flights, how he drives his van and where he got the vehicle modified.
Herb happily answers, adding that he recently took a road trip to Florida and drove the entire way.
The man pauses for a moment.
"I'm scared."
Again, Herb doesn't hesitate.
"It's a scary thing. This is not for the weak," he says. "You just take it a day at a time. Everybody cries. That's part of it. Hopefully you can smile and laugh along the way."
"You still have family who loves you. And people who care. It's amazing how many people want to help you," he adds. "But I agree with you. It's scary."
The man thinks for a moment, pauses, and then asks Herb how he transfers himself into a car.
He's a little less scared.
Ongoing Volunteer Opportunities