Vial of Life
Vial of Life is internationally recognized as an effective way of providing emergency medical response personnel with critical information about a person's health should they become ill or injured. It speaks for you when you can't speak for yourself.
Emergency medical personnel are trained to look for Vial of Life information and can quickly refer to it for details on a person's medical history, doctors and medications. Everyone can benefit from having a Vial of Life form filled out and visible in their home.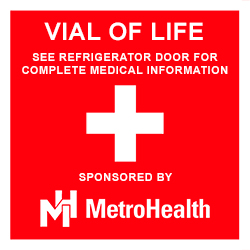 For your free Vial of Life kit, please call 216-778-1093.
The form can also be downloaded here, so you can always keep your information up to date. Seniors living independently, parents who leave children with babysitters, people who travel alone - everyone can benefit from having a Vial of Life form filled out.

©Copyright 2023 The MetroHealth System | 2500 MetroHealth Drive | Cleveland, OH 44109 | 216-778-7800 | All Rights Reserved.
There is no rating available for this provider for one of two reasons: he or she does not see patients, or has not received the minimum number of patient survey responses.