For our patients and our community
Our new hospital is under construction. The important foundation work is nearly complete, and things are progressing quickly above the ground. Questions? Email [email protected].
MetroHealth Transformation
MetroHealth has begun construction on The MetroHealth Glick Center and reimagined main campus. The new 11-floor hospital will be LEED certified, and the campus will sit in the first EcoDistrict anchored by a health care system in the U.S. Read on for more information about this ambitious community revitalization project.
Fast Facts About the MetroHealth Transformation
The project is being financed by $946 million in hospital-revenue bonds that were sold in May 2017. No taxpayer money is being used. A $100 million fundraising campaign by the MetroHealth Foundation will support the campus' expanded green space and community programs.
A new 1,500-space employee parking garage was completed in October 2018.
Construction of the new hospital began in April 2019 and is scheduled to be completed in 2022.
MetroHealth receives a $32.4 million appropriation from the county, less than 3 percent of its annual operating revenue.

The Transformation team includes 26 local firms, with 10 being minority- or women-owned businesses.

To learn about the jobs this construction will create and the income it will generate, read the full economic impact report from Cleveland State University.
Nationally recognized for environmental sustainability through awards received from Practice Greenhealth.
You can learn more by taking a look at our construction timeline, and the phases of the upcoming work in the slideshow.
---
Transformation Update · March 31, 2021
How Our Staff will be Ready on Day 1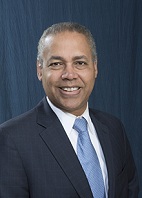 Imagine for a moment that you're a researcher headed to the International Space Station for an extended visit.
Would you wait until you were aboard, orbiting the Earth, to finally introduce yourself to your research space? Where you'll sleep? Your kitchen? The bathroom?
Of course not.
For months leading up to your trip into orbit, you'd be figuring out how you'd work, move around and live. Long before you floated through the space station's hatch, you'd learn where things were, how things operated and the best ways to perform tasks. You'd probably go through multiple simulations, even donning goggles to virtually move about the station while still on Earth.
We are building a new hospital, not a space station. But the analogy is not too far off.
At the same time we are constructing our new building, our people – those caring for patients, preparing food, cleaning rooms, collecting trash, everyone – will need to learn how best to perform their jobs so they'll be more than ready when we welcome our first patient.
Preparing our people to thrive and best care for patients on Day 1 inside the new hospital is an important aspect of a behind-the-scenes – but vitally important – process called "transition and activation planning."
Thankfully, we're already working on it. Even better, we have the help of experts to help us.
We recently partnered with Healthcare Technical Services Inc., a firm that specializes in helping hospitals make smooth, seamless transitions into new spaces.
The HTS team is already spending time with each department, observing how people do their jobs and learning everything they can. They are employing a process borrowed from lean-manufacturing practices called GEMBA:
G – Go and See
E – Engagement: Ask Questions, Seek Clarification and Understanding
M – Monitor/Measure/Observe
B – Be Respectful
A – Analyze
In the days to come, they'll help us do much more, including launching virtual-reality simulations that will allow our people to get familiar with their new spaces long before we open. Our staff will know where to go, how to find things, how to perform tasks, and, most important, how to best serve our patients.
We won't be moving into the space station, but there's no reason why our move into a new hospital can't be, well, out of this world.
Walter Jones
Senior Vice President, Campus Transformation
Read more of Walter's Transformation Updates
How You Can Support our Transformation Campaign
In support of the Transformation, MetroHealth is in the midst of a philanthropic campaign: For All of Us. The campaign, which recently reached its initial goal of $100 million, supports community programs, education and research, and development of expanded campus green space.
Views from the Crane