For our patients and our community
Our new hospital is under construction. The important foundation work is nearly complete, and things are progressing quickly above the ground. Questions? Email [email protected].
MetroHealth Transformation
MetroHealth has begun construction on a new hospital and reimagined main campus. The new 11-floor hospital will be LEED certified, and the campus will sit in the first EcoDistrict anchored by a health care system in the U.S. Read on for more information about this ambitious community revitalization project.
Fast Facts About the MetroHealth Transformation
The project is being financed by $946 million in hospital-revenue bonds that were sold in May 2017. No taxpayer money is being used. A $100 million fundraising campaign by the MetroHealth Foundation will support the campus' expanded green space and community programs.
A new 1,500-space employee parking garage was completed in October 2018.
Construction of the new hospital began in April 2019 and is scheduled to be completed in 2022.
MetroHealth receives a $32.4 million appropriation from the county, less than 3 percent of its annual operating revenue.

The Transformation team includes 26 local firms, with 10 being minority- or women-owned businesses.

To learn about the jobs this construction will create and the income it will generate, read the full economic impact report from Cleveland State University.
Recipient of the Partner Recognition Award from Practice Greenhealth, a national award for environmental sustainability.
You can learn more by taking a look at our construction timeline, and the phases of the upcoming work in the slideshow.
---
Transformation Update · August 3, 2020
It's a done deal with our steel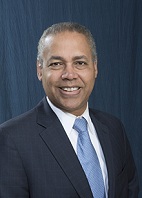 Today, after getting decorated with signatures from VIPs, the final beam of structural steel for our new hospital was hoisted up to what will be the 11th floor of our new hospital and fastened into place.
It was the last of about 5,200 columns and beams that make up the framework of the building. The heaviest piece was about 45 tons, and in all, our crews installed more than 8.6 million pounds of structural steel.
In "normal" times, these construction milestones are bigger celebrations, with a bigger crowd, more media coverage and a more generous spread, often a full barbecue.
Today, the crowd was kept small, masked and distanced, and after listening to some remarks and enjoying a boxed lunch, the workers were soon be back on the job.
In construction, as in life, it's always important to mark and celebrate milestones, so even in a pandemic we wanted to make sure we took a moment to acknowledge reaching the goal of completing the steel framework of the new hospital.
Here are some other updates:
Our on-site crew continues to grow. About 350 workers are on the job. That will grow to about 500 workers in the coming months.
Installation of the glass exterior-wall cladding will begin later in August. It will continue through the spring of 2021.
Interior work on the lower floors is underway. This includes ductwork, plumbing infrastructure and interior wall framing.
The Central Utility Plant, under construction next to the new hospital, is moving along quickly. The walls and roof are in place, and we've installed cooling towers, water tanks, pumps, electrical switch gear, emergency generators and chillers.
I want to thank everyone on the construction team for their hard work and attention to safety. We are on time and on budget because of you.
Walter Jones
Senior Vice President, Campus Transformation
>> Read more of Walter's Transformation Updates
How You Can Support our Transformation Campaign
In support of the Transformation, MetroHealth has launched a philanthropic campaign, For All of Us. The $100 million campaign will support community programs, education and research, and development of expanded campus green space.
Views from the Crane