For our patients and our community
Our new hospital is under construction. The important foundation work is nearly complete, and things are progressing quickly above the ground. Questions? Email [email protected].
MetroHealth Transformation
MetroHealth has begun construction on a new hospital and reimagined main campus. The new 11-floor hospital will be LEED certified, and the campus will sit in the first EcoDistrict anchored by a health care system in the U.S. Read on for more information about this ambitious community revitalization project.
Fast Facts About the MetroHealth Transformation
The project is being financed by $946 million in hospital-revenue bonds that were sold in May 2017. No taxpayer money is being used. A $100 million fundraising campaign by the MetroHealth Foundation will support the campus' expanded green space and community programs.
A new 1,500-space employee parking garage was completed in October 2018.
Construction of the new hospital began in April 2019 and is scheduled to be completed in 2022.
MetroHealth receives a $32.4 million appropriation from the county, less than 3 percent of its annual operating revenue.

The Transformation team includes 26 local firms, with 10 being minority- or women-owned businesses.

To learn about the jobs this construction will create and the income it will generate, read the full economic impact report from Cleveland State University.
Recipient of the Partner Recognition Award from Practice Greenhealth, a national award for environmental sustainability.
You can learn more by taking a look at our construction timeline, and the phases of the upcoming work in the slideshow.
---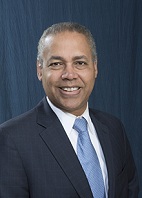 Transformation Update · November 7, 2019
The Power of 'Process-Neutral Design'
I've written before about how we're designing and constructing our new hospital to be as flexible as possible. We want the building to serve our patients and our community for generations, but we have no way of anticipating the innovations in technology and treatments that lie ahead.
The solution is to build a hospital that's adaptable, one that's able to evolve with tomorrow's new equipment, new technology and innovations in care. It's a strategy I call "process neutral design," and we've used it before.
In 2016, we completed a vertical expansion of the Critical Care Pavilion, which sits just north of the construction site of our new hospital. We added two floors and 85 intensive-care-unit rooms above our existing Emergency Department and Level 1 Trauma Center.
When it opens in 2022, the new hospital will have up to 96 ICU rooms, so we'll no longer need the rooms we finished in 2016 on the third and fourth floors of the CCP.
What happens to them? After all, they're bright, beautiful, modern rooms that aren't even 4 years old. Thankfully, we'd already embraced process-neutral design when we did the expansion.
After the ICU rooms open in the new building, we will convert the third and fourth floors of the CCP into our new Women's and Children's Pavilion. The fourth floor will become our Neonatal Intensive Care Unit, and the third floor will have rooms to care for mothers before (antepartum) and after (postpartum) they give birth. (The Labor and Delivery and Pediatrics departments will be on the third floor of the new hospital, which will be connected to the current CCP. We are also planning an outdoor play area for kids on that third-floor connector.)
I say "convert" the rooms on the third and fourth floors of the CCP, but because we employed process-neutral design, these rooms are pretty much ready to go. We built them with flexibility in mind.
An example? Codes and specifications dictate that ICU rooms do not need to have private bathrooms with showers. We included them anyway.
So, as of right now, we are planning to maybe change the color of paint and the style of doors. That's pretty much all.
It's almost like we planned it, right?
Walter Jones
Senior Vice President, Campus Transformation
>> Read more of Walter's Transformation Updates
How You Can Support our Transformation Campaign
In support of the Transformation, MetroHealth has launched a philanthropic campaign, For All of Us. The $100 million campaign will support community programs, education and research, and development of expanded campus green space.
Views from the Crane