For our patients and our community
Our new hospital is under construction. The important foundation work is nearly complete, and things are progressing quickly above the ground. Questions? Email [email protected].
MetroHealth Transformation
MetroHealth has begun construction on The MetroHealth Glick Center and reimagined main campus. The new 11-floor hospital will be LEED certified, and the campus will sit in the first EcoDistrict anchored by a health care system in the U.S. Read on for more information about this ambitious community revitalization project.
Fast Facts About the MetroHealth Transformation
The project is being financed by $946 million in hospital-revenue bonds that were sold in May 2017. No taxpayer money is being used. A $100 million fundraising campaign by the MetroHealth Foundation will support the campus' expanded green space and community programs.
A new 1,500-space employee parking garage was completed in October 2018.
Construction of the new hospital began in April 2019 and is scheduled to be completed in 2022.
MetroHealth receives a $32.4 million appropriation from the county, less than 3 percent of its annual operating revenue.

The Transformation team includes 26 local firms, with 10 being minority- or women-owned businesses.

To learn about the jobs this construction will create and the income it will generate, read the full economic impact report from Cleveland State University.
Recipient of the Partner Recognition Award from Practice Greenhealth, a national award for environmental sustainability.
You can learn more by taking a look at our construction timeline, and the phases of the upcoming work in the slideshow.
---
Transformation Update · December 11, 2020
Pride and Craftsmanship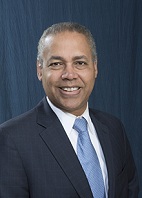 If our construction crew were a football team, we'd be kicking off to start the third quarter.
Although we have been working on the Campus Transformation for more than five years, we started boots-on-the-ground work on our site in mid-December 2018, when we knocked down the old Southpoint parking garage to make way for our new hospital. And with construction on schedule, we remain on pace to welcome our first patients in October 2022.
That means that we have passed the halfway point of construction. It's a milestone worth noting.
The workers on the site, now numbering about 450, didn't take a halftime break. Like a winning football team chugging down the field, they are focused on the job in front of them. The glass and terra cotta exterior of the building is going up quickly, and inside work on concrete, wiring, plumbing, drywall and other components continues at a steady clip. On a project of this scope, this is when no news really is good news.
Yet there is some news, and it's great.
Since MetroHealth is in the health business and not the construction business, we hired expert eyes and ears – Hammes Company, our owner's rep; EEI, our contracted commissioning agents; and others – to make sure the job is done right. They help oversee regular testing of the construction materials we use, the concrete, steel and more, to make sure it meets or exceeds standards and is free from flaws. We even have a team testing the exterior skin of the building to make sure the glass and terra-cotta tile can easily handle high winds and fluctuating temperatures.
Perhaps more important, we have multiple firms inspecting the work and workmanship of our crew.
Recently I was chatting with one of the on-site observers who do the inspections. This is a veteran guy, with decades of experience. Without being asked, he told me that he was seeing some of the best work he's ever seen.
Typically, especially on a project this big, you don't hear such accolades.
I asked others for their thoughts on the quality of work being done, and it was unanimous: Our trades people are doing magnificent work. I heard the words "precision," "skill," "care," "craftsmanship" and "pride."
Our workers are not just staying inside the lines, they are showing a mastery or their trades. And much, if not most, of this amazing work is happening out of sight, inside walls, under floors or inside ceilings.
I want to thank our skilled trades people. They are showing up every morning eager to perform at the highest levels and eager to have their work inspected. I hope they go home every afternoon feeling the pride of accomplishment.
Also deserving of credit are our partners, starting with Turner Construction. They are giving workers the three crucial keys to construction success: time, tools and respect – enough time to do the job well, the right tools for the job and a respect for their craftsmanship. That's a culture of greatness.
What does all this mean?
It means a lot. This level of work is not much different than the craftsmanship of a high-end car or a house built by master carpenters. Tolerances are tight. Lines are straight, level and plumb. Things fit just right. It means quality, performance and durability.
It means our patients and our community is going to get not just a new hospital, but a well-crafted hospital.
And they deserve it.
Walter Jones
Senior Vice President, Campus Transformation
Read more of Walter's Transformation Updates
How You Can Support our Transformation Campaign
In support of the Transformation, MetroHealth is in the midst of a philanthropic campaign: For All of Us. The campaign, which recently reached its initial goal of $100 million, supports community programs, education and research, and development of expanded campus green space.
Views from the Crane