For Our Patients. For Our Community.
MetroHealth has begun planning for a new hospital and reimagined main campus. It will be LEED-certified, and the first EcoDistrict anchored by a health care system in the U.S. Read on for more information about this ambitious community revitalization project.
For more information, contact us.
MetroHealth Transformation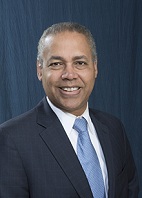 Transformation Update · June 29, 2018
I hope you are as excited as I am about the stunning look of our new hospital.

But the visual aesthetic is only part of the story. Our team is designing this building, inside and out, for our patients and for our community.

At first glance, the sleek glass and clean, white terra cotta might seem a bit sterile. Far from it. The new building reflects, literally and figuratively, our community. It will be an elegant backdrop for all the vibrant activity that will be happening inside and outside its walls. The new hospital is a canvas that will be filled with all the colors of the community, including the green of gardens, vegetation and open spaces that will be the hallmark of our reimagined campus.

Three themes guided our design team:

Legacy: We are the anchor of our neighborhood. MetroHealth has been serving the community on this site since the mid-19th century. We want the new building to show that service, strength and stability. We've been here -- and we will remain here.

We also know that for people arriving in Cleveland from the south, from the west and from around the world via the airport, this building will be the first impression of our city. We want the view of the MetroHealth Curve to be something special.

Landscape: Our neighborhood needs open spaces, and we are not only going to provide them by turning roughly half our campus into green space, we are going to incorporate those spaces into our care. There is tremendous healing power in nature, and we are going to take advantage of it. Some ideas in the works include wellness gardens, a central green, a dining terrace, rooftop gardens and outdoor places for seniors, rehab patients and kids.

Community: The new building and the open spaces around it will not be for just patients and staff. We will be welcoming the community in, weaving them into the activities, inside and out. We will encourage everyone to experience it.

Unlike our current building, the new hospital will have a true front door on Scranton Road that faces the community. This will lower the "where do I go?" stress that comes with a visit to any hospital.

The main entryway/lobby will feature a open communal area with a shop, dining area and places for socializing and performances (musicians, school choirs, dancers). Indoor vegetation and panoramic views of the outdoor green spaces will bring nature's beauty and respite indoors.

Inside the new hospital, patient rooms will continue to improve on the acclaimed designs we used in our recently completed Critical Care Pavilion and our new hospitals in Cleveland Heights and Parma. The rooms, all single occupancy, will feature floor-to-ceiling windows and provide a high level of comfort, technology, privacy and safety. They will enhance the patient and family experience and provide for better care in a better environment.

As we move into the design development stage and get more detailed with materials and systems, we will strive for sustainability. Wherever possible, we will use locally sourced materials that are recycled and recyclable. Environmental stewardship will guide us. We are aiming for a LEED Silver certification for our new hospital.

We have years of work ahead of us, including planning, more detailed design work, and, of course, construction. The hardest job of all? Waiting until its done.
Walter Jones
Senior Vice President, Campus Transformation
Read more of Walter's Transformation Updates
---
---
You can learn more by taking a look at our construction timeline, and the phases of the upcoming work in the slideshow.
Learn more about how you can support our Transformation Campaign
In support of the Transformation, MetroHealth has launched a philanthropic campaign, For All of Us. The $100 million campaign will support community programs and development of expanded campus green space. Learn more here.
Fast Facts About the MetroHealth Transformation
The project is being financed by $946 million in hospital-revenue bonds that were sold in May 2017. No taxpayer money is being used. A $100 million fundraising campaign by the MetroHealth Foundation will support the campus' expanded green space and community programs.

The next phase of construction – a 1,500-space parking garage – began in the Fall of 2017.
Construction of the new hospital is scheduled to begin in 2018 and be completed in 2022.
MetroHealth receives a $32.4 million appropriation from the county, less than 4 percent of its annual operating revenue.
To learn about the jobs this construction will create and the income it will generate, read the full economic impact report from Cleveland State University.