For our patients and our community
Our new hospital is under construction. The important foundation work is nearly complete, and things are progressing quickly above the ground. Questions? Email [email protected].
MetroHealth Transformation
MetroHealth has begun construction on The MetroHealth Glick Center and reimagined main campus. The new 11-floor hospital will be LEED certified, and the campus will sit in the first EcoDistrict anchored by a health care system in the U.S. Read on for more information about this ambitious community revitalization project.
Fast Facts About the MetroHealth Transformation
The project is being financed by $946 million in hospital-revenue bonds that were sold in May 2017. No taxpayer money is being used. A $100 million fundraising campaign by the MetroHealth Foundation will support the campus' expanded green space and community programs.
A new 1,500-space employee parking garage was completed in October 2018.
Construction of the new hospital began in April 2019 and is scheduled to be completed in 2022.
MetroHealth receives a $32.4 million appropriation from the county, less than 3 percent of its annual operating revenue.

The Transformation team includes 26 local firms, with 10 being minority- or women-owned businesses.

To learn about the jobs this construction will create and the income it will generate, read the full economic impact report from Cleveland State University.
Nationally recognized for environmental sustainability through awards received from Practice Greenhealth.
You can learn more by taking a look at our construction timeline, and the phases of the upcoming work in the slideshow.
---
Transformation Update · May 20, 2021
The final pieces of glass are almost in place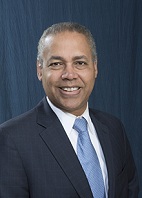 I love boring meetings, especially when we get to this stage of a construction project.
Boring meetings mean that everything is progressing, moving along without incident and according to plan. No delays. No mishaps. No hiccups.
And I am delighted to announce that our meetings have been real snoozers lately.
The MetroHealth Glick Center remains on time and on budget. By the end of May, the glass and terra cotta exterior will be completely installed. The large tower crane, nicknamed "Gran Grua" ("big crane" in Spanish), is scheduled to come down in July. If you didn't know better, you'd look at the building and think that it's nearly finished. Don't be fooled. We still have about a year of work to do inside.
Construction is on pace to be "substantially complete" at the end of April 2022. That marks the moment when MetroHealth gets the keys to the house, so to speak, and can beginning moving in and preparing for the arrival of patients in the autumn of 2022.
Here's to the next 11 months. May they be filled with more boring meetings!
P.S. I've been asked many times about the shortages and skyrocketing prices of steel, lumber, drywall and other building materials and how that's affected our project and costs. Thankfully, there's been no effect. While the industry is seeing some inflationary costs for materials, we secured materials and locked in costs in bids and contracts that were signed more than a year ago. That said, we will happily accept the good fortune of good timing, and even some luck.
Walter Jones
Senior Vice President, Campus Transformation
Read more of Walter's Transformation Updates
How You Can Support our Transformation Campaign
In support of the Transformation, MetroHealth is in the midst of a philanthropic campaign: For All of Us. The campaign, which recently reached its initial goal of $100 million, supports community programs, education and research, and development of expanded campus green space.
Views from the Crane