For our patients and our community
Our new hospital is under construction. The important foundation work is nearly complete, and things are progressing quickly above the ground. Questions? Email [email protected].
MetroHealth Transformation
MetroHealth has begun construction on a new hospital and reimagined main campus. The new 11-floor hospital will be LEED certified, and the campus will sit in the first EcoDistrict anchored by a health care system in the U.S. Read on for more information about this ambitious community revitalization project.
Fast Facts About the MetroHealth Transformation
The project is being financed by $946 million in hospital-revenue bonds that were sold in May 2017. No taxpayer money is being used. A $100 million fundraising campaign by the MetroHealth Foundation will support the campus' expanded green space and community programs.
A new 1,500-space employee parking garage was completed in October 2018.
Construction of the new hospital began in April 2019 and is scheduled to be completed in 2022.
MetroHealth receives a $32.4 million appropriation from the county, less than 3 percent of its annual operating revenue.

The Transformation team includes 26 local firms, with 10 being minority- or women-owned businesses.

To learn about the jobs this construction will create and the income it will generate, read the full economic impact report from Cleveland State University.
Recipient of the Partner Recognition Award from Practice Greenhealth, a national award for environmental sustainability.
You can learn more by taking a look at our construction timeline, and the phases of the upcoming work in the slideshow.
---
Transformation Update · January 17, 2020
Looking forward to an exciting 2020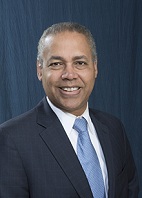 Last month on this blog, I reviewed the remarkable progress the Campus Transformation team achieved in 2019. This month, I want to look ahead to what's shaping up to be an even more exciting year.
If you check in with one of our live construction cameras, you'll see that the steel columns and beams of our new hospital are going up quickly. By summer, the complete structural steel skeleton of the building, all 11 floors, will be securely in place.
As the steel gets installed on the higher levels, we will begin pouring the concrete floors below. And by August, you should start seeing the exterior cladding, or "skin," of the building being installed.
(Just like in 2019, we will strive to complete all our work with no disruption to patient care and with minimal disruptions to our neighborhood, local traffic or other hospital operations.)
Even as the exterior of the building takes shape – and the "MetroHealth curve" transforms into a stunning welcome mat to the city – our team is still working on the design of the interior of the new hospital.
As I've mentioned in earlier posts, we have embraced a process-neutral approach to our design. We want the interior of the hospital to be as flexible and adaptable as possible, so the building can evolve and keep pace with the rapid advancements in health care that are sure to continue.
We have intentionally left significant space – more than 3,000 square feet on each patient floor – undefined. During 2020, we will continue working with our doctors, nurses and other staff to figure out the best way to serve our patients with this space and with the entire 710,000 square feet of our new hospital.
In addition to all that, we will continue planning for the monumental jobs of "transition and activation" – or how we are going to move patients, staff and infrastructure into the new hospital in 2022 and how we are going to flip the "on switch" on all the operations.
Look for more on that giant effort in upcoming posts.
Walter Jones
Senior Vice President, Campus Transformation
>> Read more of Walter's Transformation Updates
How You Can Support our Transformation Campaign
In support of the Transformation, MetroHealth has launched a philanthropic campaign, For All of Us. The $100 million campaign will support community programs, education and research, and development of expanded campus green space.
Views from the Crane