For Our Patients. For Our Community.
MetroHealth has begun construction on a new hospital and reimagined main campus. The new 11-floor hospital will be LEED certified, and the campus will sit in the first EcoDistrict anchored by a health care system in the U.S. Read on for more information about this ambitious community revitalization project.
If you have questions, please email

[email protected]

.
MetroHealth Transformation
Fast Facts About the MetroHealth Transformation
The project is being financed by $946 million in hospital-revenue bonds that were sold in May 2017. No taxpayer money is being used. A $100 million fundraising campaign by the MetroHealth Foundation will support the campus' expanded green space and community programs.
A new 1,500-space employee parking garage was completed in October 2018.
Construction of the new hospital began in April 2019 and is scheduled to be completed in 2022.
MetroHealth receives a $32.4 million appropriation from the county, less than 3 percent of its annual operating revenue.

The Transformation team includes 26 local firms, with 10 being minority- or women-owned businesses.

To learn about the jobs this construction will create and the income it will generate, read the full economic impact report from Cleveland State University.
Recipient of the Partner Recognition Award from Practice Greenhealth, a national award for environmental sustainability.
You can learn more by taking a look at our construction timeline, and the phases of the upcoming work in the slideshow.
---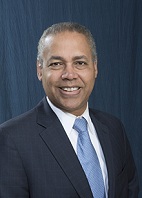 Transformation Update · April 15, 2019
We've broken ground
Today we formally break ground on our new 11-floor hospital.
Ceremonial groundbreakings are often seen by the general public as the official start of a project. In reality, our team had to put in years of design, preparation and hard work before the VIPs could grab those shiny golden shovels.
So while we are well down the road toward our Campus Transformation, the ceremonial groundbreaking does give us the opportunity to do something important: express our gratitude.
Thank you to our staff, to our patients and families, and to our neighbors who live and work near our main campus. You have put up with detours, new traffic patterns and construction vehicles as we've prepared the site of the new hospital for construction.
Thankfully, we've succeeded in avoiding significant disruptions and in keeping smaller headaches to a minimum. Once we complete improvements to View Road (the street that goes behind our campus) in late-spring or early-summer, folks should experience even fewer annoyances.
Still, a construction project like this cannot be completed without some noise, some dust and some disruption.
We are grateful for your grace and your patience.
It's all going to be worth it.
Walter Jones
Senior Vice President, Campus Transformation
>> Read more of Walter's Transformation Updates
How You Can Support our Transformation Campaign
In support of the Transformation, MetroHealth has launched a philanthropic campaign, For All of Us. The $100 million campaign will support community programs, education and research, and development of expanded campus green space.