For our patients and our community
Our new hospital is under construction. The important foundation work is nearly complete, and things are progressing quickly above the ground. Questions? Email [email protected].
MetroHealth Transformation
MetroHealth has begun construction on a new hospital and reimagined main campus. The new 11-floor hospital will be LEED certified, and the campus will sit in the first EcoDistrict anchored by a health care system in the U.S. Read on for more information about this ambitious community revitalization project.
Fast Facts About the MetroHealth Transformation
The project is being financed by $946 million in hospital-revenue bonds that were sold in May 2017. No taxpayer money is being used. A $100 million fundraising campaign by the MetroHealth Foundation will support the campus' expanded green space and community programs.
A new 1,500-space employee parking garage was completed in October 2018.
Construction of the new hospital began in April 2019 and is scheduled to be completed in 2022.
MetroHealth receives a $32.4 million appropriation from the county, less than 3 percent of its annual operating revenue.

The Transformation team includes 26 local firms, with 10 being minority- or women-owned businesses.

To learn about the jobs this construction will create and the income it will generate, read the full economic impact report from Cleveland State University.
Recipient of the Partner Recognition Award from Practice Greenhealth, a national award for environmental sustainability.
You can learn more by taking a look at our construction timeline, and the phases of the upcoming work in the slideshow.
---
Transformation Update · June 19, 2020
We've been hard at work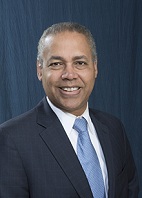 It's been awhile since I've shared an update on the construction of our new main hospital.
In this case, no news has definitely been good news.
While all of us have endured a hectic, stressful three months, the construction has been a welcome source of consistency and normalcy. Hospital construction was deemed essential by the state officials, so our crew has been hard at work, without delays, during the entire pandemic.
Thankfully, their work has been in the open air, with social distancing happening naturally because of the size and scope of work.
Here are some other highlights from the past few months:
The project remains on time and on budget.
We are now less than two years from substantial completion of the new hospital. If all continues to go as planned, construction will be complete in April 2022, allowing us to then prepare the facility for patients – a process that will take a few additional months of careful work.
As you know if you've driven by, the structural steel is nearing completion, giving everyone a clear idea of the size and shape of this impressive structure. (Feel free to check our live webcams to keep track of the progress.)
We will be installing the final structural steel in July, including two beams that bear the signatures of MetroHealth employees.
On the lower levels, our crews have begun pouring concrete floor decks, building interior firewalls and installing electrical conduit, water pipes and other infrastructure.
Right now, about 250 workers are on site every day. That number will climb steadily to a peak of about 500 over the next few months as crews continue interior construction and begin installing the building's glass and terra cotta exterior.
As you can see, there is much more to come.
Walter Jones
Senior Vice President, Campus Transformation
>> Read more of Walter's Transformation Updates
How You Can Support our Transformation Campaign
In support of the Transformation, MetroHealth has launched a philanthropic campaign, For All of Us. The $100 million campaign will support community programs, education and research, and development of expanded campus green space.
Views from the Crane