The MetroHealth Department of Nursing
The MetroHealth Department of Nursing consistently demonstrates excellence in nursing. As a four-time Magnet® Recognized organization, MetroHealth is one of the few public hospitals nationwide to achieve Magnet recognition.
This excellence is built upon the Nursing Mission of promoting optimal health and wellness for the community through professional collaboration, applied innovation and advanced continuing education within a culturally diverse environment. Shared governance and professional practice models are the foundation for decision-making, which results in the empirical outcomes achieved by MetroHealth nurses.
The empowerment and professionalism of the nursing staff resound throughout the system, and through evidence-based practice, research and performance improvement, MetroHealth Nurses continue to advance nursing practice and improve patient outcomes.
Questions? Please e-mail [email protected].
Start your Nursing Career with MetroHealth
Benefits include:
Competitive wages
Off-shift & weekend differentials
Tuition reimbursement
Paid time off (vacation, sick and holiday)
OPERS - Ohio Public Employee Retirement/Pension plan
Parking garages a short walk into the hospitals
Cardiology Invasive Lab
*$15,000 SIGN ON BONUS Available
Med/Surg Nursing Positions
*$10,000 SIGN ON BONUS Available
Critical Care Positions
*$10,000 SIGN ON BONUS Available
Emergency
*$10,000 SIGN ON BONUS Available - Main Campus and Cleveland Heights locations
County Correctional Medicine
*CORRECTIONAL PREMIUM PAY
Nursing Support Positions
STNA openings are listed as Patient Care Nurse Assistant (PCNA)
Medical Assistants openings are listed as Medical Team Assistants (MTA)
Patient Sitters are listed as Behavioral Observers (BO)
Current New Graduate Nursing Positions
Apply to clinical department of interest
---
Nurse Residency Transition to Practice Program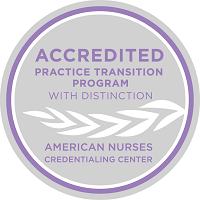 MetroHealth System Nurse Residency Transition to Practice is accredited with distinction as a Practice Transition Program by the American Nurses Credentialing Center's Commission on Accreditation.
ANCC Practice Transition Accreditation validates hospital nurse residency programs that transition registered nurses (RNs) into new practice settings that meet rigorous, evidence-based standards for quality and excellence. Nurses in accredited transition programs, like the Nurse Residency Program, experience curricula that promote the acquisition of knowledge, skills and professional behaviors necessary to deliver safe, high-quality care.
For more information regarding MetroHealth's Nurse Residency Transition to Practice Program, contact: [email protected]