Careers
Interested in a career with MetroHealth?
Find job opportunities below.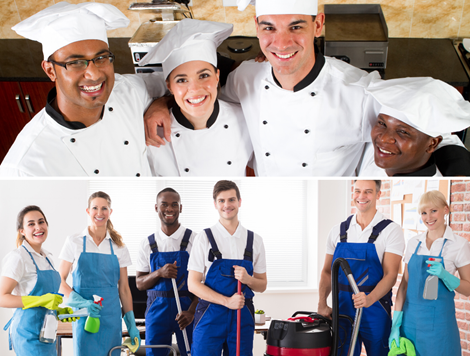 Recruitment Event
MetroHealth Hiring Events
The MetroHealth System is growing, and we're looking for dedicated cooks and environmental services professionals to serve our community.
We're hosting two community-based recruiting events – one on Friday, Nov. 1, at Main Campus and another Wednesday, Nov. 6, at MetroHealth Cleveland Heights Medical Center – where attendees can learn more about available opportunities.
Hiring Event Details
At MetroHealth, our mission, vision and values are not just words on a fading poster tucked behind someone's desk. They are the core of our actions. While we take care of the ill and injured, we are increasingly focused on preventive care, fulfilling our mission of "leading the way to a healthier you and a healthier community through service, teaching, discovery and teamwork."
We do this in an environment of inclusion — every patient gets the same full attention from our staff.
Why MetroHealth?
Our Mission, Vision and Values. Our unwavering commitment to our patients, employees and community provides a motivating environment in which to work, expand career opportunities and enjoy daily satisfaction. See About Us to learn more about The MetroHealth System.

MetroHealth is a great place to work. MetroHealth is a 15-time winner of the Employers Resource Council "Northcoast 99 - Best Places to Work in Northeast Ohio."

We welcome diversity. Diverse ideas, cultures, races and religions are celebrated and lead to our success. For more information, See Diversity at MetroHealth.

Because the health of everyone in our community matters. Established in 1837, we're the oldest hospital system in Cleveland, yet new programs and projects, with a need for more hires, are developing daily to better serve our community.

Together, we innovate, educate and transform. We are committed to training and developing the next generation of health care providers. All active MetroHealth physicians are faculty of Case Western Reserve University School of Medicine, an affiliation we have held since 1914. Learn more about the MetroHealth Transformation.
Equal Employment Opportunity Policy Statement
The MetroHealth System makes every effort to ensure that in every phase of the recruitment and selection process, equal employment is provided to all individuals, regardless of race, color, gender, sex, age, creed, disability, national origin or citizenship, veteran's status, sexual orientation, gender identity, religious affiliation, socio-economic standing, pregnancy and/or genetic information, and any other protected characteristic.