Pathology Services
MetroHealth's Pathology staff work behind the scenes to help your doctor diagnose an illness or determine the best course of treatment.
Pathology
MetroHealth's Department of Pathology plays a key role in your treatment program. Pathology experts are the members of your health care team who interpret laboratory results, analyze tissues, examine cells and inspect specimens removed during surgical biopsy. Our pathology team is made up of pathologists and lab specialists dedicated to providing the highest level of lab services for patients served by The MetroHealth System. Our Pathology Department also offers a wide range of consultative services in anatomic and clinical pathology to outside physicians and institutions.
Composition of Our Pathology Team
Our pathology team includes board-certified pathologists, a board-certified hematopathologist, PhD laboratory scientists, and more than 150 certified technologists, specialists and support personnel. Our pathology specialists form a multidisciplinary group with proficiency in numerous branches of pathology, including:
Anatomic pathology. The primary role of anatomic pathology is to identify disease in body tissues and cells. Test results can help doctors diagnose disease and manage treatment. Two subdivisions of anatomic pathology are histopathology and cytopathology. Histopathology is the microscopic examination of tissue—for example, to determine whether a tumor is a benign growth or a cancer. Cytopathology involves the examination of cells. A Pap smear is a common cytopathology test.
Clinical pathology. Clinical pathology mainly involves the study of blood, urine and other body fluids. Common clinical pathology tests include blood tests that measure total cholesterol, potassium or sodium, or microbiology tests that identify infectious organisms. A subset of clinical pathology is molecular pathology, which involves the study of DNA, RNA and other molecules. Molecular pathology can be used to diagnose the presence of certain viruses, for example, or to look for a specific gene mutation.
Transfusion services. The Pathology Blood Bank tests blood to ensure the safety and compatibility of blood transfusions within The MetroHealth System.
Among the many tests performed in our pathology lab are:
Clinical chemistry and toxicology
Cytology
Flow cytometry
Hematopathology and coagulation
Immunology
Immunopathology
Microbiology
Molecular testing
Surgical pathology
Transfusion medicine
Virology
Outpatient laboratory services, including blood draws (phlebotomy) and urine collection, are offered at MetroHealth Medical Center under Laboratory Support Services. Please bring a copy of your health insurance card, MetroHealth medical record number or Social Security number, and a valid test request. You also need to present a valid photo identification.
Mortality Services
When a loved one passes away at our facility, grieving family members are often at a loss as to what their next steps should be. Assistance is available through MetroHealth's mortality services. We help families:
Make burial arrangements for patients in need
Obtain physician signatures for death certificates
Provide autopsy services
Work with the medical examiner's office or a funeral home
Mortality services are available 24 hours a day, 7 days a week. To find out more, please contact mortality services at 216-778-5525.
Autopsy Services
After a loved one dies, it can be difficult to think about an autopsy. However, it can answer important questions about the immediate cause of death and detect previously unknown medical conditions that may prove important to surviving family members. In addition, autopsies play an essential role in advancing medical knowledge and providing medical education for physicians in training.
Autopsies are routinely performed from 7 a.m. to 5 p.m. on weekdays. Final autopsy reports are routinely completed within 60 days.
Our Doctors/Medical Providers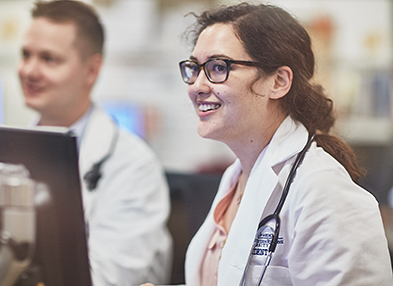 Graduate Medical Education
The MetroHealth System is committed to providing high-quality education and training programs in residency, fellowship and advanced nursing.
Learn more about our programs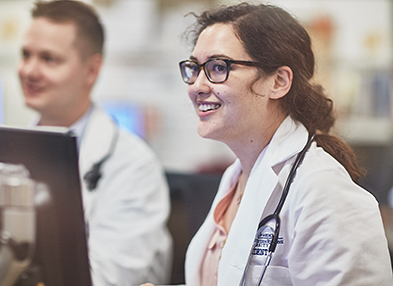 Graduate Medical Education
The MetroHealth System is committed to providing high-quality education and training programs in residency, fellowship and advanced nursing.
Learn more about our programs