JoAnn and Bob Glick – Our Community. Our Commitment.
$42 Million Gift from JoAnn and Bob Glick is the Largest in System's 183-Year History
After more than 35 years of running the successful retail chain Dots, Bob Glick in 2011 signed the paperwork to sell the company he founded to a private equity firm. The sale gave him and JoAnn Glick, a former nurse, the means to accelerate their support of local charities and nonprofits. It gave them the time to be deliberate and strategic.
As they crafted their mission of giving, the Glicks made promoting health and wellness paramount, especially for underserved women and children. They wanted to support causes that had clear goals, offered innovative solutions, could show measurable results, were guided by successful/promising leaders and could inspire others to provide financial support.
Around that time, they began hearing about MetroHealth's plans to shift greater focus and resources on keeping patients healthy. They were intrigued.
"We didn't know what MetroHealth was," Bob admits. "We thought they were funded by the county." (In reality, county taxpayers account for just a fraction of MetroHealth's revenue, only 2.5% in 2019.)
JoAnn and Bob asked community leaders and physician friends what they thought about MetroHealth. They got positive feedback.
They researched the history of MetroHealth, its mission, its programs, the health system's plans for the future. They also asked about the vision its President and CEO, Akram Boutros, MD, and the depth of its leadership team.
They liked what they heard.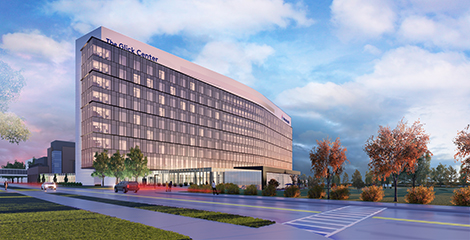 In 2019, the Glicks made two significant gifts, to the MetroHealth Autism Assessment Clinic and to the SAFE (Students Are Free to Express) Project, an arts- and school-based mental health initiative.
As they went through that process, they learned more about the system, the caregivers and mission.
"Everything is done with a passion for the community," says JoAnn. "They just go so far beyond."
"The more we learned about MetroHealth, its people and the work they do, the more it became clear that this was a perfect fit," Bob says.
On December 1, the Glicks announced plans to donate $42 million to MetroHealth, by far the largest gift in the institution's 183-year history.
In honor of the Glicks' powerful philanthropic statement, the new hospital building at MetroHealth's main campus will be named The MetroHealth Glick Center. None of the gift is being used for construction of the building. Instead, the funds will be used for programs and initiatives that support the health and well-being of Greater Cleveland.
"I'd like our gift to change the dynamics of health care in our community," JoAnn says, "This is about fairness, about a good education, access to healthy food, places to walk, safety, good health care. It's about giving communities in our city the same opportunities that other communities have.
"This is not a zero-sum game. It's a win-win."
The Glicks' Passion for Giving Back Aligns with MetroHealth's Mission
---
Initial Support to MetroHealth Provides New Hope for Children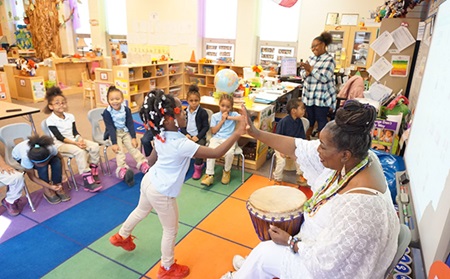 Children at Harvey Rice Wraparound School taking part in the SAFE Project in 2019
with Kulture Kids' Artist, Mama V.
In just a year's time, two substantial gifts from JoAnn and Bob Glick to MetroHealth – to an arts-based mental health initiative program and to the MetroHealth Autism Assessment Clinic (MAAC) – are making a visible impact in the lives of children in Cleveland.
The SAFE (Students Are Free to Express) Project started out as a pilot project in 2017 in one Cleveland school. It has since expanded to include one elementary school and three high schools in the Cleveland school district. The project is designed to provide children with the tools to strengthen their resilience and emotional awareness, and to disrupt the cycle of distress.
In October 2020 the SAFE Project was recognized with a 2020 Hamilton International Arts in Health Award in recognition of the program's impact on socioeconomically and racially oppressed communities. The award is given out by the National Organization for Arts in Health (NOAH).
Since the start of the 2019-2020 school year, more students have been able to participate in the programs – even in the wake of the disruption brought on by the COVID-19 pandemic. Before in-person learning was suspended for the year, the number and variety of visiting arts professionals had grown, and more teachers and artists had taken part in Trauma and Toxic Stress training. Program coordinators are exploring plans to deliver virtual programming during the current school year, with a hoped-for return to in-person programming in 2021.
The Glicks' investment in MAAC has resulted in more children receiving care. Open since 2015, the autism assessment clinic is one of only a few in the United States that accommodates the language and cultural needs of Hispanics; one-third of families do not use English as a primary language.
Since mid-July, a full-time bilingual clinical psychologist, a part-time clinical psychologist and a bilingual speech/language therapist have been added to the staff. In addition, a Neurodevelopmental Psychology Post-Doctoral Fellow joined the staff to provide both diagnostic evaluations and behavioral therapy.
Those changes, plus the availability of telehealth appointments for intakes, assessments and therapy, have contributed to reducing the wait time for an initial appointment by more than half, to about four months.
Learn more about how you can support MetroHealth's bold vision of transformation by calling Kate Brown, President of The MetroHealth Foundation, at 440-592-1401.