Hope is Here
Eligibility is currently limited to patients 80 years and older.
COVID-19 Vaccine
Vaccinating Faith Leaders from MetroHealth on Vimeo.
LAST UPDATED JANUARY 20, 2021
In the coming months, everyone in our community will have access to a COVID-19 vaccine. We believe it's the best chance to slow the spread of the virus and end the pandemic.
The vaccine is safe and effective. When the vaccine becomes available to you, we strongly encourage you receive it.
The current supply of vaccine is extremely limited. We are working rapidly and efficiently to ensure that we are able to vaccinate the community. But at this time, demand is much greater than supply, and there will be delays in getting vaccinated, even if you are in one of the eligible groups.
It will take time, and we all must continue to wear a mask, wash our hands and continue to watch our distance, but this is our best path forward.
When and Where Can I Expect to Get the Vaccine?
MetroHealth has begun vaccinating patients in accordance with state and federal guidelines. Vaccinations are available by appointment only.
MetroHealth is using MyChart to schedule appointments for our patients.
If you are an existing MetroHealth patient but have not set up a MyChart account, please see MyChart Signup.
For information on how to schedule an appointment through MyChart, please see MyChart FAQs.
At this time, because of limited supply, we can only offer vaccinations to established MetroHealth patients. Given the small supply of vaccine we are currently receiving, even eligible patients may not be able to get a vaccine appointment immediately.
Vaccination eligibility is currently limited to patients who are 80 years and older.
If you are eligible to receive the vaccine and we have supply, you will be contacted through MyChart.
If you are an eligible patient and need help scheduling your appointment, please call 216-778-6100.
We appreciate your patience and understanding as we vaccinate our community.

Haga un clic aquí para la versión en español (In Spanish)
Additional Resources: Centers for Disease Control and Prevention | Food and Drug Administration | Ohio Department of Health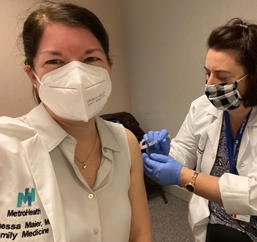 First Day of COVID-19 Vaccinations
MetroHealth caregivers line up to receive the COVID-19 vaccine, bringing hope that the end of the pandemic is in sight.
Watch Video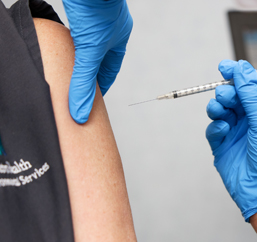 What a Beautiful Day to Start Vaccinating People
The vaccine has arrived, the vaccinations have begun and the prescription for hope is finally being filled. Join us for an up-close look at the historic Wednesday when MetroHealth took the first steps in the beginning of the end of the COVID-19 pandemic.
Listen to Podcast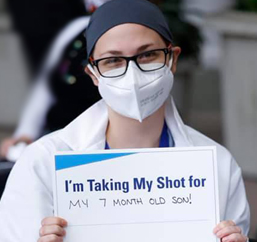 Why Our Caregivers are Getting Vaccinated
The vaccine is our best chance to slow the spread of COVID-19. It will take time, but this is the path forward. Here's why we are getting vaccinated.
Watch Video