Community and Economic Development
Vía Sana Stakeholder Information Session
On Wednesday, March 23rd MetroHealth and The NRP Group held a joint information session for neighborhood stakeholders and organizations. This session, geared towards neighborhood service providers, outlined the application process and requirements for individuals that are interested in applying for an apartment unit at Vía Sana. Vía Sana is Cleveland's newest affordable housing development at the corner of West 25th Street and Sackett Avenue, on the edge of the MetroHealth Campus. Meaning "healthy way" in Spanish, Vía Sana will offer 72 one-, two- and three-bedroom rental residences in the Clark-Fulton neighborhood.
MetroHealth Community Meeting: Devonshire Garage Beautification Project
On January 14, MetroHealth and Old Brooklyn Community Development Corporation hosted a presentation and open discussion on the potential parking garage beautification project on MetroHealth's Old Brooklyn Campus. The MetroHealth Old Brooklyn Campus parking garage is an important facility serving the neighborhood and, as part of the Transportation for Livable Communities Initiative (TLCI), we are committed to improving the streetscape and unifying the campus with the broader neighborhood.
November 2021 Online Community Meeting
On November 17, we hosted our last community meeting for 2021. We addressed the following initiatives:
Clark-Fulton Master Plan – Metro West's executive director Ricardo Leon will be our featured guest to brief you on the master plan — Clark-Fulton Together — which was recently presented to and accepted by the Cleveland City Planning Commission. This is the first-ever master plan created for the community, with significant input from residents and stakeholders. MetroHealth looks forward to continuing its partnership with Metro West to implement the plan and strengthening the future of this neighborhood.
MetroHealth Park - The master plan includes the 12-acre MetroHealth Park, which will be between the health system's main campus and West 25th Street. We will discuss how the park will be a woven as an integral piece of the neighborhood fabric.
Public Art – A major neighborhood beautification project is currently being developed for the community to brighten buildings and the Clark-Fulton community. We will tell you about this partnership between MetroHealth, Metro West and LAND studio.
July 2021 Online Community Meeting
The Community Meeting on Wednesday, July 21 addressed the following initiatives, including:
MetroHealth Workforce Development – Kara Ulmer, MetroHealth's Workforce Development Administrator, discussed MetroHealth's efforts in community workforce readiness, the partnership with Lincoln-West High School of Science & Health that gives students workplace exposure, mentoring and internships, and how Clevelanders can be exposed to health care as a career with a new program launching this August.
The COVID-19 aftermath and the importance of vaccinations -- Dr. David Margolius, MetroHealth Internal Medicine Physician
West 25th Street Mixed-use Development Plan – Construction has begun on Via Sana, the first building in the development that will offer 72 affordable rental homes and an economic opportunities center.
Update on The Clark-Fulton Master Plan and EcoDistricts Certification
The MetroHealth Glick Center – our new hospital construction and campus transformation.
March 2021 Community Meeting in Cleveland Heights
MetroHealth officials hosted a virtual community meeting in March to discussed the proposed expansion of the Cleveland Heights facility.
February 2021 Online Community Meeting
On February 24, we hosted our quarterly community meeting with a record number of guests attending.
Here's a summary of what was discussed:
COVID-19 Update - Dr. David Margolius, a MetroHealth internal medicine physician, gave an update on COVID-19 vaccination and testing.
MetroHealth's Community Responsive Care Institute and the Cleveland Innovation District -- Aaron Pitts, JobsOhio's Senior Managing Director for Healthcare, was our featured guest to discuss this partnership between the State of Ohio, MetroHealth Medical Center, the Cleveland Clinic, University Hospitals, Case Western Reserve University and Cleveland State University that is expected to have more than $3 billion in annual economic impact, including 20,000 new jobs, $1.5 billion in research and boosting STEM degrees threefold. MetroHealth will focus on developing better models for delivering health care and reducing health disparities through the Community Responsive Care Institute.
MetroHealth's Community Transformation Efforts - intended to enhance the surrounding neighborhood, strengthen the housing market, and advance economic opportunity for its residents. This includes:
A three-building, mixed use housing project along West 25th Street. The first building, Via Sana, recently broke ground and will include 72 affordable housing units and an Economic Opportunity Center for workforce training and community training, housing education and digital literacy.
Developing a Clark-Fulton master plan which includes using the EcoDistricts process for addressing physical and socio-economic factors including access to quality, affordable, healthy housing, transportation, greenspace, digital connectivity, workforce development and inclusion.
Looking at transportation enhancements in the area, including West 25th streetscape improvements for future RTA Bus Rapid Transit.
Workforce Development - MetroHealth and Cuyahoga Community College are working together to better connect patients, employees, and Clark-Fulton neighborhood residents to academic and workforce training programs. That includes coordinating with neighborhood-based programs, and programming for workforce training, housing education and digital literacy training.
MetroHealth Transformation - Construction of the $1 billion main campus project continues, with exterior work set for completion in April 2021. The main hospital will be called The MetroHealth Glick Center in honor of a $42 million gift to the System from JoAnn and Bob Glick.
September 2021 Online Community Meeting
On September 30, we held our quarterly Community Meeting. Dr. Akram Boutros announced that MetroHealth is moving forward with the first of three major housing projects on West 25th Street, now officially named Via Sana – which means "healthy way" and aligns with MetroHealth's transformation of main campus and the surrounding neighborhood.
The report includes an update on the following items:
The Clark-Fulton Master Plan and how you can be involved.
How MetroHealth's Institute for H.O.P.E.™ (Health, Opportunity, Partnership and Empowerment) is working with community partners to identify and address the root causes of our neighborhood's health issues and eliminate barriers to care.
Certification of Cleveland's first EcoDistrict, which aims to integrate sustainable development and social equity in overall planning efforts.
RTA's transit development plan for the West 25th Street corridor (the MetroHealth Line).
The $60 million housing and retail development on West 25th Street.
Construction of The MetroHealth Glick Center.
Contractors Virtual Open House
On August 19, MetroHealth, The NRP Group and Metro West Community Development Organization hosted a Contractors Virtual Open House to provide information about the proposed four-story mixed-use apartment building planned for West 25th Street and Sackett Avenue in the Clark-Fulton neighborhood. The project will have up to 72 affordable housing units and a 5,000 square-foot economic opportunity center on the first floor.
West 25th Street Project Update
June 2020
Cleveland City Planning Commission Approves First Building in $60 Million Development Adjacent to MetroHealth

The Cleveland Planning Commission has approved plans for the first building of a multi-faceted $60 million development that will bring new housing and other amenities to the Clark-Fulton neighborhood. The building, located on the corner of West 25th Street and Sackett Avenue, will have up to 72 affordable apartments. The one-, two- and three-bedroom units will be available to those who earn 30% to 80% of the area's median income – between $22,110 and $58,950 for a family of four.
The building will also house a 5,000 square foot Economic Opportunity Center for job training and other community services including a Tri-C Access Center being done in partnership with Cuyahoga Community College which will serve both tenants and the neighborhood.
Read about the Cleveland Planning Commission approval from our newsroom
Watch Our May 27 Community Meeting
On May 27, MetroHealth hosted a Community Meeting featuring information about the building to be constructed on the corner of W. 25th Street and MetroHealth Drive, collaboration with the Metro West Community Development Organization and Councilwoman Jasmin Santana, and a COVID-19 update from Dr. David Margolius.
Please email any questions to [email protected].
Watch the May 27 meeting recording
May 2020
As MetroHealth continues its $1 billion campus transformation, the health system is committed to creating economic growth and opportunity in the Clark-Fulton neighborhood it calls home. MetroHealth has launched an unprecedented collaboration with neighborhood partners to help advance Clark-Fulton with a comprehensive strategy that combines sustainability, economic development, better health and community decision-making.
MetroHealth's vision for the community includes plans for:
A stronger housing market
Economic opportunities for residents
Nearby park/greenspace
Improved community health and wellness
To help achieve those goals, MetroHealth is proposing a $60 million development along West 25th Street that is intended to spark the growth of the Clark-Fulton neighborhood. The project will include new housing for various income levels, resident services, a job-training center and retail spaces.
MetroHealth's $60 Million neighborhood development project to bring new housing, amenities and community services to Clark-Fulton and West 25th Street
MetroHealth leaders are committed to making the most of the System's $1 billion campus transformation, including a new $60 million mixed-use development designed to trigger economic growth and opportunity for the Clark-Fulton neighborhood.
The development is expected to create more than 250 new residential units, including affordable housing, apartments for MetroHealth medical residents and market-rate apartments. Each of the three proposed buildings will have first floors dedicated to making life easier, healthier and more prosperous for the entire neighborhood. The project includes:
36,000 square feet of commercial and retail space offering amenities such as a grocery store, fitness center, restaurants, coffee shop, childcare facilities and community spaces for residents and guests.
An Economic Opportunity Center providing employment, financial literacy and digital literacy training programs to help prepare individuals for employment.
The Tri-C Access Center, bringing high-quality educational training into the community and increasing access to higher education.
Building 1
Four stories with up to 72 units of affordable housing and a 4,500 square foot Economic Opportunity Center offering job training and other community services.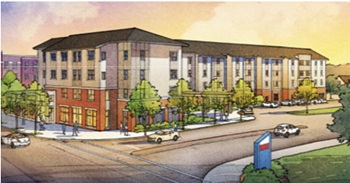 Building 2
Five stories with up to 100 market-rate housing units for MetroHealth medical residents and up to 19,000 square feet of commercial space.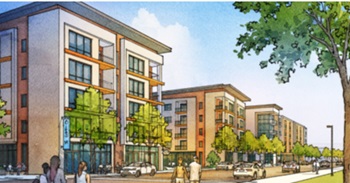 Building 3
Five stories with up to 80 units of housing and 17,000 square feet of commercial space, along with a new, visible headquarters for MetroHealth's Police Department.
We're Just Getting Started
August 2019
At MetroHealth, we're just getting started with the transformation of our main campus, building a new hospital, and leading the way to a healthier community for everyone to enjoy.
We want the community with us every step of the way... which is why we hosted and participated in a number of community meetings this summer at Family Ministries, the 2nd District Commander's meeting, in Tremont and in Slavic Village.
We also invited the community to MetroHealth for a series of open houses in our Center for Campus Transformation to experience a virtual reality tour of the hospital, learn more about the initiatives we're leading, and share their thoughts about how we're working together to strengthen and enhance the Clark-Fulton neighborhood.
We've made a lot of announcements in the last few months about MetroHealth initiatives and we want to share the details with our community and hear what they have to say.
We've met with more than 500 community members in the last two months including residents, small business owners, city council members, nonprofit and community partners, patients and others interested in what we had to share and how it would enhance the neighborhood and the community.
The response was positive with high interest in continuing the conversation. The main areas of interest were our housing initiatives, the digital access pilot, green space and the idea of new businesses and amenities including a grocery store, and locally owned affordable restaurants.
Those we spoke with were excited about having a voice and collaborating to improve health and safety and to create economic and educational opportunities to improve everyone's quality of life.
Read an overview of MetroHealth initiatives
Learn more about our investments in Clark-Fulton
People asked a lot of questions and shared their ideas. Read our Frequently Asked Questions.
Read more from local media who attended our meetings and open houses.
Resources:
---
Pardon our Dust
People who live near our main campus no doubt saw the trucks traveling up and down Scranton all summer long. What they didn't know was those 6,500 truckloads of dirt hauled 35,000 yards of clean dirt to Clark Fields to be used in an EPA remediation project.
Learn more about the environmental cleanup at Clark Field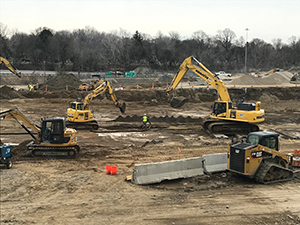 ---
The Steel is Going In
Everyone who passes by the new hospital construction site at Scranton and Southpoint can't help but notice huge cranes in the sky and steel arching upward out of the ground. The foundation is being built and work will continue until the until 11 floors of steel are in place.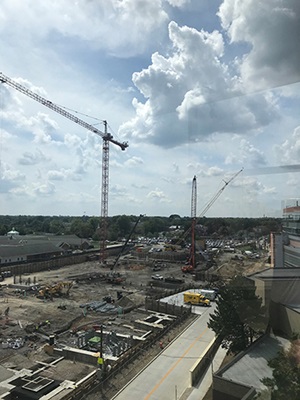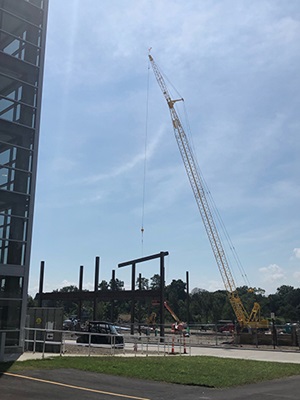 As we keep building on the construction site and in the community, we want to keep you informed along the way. Check back with us at this page for updates and if you have a question, please contact us at [email protected] or send a note to:
Community Relations
5410 Lancaster Dr., Bldg B, Room 218
Brooklyn Heights, Ohio 44131