Sustainability and Environmental Health
Environmental Commitment Statement
Read a message from our President and CEO.


Practice Greenhealth Award
MetroHealth is the recipient of a 2022 Environmental Excellence Award from Practice Greenhealth, the nation's leading organization dedicated to environmental sustainability in health care.
This award recognizes the organization's ongoing commitment to improving its environmental performance and efforts to build sustainability into the operations and culture of our institution (awarded to the ~top 20% of award applicants).
This is the fourth time MetroHealth has won the national recognition, with the first honor happening in 2019.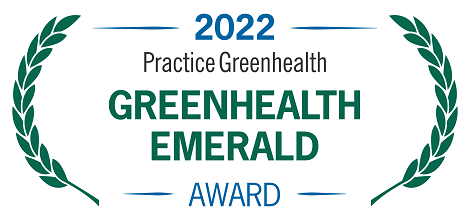 Key highlights and statistics for 2021 that helped MetroHealth Medical Center earn this award include:
86% recycling rate for the MetroHealth Glick Center construction and demolition debris, up from 85% in 2021, surpassing the national goal of 80%
Reduced regulated medical waste to 5.6% of total waste, down from 7% in 2020, and below national median of 6.2%
6.7% reduction in water use, compared to 2020
13.7% recycling rate for mixed recycling – thank you for every time you Recycle Right!
7% local spend for food and beverages, up from 3% in 2020
5.1% sustainably produced food and beverages spend, up from 2.8% in 2020
40% improvement in *MTCO2e emissions from meat purchases, compared to 2020 *(MTCO2e means "metric ton carbon dioxide equivalent")
57% Healthy Interiors, surpassing 30% national goal (% of all furniture and furnishing purchases that avoided five targeted chemicals of concern, including PVC (vinyl), unnecessary antimicrobial coatings, perfluoroalkyl substances (PFAs) stain and water coatings, formaldehyde and fire retardants)
77% EPEAT ecolabel certified spend on computer and other information systems equipment
Decreased Scope 1 carbon emissions per operating procedure from 0.13 MTCO2e /procedure to .09 MTCO2e/procedure from clinicians using anesthetic gases that have lower global warming potential
Healthy Transportation Choices Program, including the free employee transit pilot, a daily parking rate so employees can "pay as you park", health insurance premium discount for non-drive alone commuting, NOACA Gold Commuter Choice award, Paradox Prize award and recognition
To learn more about MetroHealth's sustainability efforts, contact Sarah by email at [email protected] or phone 216-778-7963.
Greening the OR Recognition Award 2022
The Greening the OR Initiative of Practice Greenhealth recognizes hospitals that have made substantial strides in improving environmental performance in the operating room.