Sustainability and Environmental Health
Practice Greenhealth Award
MetroHealth is the recipient of a 2021 Environmental Excellence Award from Practice Greenhealth, the nation's leading organization dedicated to environmental sustainability in health care. This is the third time we've won the national recognition, with the first honor happening in 2019.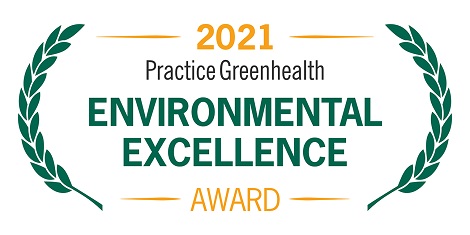 Key highlights and statistics from 2020 compared to 2019 that helped MetroHealth Medical Center earn this award include:
1.2 million pound decrease in total waste, with ~900,000 pounds decrease in regular trash that goes to landfills
30% decrease in paper use
$20,000 savings through the Office Supply Swap Meet and closets, run by the Green Team Employee Business Resource Group
17% recycling rate for mixed recycling – thank you for every time you Recycle Right!
85.1% recycling rate for the MetroHealth Glick Center construction and demolition debris, surpassing the goal of 80%
2.1% decrease in water usage
89.9% Healthy Interiors – (% of all furniture and furnishing purchases that avoided five targeted chemicals of concern, including PVC (vinyl), unnecessary antimicrobial coatings, perfluoroalkyl substances (PFAs) stain and water coatings, formaldehyde and fire retardants)
0.3% decrease in Scope 2 Carbon Emissions from a reduction in total electricity use and from clinicians using anesthetic gases that have lower global warming potential
Healthy Transportation Choices Program, including the free employee transit pilot and Gohio Commute trip logging platform
To learn more about MetroHealth's sustainability efforts, contact Sarah by email at [email protected] or phone 216-778-7963.
2021 Commuter Choice Awards
MetroHealth is a recipient of the gold 2021 Commuter Choice Award, a competition sponsored by the Northeast Ohio Areawide Coordinating Agency (NOACA) that recognizes employer-based programs that incentivize employees to find sustainable ways to travel to work. MetroHealth was recognized for its GoOhio Commute subsite, where employees can log their non-drive alone commute (remote work, transit, carpool, bike, walk, bike/carshare, etc.) and earn discounted health insurance premiums.