Sustainability and Environmental Health
Sustainability is at the heart of our healing mission – and we're proud to share on this, the 50th Anniversary of Earth Day, that our sustainability strategies have been recognized. MetroHealth Medical Center received the Partner for Change Award from Practice Greenhealth.

This award recognizes MetroHealth for the following efforts:
Continually expanding sustainability programs that recycle or donate materials instead of sending them to the landfill
Eliminating mercury and avoiding toxic chemicals of concern in our operations
Examining and encouraging alternative commuting and transportation options
Adopting building and community development practices meant to increase the wellness of both people and the environment in which we all live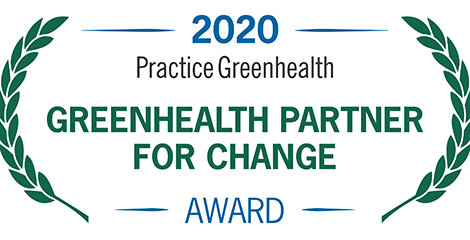 At MetroHealth, we know that sustainability is essential to better care for our patients, for our communities and for the planet, as a healthy environment means healthy people. Programs and actions that embody environmental stewardship have been initiated, co-created and/or implemented by leaders, frontline workers, clinicians, Green Team members, Sustainability Advisory Council members, the Sustainability Office, and others throughout recent years.

Some 2019 highlights that were included in the award application are as follows:
Anesthesiology – hosted a Grand Rounds session on sustainability and acting on climate change
Community & Economic Development – created affordable housing initiative in the Clark-Fulton neighborhood
EVS and Waste Management (and all employees!) – increased our recycling from 11% to 17%
Facilities – eliminated a common source of mercury by recycling fluorescent lamps
Green Team – avoided landfill and office supply expenses via the Office Supply Swap and closets
Interior Design – helped achieve 29% Healthy Interiors through furniture purchases in 2019
Logistics and SOUP – coordinated recycling of over 85,000 pounds of metal from clean-outs
Retail Pharmacy – eliminated Styrofoam shipping containers and extra paper for medications
Radiology – donated CT Scanner to the Cleveland MetroParks ZooNursing and Materials Management – donated over 19,000 pounds of supplies to MedWish
"Thank you to every employee who helped make these programs a success, and who are helping MetroHealth achieve its sustainability goals. Your everyday actions make a difference – reduce your energy and water use, reduce your waste, reuse what you can, recycle what is recyclable and be well," says Sarah O'Keeffe, Sustainability Director.