Reiki
MetroHealth provides the healing therapy of Reiki - a gentle, pleasant, deeply relaxing, hands-on, healing-touch therapy. Translated from Japanese, "Reiki" means "Universal Life Energy."
Cost: There is no charge to receive a Reiki treatment.
To schedule an appointment, call 216-778-5471.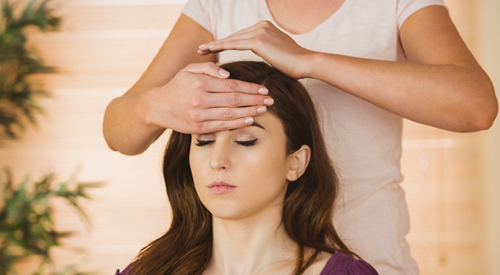 Reiki
Worldwide, doctors, surgeons, hospitals, and medical facilities offer Reiki to their patients. The Hands to Heart Reiki Clinic at MetroHealth is highlighted in The Center for Reiki Research, including Reiki in Hospitals, at www.centerforreikiresearch.org.
Reiki works by encouraging the healing processes of the body and mind and by restoring and balancing the flow of energy in the body. The body itself regulates the amount of energy it receives and where it goes.
The Reiki practitioner is not doing the healing. Healing energy flows through not from the practitioner.
Reiki is not massage, nor is it a tool for diagnosing illness, and should not be considered a substitute for medical treatment.
Reiki works naturally to facilitate healing, aiding in the healing effects of medical therapies, as well as counseling. It does not interfere with any form of medical treatment.
It can be used on people of any age — from infants to the elderly — and in any state of health, including hospice care.
It can reduce the unwanted side effects of medical therapies. Reiki can shorten healing time, help with pain control, reduce stress, tension, anxiety and depression, reduce swelling, inflammation and bleeding, and lower blood pressure and heart rate.
It is gentle enough to reduce the discomforts of pregnant women and can help ease the pain of childbirth.
Effects and results vary from person to person. Most people experience deep relaxation and feel calm and peaceful. After a session, they feel refreshed and renewed. A number of sessions may be required for optimal results.
Reiki is performed in an area or space that allows for complete and total relaxation, free from outside noises and distractions, often using soothing music to help aid in the relaxation process.
It can be received while sitting in a chair or lying in a bed and through casts and bandages. Clothing is never removed.
The Reiki practitioner places his or her hands lightly on or slightly above several areas of the head, upper body, back, and on the arms and legs. The practitioner's hands may also be placed over or on an injured area or an area of pain or discomfort.
Cost: There is no charge to receive a Reiki treatment.
To schedule an appointment, call 216-778-5471.
Make a Donation Today!
Make Check Payable To: MetroHealth Foundation Integrated Therapies Fund
Mail Checks To: The MetroHealth Foundation Inc.
2500 MetroHealth Drive, Tower 135A
Cleveland, OH 44109-9902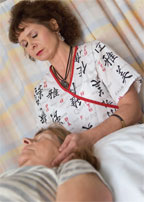 Volunteer Reiki Practitioners
To be a Volunteer Reiki Practitioner, you must be trained at minimum in Reiki II (Master Level is preferred). Training is available for all Reiki levels (I, II and Master level) at MetroHealth.

For registration fees and the dates of upcoming classes, call 216-778-5471.