AIDS Memorial Quilt at MetroHealth
AIDS Memorial Quilt at MetroHealth
Thursday, 21 November 2019 08:00 AM - Tuesday, 03 December 2019 08:00 PM
MetroHealth Medical Center
Rammelkamp Atrium & Outpatient Plaza Atrium
2500 MetroHealth Drive
Cleveland, Ohio 44109
Map & Directions
Register to Volunteer or Make a Quilt Panel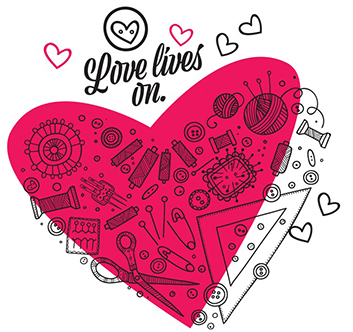 The AIDS Memorial Quilt was founded in San Francisco, CA in 1987 by Cleve Jones. As of June 2016, the AIDS Quilt is composed of more than 49,000 panels on almost 6,000 blocks (blocks are the twelve foot square building blocks of the Quilt seen at displays – there are typically 8 panels, each measuring 6 feet by 3 feet, per 12 foot square block).
Portions of the Quilt are constantly on display around the country. MetroHealth is honored to be a part of this legacy.
Learn more about the history of the AIDS Memorial Quilt
MetroHealth has been hosting a display of the Quilt every-other year since 2009. Each time the Quilt visits MetroHealth, we partner with Stitch Cleveland and local sewing volunteers to make new panels with local families, partners, lovers & friends of people who died of AIDS-related illness.
The beautiful panels we create are then sent to Atlanta to be sewn into the AIDS Memorial Quilt. Since 2009 we've added nearly 40 new panels bearing names of greater Clevelanders.
See the Quilt
November 21 – December 3, 2019
Open Quilt viewing
8am – 8pm (except on Thanksgiving)
MetroHealth Rammelkamp Atrium & Outpatient Plaza Atrium
Tuesday, December 3 – 5:30 – 7:00 p.m.
Closing Reception
MetroHealth Rammelkamp Atrium

The Quilt display is open to the public and all events are free

MetroHealth's main campus is located at 2500 MetroHealth Drive in Cleveland.
Park in the visitor's garage on MetroHealth Drive, across from the towers – bring your parking ticket in for validation.
Enter through the revolving doors under the towers and the front desk staff can direct you to the Rammelkamp Atrium and the Outpatient Plaza Atrium (near our Pharmacy) where the AIDS Quilt blocks will be hanging
Make a Panel
Saturday, November 23, 2019
10 a.m. – 6 p.m.
Panel-making workshop
If you want to make a Quilt panel for someone you love & lost to AIDS-related illness but don't know the first thing about sewing or design, don't worry. We have talented seamsters, artists with design savvy, and other caring volunteers to guide you through the process. We provide everything you'll need – materials, sewing machines, sewing folks, and a supportive environment. All you have to bring is yourself and ideas of how you might want your 6' x 3' panel to look. We even provide lunch & snacks.
Volunteer to Sew or Sit
If you are a person who sews, an artist, or are simply a creative, caring person, we need you! Please consider volunteering for our panel making workshop on 11/23/19 from 10 a.m. until 6 p.m.
The AIDS Quilt is an irreplaceable work of art and needs to be treated with care and carefully looked after during it's time at MetroHealth. We need volunteers to come to MetroHealth for "Quilt-sitting" in 2-hour shifts. Please consider supporting HIV awareness by giving your time. We'll provide parking validation and our gratitude.
Special Group Visits
Visiting the Quilt can be a powerful experience, especially for young people. Please contact Jen McMillen Smith at [email protected] or (216) 778-4051 if you are interested in planning a group visit to the Quilt.
We can arrange a short talk with a person who made a Quilt panel and/or a person living with HIV. Groups hosted in the past include middle school students from Urban Community School, Cleveland Heights High GSA students, a group of young volunteers with Planned Parenthood, and a LGBT Teen Group.