Care Options for Chronic Illness
MetroHealth's goal is to help patients and the people who support them to be more empowered to make the best healthcare decisions for them and to improve their comfort, even under difficult circumstances. Talk to your primary care doctor about your options, or call us directly to set up a consultation with a MetroHealth Palliative Care Provider.
To schedule a consultation, or to learn more, call 216-778-2343.
Palliative Care
MetroHealth's physicians provide compassionate, quality care while collaborating research on the best ways to care for chronically ill patients.
We see patients on an outpatient basis, as well as in the hospital and Emergency Department. During a visit, you can meet with a specialist one-on-one or with your family to understand what treatment choices are available to make you more comfortable.
We provide pain relief, emotional support, education and community connections for those with chronic or terminal illness. MetroHealth's well-respected team includes physicians, nurses, social workers, case managers, chaplains and others. These vitally important people support the physical, spiritual, emotional and social needs of patients and their families.
Palliative Care
Palliative care focuses on improving quality of life for people with a chronic disease or illness. We focus on:
Relieving pain or other symptoms, such as nausea or difficulty breathing
Improving communications with a patient's providers and family
Assisting patients, families and care providers with making difficult health care decisions and identifying goals of care
Connecting patients to helpful community resources, such as meal delivery programs or transportation
Offering support and education to help patients and families feel less overwhelmed or alone
We create custom treatment plans based on your health, needs and wishes. We work with patients, families and care providers and modify plans as the patient's needs change.
Some of the life-limiting or chronic debilitating conditions palliative care supports are:
Alzheimer's disease
Cancer
Chronic obstructive pulmonary disease (COPD)
Congestive heart failure
Kidney failure
Progressive neurological conditions, such as amyotrophic lateral sclerosis or multiple sclerosis
Other life-impacting or life-limiting illnesses
Palliative Care versus Hospice Care
Palliative care is much broader than hospice care. Hospice care is usually provided to people in the last six months of life. Palliative care, on the other hand, is available at any point in a person's progressive or critical illness. You do not have to be dying to receive palliative care. Getting help before your symptoms become overwhelming can improve your quality of life right now. If you choose to continue treatment meant to cure your illness or help you live longer, you can still receive palliative care.
We collaborate with excellent hospice programs to provide our patients and their loved ones with the highest possible quality of life. If you need hospice care, our palliative care experts work closely with many hospices in the community and connect you with the right community program.
To schedule a consultation, or to learn more, call 216-778-2343.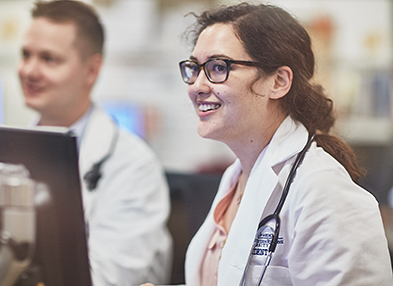 Graduate Medical Education
The MetroHealth System is committed to providing high-quality education and training programs in residency, fellowship and advanced nursing.
Learn more about our programs