Support MetroHealth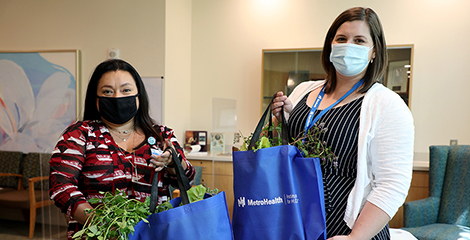 MetroHealth has been essential to our region's health for almost 185 years.
We've always taken care of anyone who comes through our doors. During COVID-19 and other health crises, we embraced our role as guardians of public health. Now we are going beyond medicine to ensure our patients lead longer, healthier lives – especially those who are at-risk, underserved and overlooked.
We're investing in our health, in our community and in our future – taking bold and innovative steps: building a state-of-the-art hospital that is transforming care and spurring neighborhood development, creating acres of healthy and accessible green space and affordable housing, and addressing the stark realities of healthcare disparities.
Join us with your gift of support today that will help transform the lives of so many who are committed to improving themselves and their families.

©Copyright 2022 The MetroHealth System | 2500 MetroHealth Drive | Cleveland, OH 44109 | 216-778-7800 | All Rights Reserved.
There is no rating available for this provider for one of two reasons: he or she does not see patients, or has not received the minimum number of patient survey responses.