Tangela Woods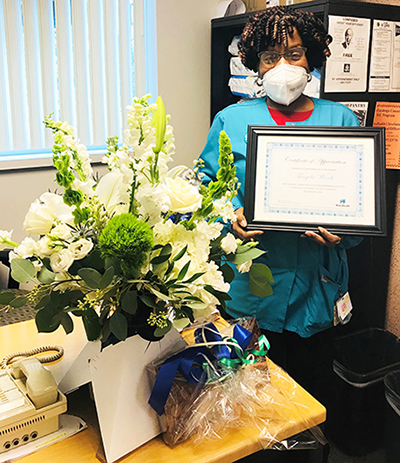 Tangela Woods has been a Social Worker with The MetroHealth System for 18 years, assisting patients at Broadway, Buckeye and Cleveland Heights. Over the course of nearly two decades, she has implemented projects, volunteered for programs and mentored new social workers. These efforts have resulted in her being named a 2020 MetroHealth Shero.
"Tangela has provided so many wonderful services, such as a monthly clothing drive and collecting $4,000 to provide shoes for an entire school for the patients in the Broadway community. She continuously volunteers for special projects in that clinic to assist patients," her nominator wrote. She's also participated in the Integrated Care project, which provides a pipeline to mental health care services for primary care patients.
As a Social Worker, Tangela connects patients to resources for their basic needs. She does the same for several of her older relatives. "Without her help, her family would have been without the support they needed," the nominator wrote.
Tangela aims to share her knowledge with the next generation of providers. She has mentored Social Work interns who have eventually become MetroHealth employees. "She taught them the true meaning of being a caring and resourceful Medical Social Worker," her nominator wrote. Tangela also has participated in a program that brings medical residents into the clinic for a shadowing experience, allowing them to see another side of patient care. In addition, she's an Adjust Instructor at the Northeast Ohio Medical University.