Susan McCoy, RN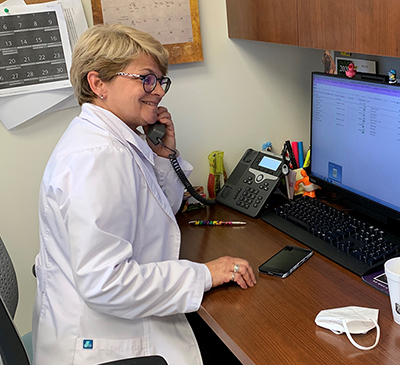 It's difficult to determine the exact number of patients, family members and residents Susan "Sue" McCoy, RN, has helped. In a career spanning over 30 years, it's been a lot. And it's been meaningful, which is why she was selected to be a 2020 MetroHealth Shero.
MetroHealth's Breast Care Nurse Navigators provide support to breast cancer patients as they go through the multiple steps needed for treatment. They work with patients spanning the continuum of breast care, from the screening mammogram through treatment and survivorship. Sue was the first to step into this position when it was created over a year ago. As a Coordinator, she's developed a program that aims to reach all patients who need breast care and she's worked to ensure that there are no care gaps. "She shows outstanding patience and support when she has to give difficult news, and she knows just the right touch when someone needs a little more love or straight forward explanations," her nominator wrote.
Sue has volunteered at numerous breast health outreach events. She's also been a shoulder to lean on for colleagues who have questions or need support. "She has been the example and definition of a nurse to everyone she meets," her nominator wrote.
When she isn't supporting breast care patients, Sue is using her sewing skills to keep people safe. Since the COVID-19 pandemic started, she's been making face masks for family members and colleagues.