Mary Massie-Story, MD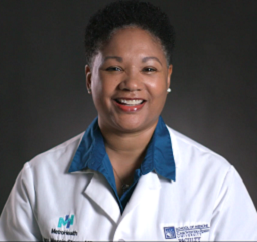 Competent, caring and always willing to share knowledge with peers, patients and students. These qualities align with the MetroHealth STAR-IQ values. They describe an ideal provider. And they're just a few of the reasons Mary Massie-Story, MD, is a 2020 MetroHealth Shero.
Dr. Massie-Story is a Family Medicine physician who works in the Metro ExpressCare clinics. According to her nominator, she is "exceptional in her care for patients, educating the community while showing compassion." She's been an integral part of the MetroHealth community for over 20 years – she even completed her residency and fellowship training here.
Dr. Massie-Story's influence extends beyond MetroHealth. She holds faculty positions at both Case Western Reserve University School of Medicine and the Northeast Ohio Medical University, and she participates in talks and lectures for the health care community. She is described as an advocate for minority providers and students, and as someone who is willing to offer support to anyone who asks for help. The nominator shared that at least two students who have been mentored by Dr. Massie-Story have been accepted to either medical school or a Physician Assistant program. "Her medical students, the scribes she worked with and staff who were trained by her feel supported … to achieve being the best provider while navigating as people of color. Her leadership skills are exceptional, and her knowledge of health care for patients and staff is invaluable."