Coronavirus (COVID-19)
If you have questions or concerns about COVID-19, please call the dedicated MetroHealth support line at 440-59-COVID (440.592.6843).
Si tiene preguntas o inquietudes sobre COVID-19, por favor llame a la línea de apoyo de MetroHealth al 440-59-COVID (440.592.6843).
CDC Introduces COVID-19 Self-Checker
The U.S. Centers for Disease Control and Prevention (CDC) introduced a self-checker to help people make decisions about what to do if they have potential symptoms of COVID-19.
Go to the self-checker
About Coronavirus (COVID-19)
MetroHealth physicians Amy Ray, MD, MPH, medical director of infection prevention, and Brook Watts, MD, vice president and chief quality care officer - briefed Cuyahoga County Council on March 3. Dr. Ray explained that the virus is spread primarily through droplets in coughs and sneezes or through extended contact with someone who is contagious.
Dr. Ray urged people to cover their cough with their sleeve, refrain from touching their face and remain at home if they are ill. Hands are involved in almost everything people do, from preparing food to caring for children to treating a patient.
"The greatest risk reduction is to clean your hands," Dr. Ray said.
Public health officials have said singing "Happy Birthday to You" twice while washing your hands is a good guide for how long to wash.
"Yes, you need to wash your hands," Dr. Watts said. "No, you do not need a mask for routine activities in the community. It does not keep the bugs out."
Dr. Watts stressed that in the age of social media, there is a great deal of misinformation about COVID-19 online. She stressed political, health care and civic leaders need to keep directing people to credible, reliable information, such as that put out by the U.S. Centers for Disease Control and Prevention.
Dr. Watts reminded the audience that as of early March, influenza was still the greatest threat in Northeast Ohio, with hundreds of people are hospitalized and two children in the area have died from it. Those who have not gotten a flu shot can still do so. More information is available at metrohealth.org/flu-shots.
Dr. Ray noted that the symptoms of COVID-19 – fever, cough, shortness of breath – are common in a multitude of illnesses. With no known cure or vaccine at present, the course of treatment would be similar to the way colds and flu symptoms are treated.
MetroHealth has protocols and plans in place if needed. People showing up at MetroHealth with COVID-19 symptoms would be given a mask and put into rooms with special duct systems that filter air to prevent the spread of the disease, she said.
"At MetroHealth, we remain true to the mission, which is to take care of infected patients," Dr. Ray said. "We plan to continue to do that, in a safe way, for our patients, their families, the community and our health care workers."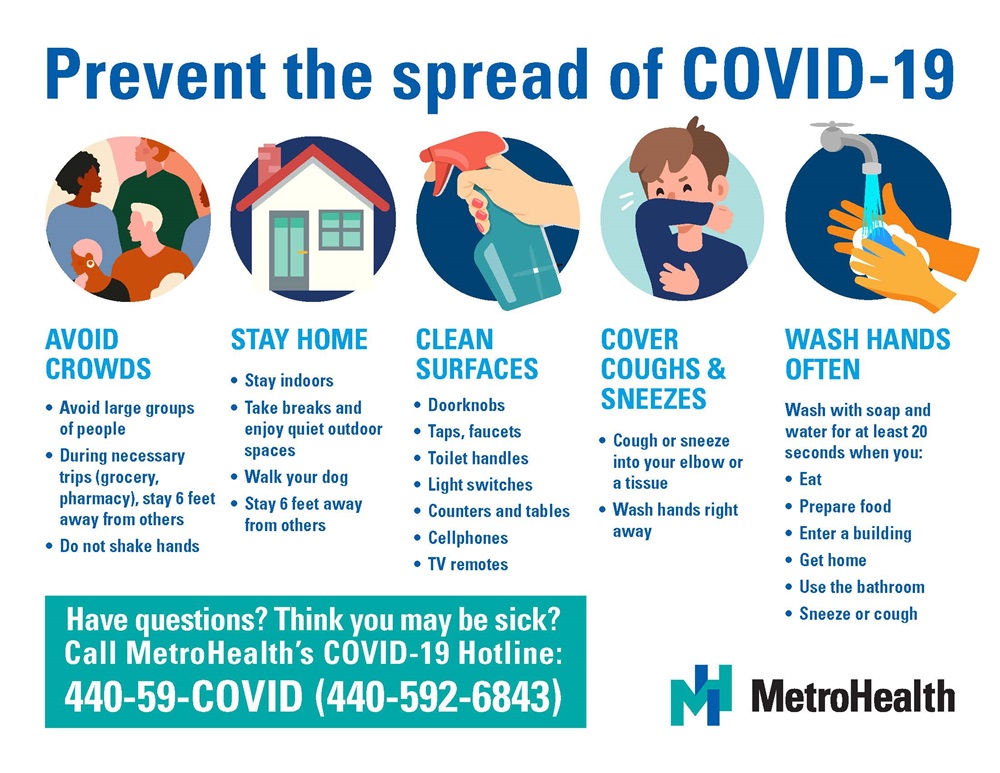 Frequently Asked Questions
What is novel coronavirus?
This novel coronavirus is a new virus that is from the coronavirus family and there are seven different viruses in this family, four of which are mild cold-like viruses. This specific novel coronavirus was first identified in Wuhan city, Hubei Province, China and has been officially named 'SARS-CoV2". When someone is infected with this virus they are said to have "COVID-19" or coronavirus disease 2019.
What are the symptoms?
This virus causes fever, cough and shortness of breath. The incubation period is officially two to 14 days after exposure. The infection can be very mild to full blown pneumonia, but it appears that 80% of cases are along the mild spectrum.
What is MetroHealth doing?
We have implemented travel screening in situations where a patient is presenting with an acute illness.
We are maximizing and conserving supplies in case of an outbreak.
Are the MetroHealth System facilities up to date for this?
Our facilities department has inspected our systems and our air handlers and negative pressure rooms are working as designed.
Are there any cases in Ohio?
Yes. Please visit the Ohio Department of Health's coronavirus updates page for the most timely information.
MetroHealth Leading the Way
Watch MetroHealth experts dicuss COVID-19 at a recent City Club of Cleveland panel.
Watch Video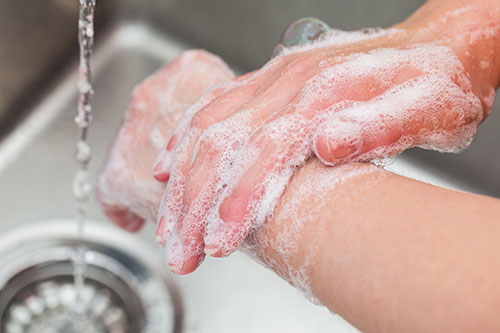 Hand Washing
Wash your hands often with soap and water for at least 20 seconds, especially after going to the bathroom; before eating; and after blowing your nose, coughing, or sneezing. Source: Centers for Disease Control and Prevention
Visit the CDC Handwashing website