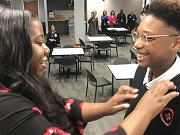 High School Seniors Become MetroHealth Interns
The first class of seniors at our Lincoln-West School of Science and Health have taken another important step toward careers in health care.
Last week more than 20 seniors received their MetroHealth pins, symbolizing the start of their internships with our health system. Their high school, a partnership between the Cleveland Metropolitan School District and MetroHealth, is located on our Main Campus and is believed to be the only school of its kind in the nation located inside a hospital.
The student internships will provide real-world work experience in one of nine departments: nursing, radiology, marketing, communications, environmental services, safety and security, research, patient access or physical therapy. The seniors also will receive practical skills training such as resume-writing and workplace procedures, which will serve them in any career.
The first class of the Lincoln-West School of Science and Health will graduate in spring of 2019.
(Photo caption: Lincoln-West School of Science and Health Principal Michelle Kirkwood-Hughes pins a MetroHealth internship pin on one of her students last week during a ceremony. Photo courtesy of Cleveland Metropolitan School District.)