Jayme Knutson, PhD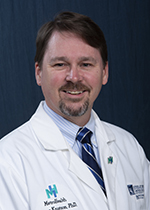 TITLE
Director of Research, Department of Physical Medicine and Rehabilitation, MetroHealth System
Senior Staff Scientist, Department of Physical Medicine and Rehabilitation, MetroHealth System
Professor, Department of Physical Medicine and Rehabilitation, CWRU
Biomedical Engineer, Research Service, Louis Stokes Cleveland Veterans Affairs Medical Center
Associate Director of Movement Restoration, Cleveland FES Center
BROAD RESEARCH PROGRAMS
Paralysis After Stroke
Innovative Rehabilitation Technologies
SUMMARY
Dr. Knutson is a tenured Professor in the Department of Physical Medicine and Rehabilitation (PM&R) at the MetroHealth System and Case Western Reserve University (CWRU) School of Medicine. His research focuses on the development, testing, and clinical translation of neurostimulation therapies for upper limb paresis after stroke. Dr. Knutson earned his PhD in biomedical engineering from CWRU in 2004 and received additional training as a Clinical Research Scholar with the Case/Cleveland Clinic Multidisciplinary Clinical Research Training Program (NIH K12/KL2) from 2005 to 2009.
He is a co-inventor of Contralaterally Controlled Functional Electrical Stimulation (CCFES), a patented neuromuscular electrical stimulation therapy for rehabilitation of individuals with hemiparesis due to stroke or cerebral palsy. Dr. Knutson's research has been supported by grants from the National Institutes of Health and the Department of Veterans Affairs. He has been the principal investigator on clinical trials investigating the efficacy of CCFES and other functional electrical stimulation interventions to improve upper and lower limb function in stroke patients.
He has also served as a site PI and as a Co-Investigator on many clinical trials. He leads an interdisciplinary team of physical and occupational therapists, physiatrists, engineers, and neuroscientists. As the Director of Research at MetroHealth Rehabilitation Institute, Dr. Knutson coordinates research efforts and resources for investigators and research education for the MetroHealth PM&R Residency program.
PUBLICATIONS
National Library of Medicine bibliography page
PROFESSIONAL SOCIETY MEMBERSHIPS
2013-present American Congress of Rehabilitation Medicine
2018-present International Society of Physical and Rehabilitation Medicine
SPECIFIC RESEARCH TOPICS
CONTACT INFORMATION
MetroHealth Old Brooklyn Health Center
4229 Pearl Road, Rm SM1-057
Cleveland OH, 44109
Phone: 216-957-3557
Email: [email protected]; [email protected]