Residency and Fellowship Programs
The MetroHealth Rehabilitation Institute is committed to improving the health, well-being and quality of life of persons with functional limitations. What better way to achieve this objective then to train the next generation of PM&R physicians and scientists?
We offer the following programs:
---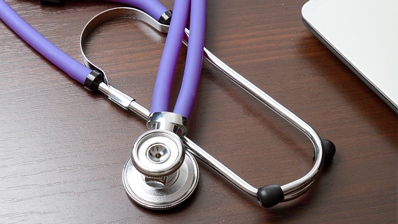 The MetroHealth System/Case Western Reserve University PM&R Residency Program is one of the oldest PM&R Residency Training Programs in the country (continuously accredited by the ACGME since 1957), and matches six residents per year from over 500 medical student applicants. We offer an outstanding training environment that features advanced clinical rehabilitative care and research in the context of three distinct health care systems: The MetroHealth System, The Cleveland Clinic Foundation and The Louis Stokes Cleveland Veterans Affairs Medical Center.
More than 60 faculty members from the three institutions participate in the training program. These include board-certified PM&R physicians, rehabilitation psychologists and PhD scientists. Neurologic rehabilitation training includes inpatient and outpatient rotations in stroke, brain injury, SCI and in a variety of specialty clinics, including spasticity and concussion clinics. Musculoskeletal rehabilitation training includes rotations in electrodiagnostic medicine, neuromuscular diseases, lymphedema care, industrial rehabilitation, musculoskeletal medicine, spine care, interventional spine procedures, sports medicine, amputee rehabilitation and ultrasound guided procedures. All residents fulfill a research requirement, which includes an evidence-based medicine didactic series, journal clubs and research project completion and presentation.
For more information, visit our PM&R Residency website.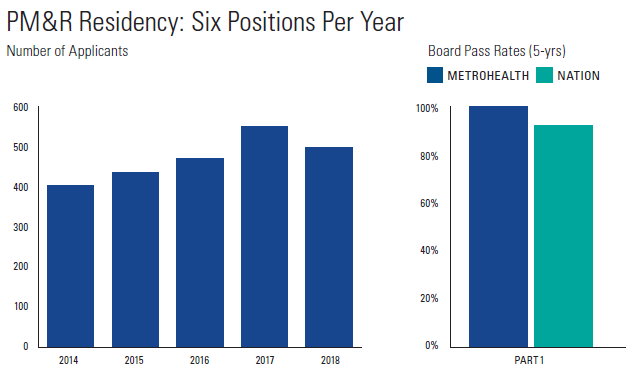 ---

Since its inception in 2006, The MetroHealth System/ Case Western Reserve University ACGME-accredited SCI Medicine Fellowship Program has trained 13 fellows. Through funding from The Craig H. Nielsen Foundation, two fellows are accepted each year for highly specialized training and research in the prevention, diagnosis and treatment of both traumatic and non-traumatic SCI.
As with the PM&R Residency Program, SCI fellows benefit from rotations in three distinct settings: The MetroHealth System, The Cleveland Clinic Foundation and The Louis Stokes Cleveland Veterans Affair Medical Center. The fellows are trained by SCI Medicine-certified attending physicians and specialists in trauma, spine surgery, pulmonary care, critical care, pediatrics, plastic surgery, neurology and psychology.
Fellows benefit from exposure to all our SCI research programs, particularly our state-of-the-art Functional Electrical Stimulation (FES) technology for limb/trunk movement, respiratory/cough assistance and ventilator weaning through our close working relationship with the Cleveland FES Center.
For more information, visit our SCI Medicine Fellowship website.
---
The Department of Physical Medicine & Rehabilitation (PM&R) at Case Western Reserve University (CWRU) offers a one-year ACGME-accredited fellowship in Brain Injury Medicine. The BIM Fellowship is a 12-month program that offers specialized training in the prevention, diagnosis, treatment and management of traumatic and non-traumatic brain injuries. The Brain Injury Medicine fellow will rotate through a variety of practice settings including The MetroHealth Medical Center, The Louis Stokes Veterans Administration Medical Center (Regional Polytrauma Network) and The Cleveland Clinic Foundation.
For more information, visit our BIM Fellowship website.
---
MetroHealth/ Case Western Reserve University offers an Accreditation Council for Graduate Medical Education (ACGME) accredited Pain Medicine Fellowship Program. The program runs July 1st to June 30th.
For more information, visit our Pain Medicine Fellowship website.