Neurological Rehabilitation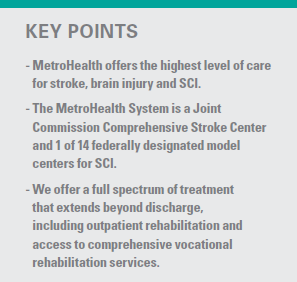 The MetroHealth Rehabilitation Institute helps patients recover from a full range of neurological conditions including stroke, brain injury and spinal cord injury.
Our 67-bed, CARF-accredited acute rehabilitation hospital is divided into distinct units for stroke, brain injury and SCI/major trauma. Although our patients are more complex than the nation and the region, our functional outcomes are comparable with excellent patient satisfaction. Upon completion of inpatient rehabilitation, we offer comprehensive outpatient rehabilitation as well as special programs designed to facilitate community and vocational reintegration.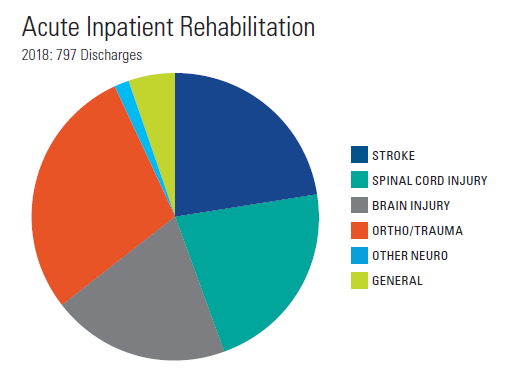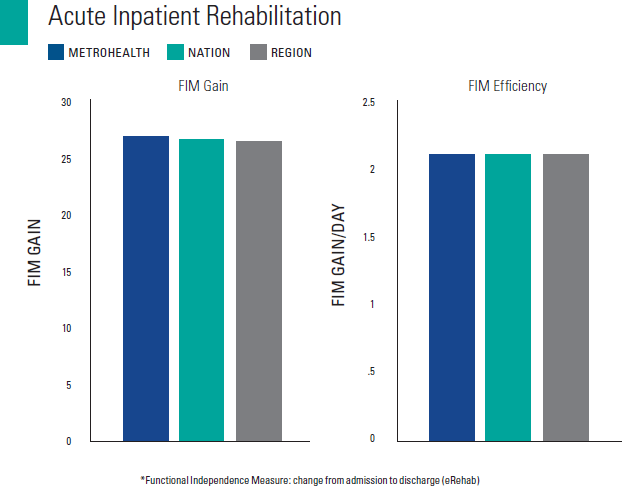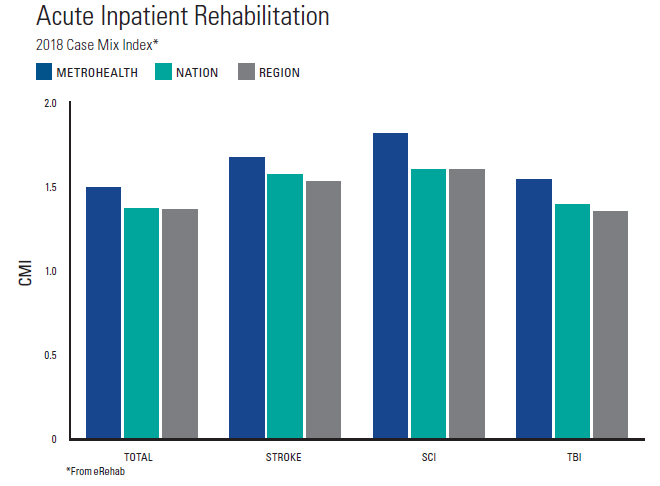 ---
MetroHealth is well-known for its acute emergency stroke care and critical care, and The MetroHealth Rehabilitation Institute has the distinction of having the only acute inpatient Stroke Rehabilitation Unit in Northeast Ohio.
The MetroHealth System is recognized by the Joint Commission as a Comprehensive Stroke Center, the highest level of stroke certification. The Stroke Center admits approximately 500 acute stroke patients annually. This experience results in efficient care — In 2018, our median door-to-needle time was 36 minutes, well within the national benchmark and below the national median for Comprehensive Stroke Centers.
Rehabilitation Begins Immediately
Rehabilitation evaluation begins on the acute stroke floor or in the Neurocritical Care Unit. PM&R physicians and therapists visit each stroke patient and assess his or her rehabilitation needs. Each year, approximately 170 individuals who have suffered a moderate to severe stroke with significant disabilities are admitted directly to our dedicated inpatient Stroke Rehabilitation Unit. Our PM&R physicians, psychologists, nurses and therapists are all specialty-trained in stroke rehabilitation.
Only at MetroHealth
MetroHealth PM&R physicians and scientists are national leaders in the development and implementation of new and evolving therapies for rehabilitating after a stroke not offered elsewhere nationally. For example, the MetroHealth team of PM&R physicians and scientists are experts in FES therapy, which has been shown to improve motor recovery and ease pain, particularly in the shoulder. Patients are routinely evaluated by our research group for consideration for inclusion in ongoing clinical trials. After discharge from the Stroke Rehabilitation Unit, all patients are followed by our outpatient stroke rehabilitation team for a minimum of one year.
With more than four decades of experience, MetroHealth is the region's leader in rehabilitation for mild to severe brain injury. We have built a program and a team that specializes in treatment of traumatic and atraumatic brain injuries. Brain injury cases that would be learning experiences at other facilities are routine for our staff.
Team of Experts
Our entire team — PM&R physicians, psychologists, nurses and therapy staff — has dedicated their professional lives to treating patients with brain injury. Our PM&R physicians with subspecialty certification in Brain Injury Medicine treat all severity levels of injury. We also have PM&R physicians who are subspecialty certified in Sports Medicine who focus on the management of sports-related concussions.
A Carefully Designed Unit
Inpatient brain injury rehabilitation occurs on a specially designed, dedicated unit that remains secured at all times. The environment in the Brain Injury Rehabilitation Unit is carefully managed to minimize sensory input that can be distracting to brain injury patients. Patient rooms have been designed with adaptations to manage the cognitive and behavioral changes that accompany brain injury.
All therapies are carried out on the unit and access to the gym is limited to just a few patients at a time in order to minimize noise- and activity-mediated distraction and agitation.
Specialized Therapies
The degree and presentation of brain injury vary widely from patient to patient. Our team of specialists is uniquely prepared to offer therapies for the many sequelae of these injuries, from gait training to visual perceptual therapy and methods for improving hand-eye coordination. Many of our physical therapists are specialists in balance therapy or vestibular rehabilitation and contribute substantially to the effective management of persons with concussion and severe brain injury. Our speech and language pathologists treat cognitive and language issues, as well as swallowing disorders.
---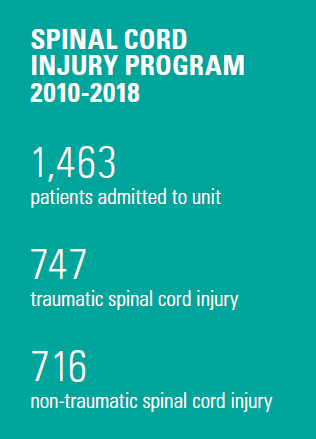 A Model System
The MetroHealth System is home to the Northeast Ohio SCI Model System. As one of only 14 SCI Model Systems in the United States, our program is recognized and funded by the National Institute on Disability, Independent Living and Rehabilitation Research as a center that provides exceptional comprehensive care and services to patients with SCI from acute care hospitalization through rehabilitation and integration back into the community.
The inpatient SCI Rehabilitation Unit occupies one floor of our acute inpatient rehabilitation facility. We receive approximately 100 new SCI consults on patients with traumatic SCI from our ACS verified Level I Adult and Level 2 Pediatric Trauma Center each year, in addition to hundreds of referrals from facilities across Ohio, Illinois, Indiana, Kentucky, Michigan, New York, Pennsylvania,Virginia and West Virginia.
Expert Care and Teamwork
Our staff includes PM&R physicians with ABPM&R subspecialty certification in SCI Medicine and a team of nurses; physical and occupational therapists; speech and language pathologists; psychologists; vocational specialists; recreation therapists; music therapists; social workers and case managers who are all subspecialty trained in SCI.
Our specially-equipped rooms accommodate patients who require ventilator or tracheostomy management in addition to overhead lifts to assist patients with difficulty transferring. We are the only academic rehabilitation facility in Ohio that admits ventilator-dependent SCI patients. Many of these patients are successfully weaned off the ventilator.
Connection to the Community
We are also home to the Northeast Ohio chapter of the United Spinal Association, a 501c3 Group established in 2002 and 322 members strong. Members meet monthly for medical/psychosocial/recreational lectures, meetings with vendors to review new products and socializing with other individuals with SCI. They also provide peer support coordinated through The MetroHealth System for individuals and families with new SCI that also attend the meetings. Also, thanks to a grant from the Craig Nielsen Foundation, our providers are conducting a weight loss program for SCI patients and have received the funds to build on our drivers training program to include a high technology driver training vehicle.
---
After discharge from acute inpatient rehabilitation, all neurological patients are followed by our outpatient team. We offer specialized physician and therapy services for stroke, brain injury, concussions and SCI. Other specialty clinic services include management options for tetraplegia, including nerve/tendon transfer and FES, spasticity management with intrathecal baclofen pumps and botulinum toxin injections, dysphagia clinic, wheelchair clinic, osteoporosis clinic, bracing and equipment management, rehabilitation psychology and neuropsychology. Other conditions treated in the outpatient setting include vestibular disorders, muscular dystrophy, polio, multiple sclerosis and Guillain-
Barré syndrome.
At The MetroHealth System, rehabilitation care is very much a team effort. At the core of that team are our specialty- trained nurses, social workers, physical and occupational therapists and speech and language pathologists.
Experienced and Specialized Therapy Staff
Our therapists are highly experienced — on average, our physical therapists have more than 12 years of experience, our occupational therapists more than 10 years and our speech and language pathologists 7.9 years of experience. Most of our therapists are also highly specialized with additional training and expertise in stroke, brain injury, SCI, musculoskeletal medicine, vestibular rehabilitation and chronic pain. Specific subspecialty certifications include Hand Therapy, Lymphedema, Manual Therapy, McKenzie, Orthopaedic Manual Therapy, Modified Barium Swallows, Pelvic Rehabilitation and Driver Rehabilitation and Post-Op Tetraplegic Hand/Tendon Transfer Rehab.
Skilled and Dedicated Nursing
Similarly, our inpatient nursing staff at The MetroHealth Rehabilitation Institute has unmatched experience with 10-15 years of clinical experience. Many have subspecialty certification or training in stroke, brain injury or SCI. Our nursing program is an American Nurses Credentialing Center Magnet-certified program. This gold-standard distinction is given to only the top six percent of all nursing programs in the country and recognizes expertise, excellence of care and leadership. The MetroHealth Rehabilitation Institute is the region's only Magnet-certified academic rehabilitation hospital.
Comprehensive Case Management
Our inpatient Nurse Case Managers oversee and coordinate all inpatient and outpatient care and discharge plans. In addition to insurance reporting and care planning for patients, the case manager also oversees training for family members and caregivers who will be transitioning a loved one home from inpatient care.