Inpatient Rehabilitation Services
MetroHealth's Acute Inpatient Rehabilitation Hospital provides advanced care for people recovering from serious medical conditions. Intensive inpatient rehabilitation services help adults and children (13 years and older) through the first stages of recovery after a serious illness or accident. We provide a caring team of physicians, nurses, therapists and other experts to help you get back into your home and community.
For more information, call 216-778-3776.
Our Experts
Led by a highly trained physical medicine and rehabilitation physician, your team may include:
A physical therapist who will focus on regaining your mobility
An occupational therapist to help you with self-care
A speech pathologist to help you with cognition, memory, speech and swallowing
A social worker who helps you return to your community
A rehabilitation psychologist to assist you with emotional issues
A case manager who can help with insurance issues and ordering special equipment
Other team members include specially trained art, music and recreational therapists. We also teach your family members how to care for you when you're ready to leave inpatient rehab.
Available Treatments
Therapy treatments are available for - but not limited to - the following conditions:
Active polyarticular arthritis (rheumatoid, psoriatic or seronegative)
Amputation
Brain injury – e.g. traumatic, anoxic/hypoxic, tumor, post-surgical, encephalopathy, infection
Cardiopulmonary disease (pneumonia, Congestive Heart Failure or COPD), ventilator dependency, or prolonged ICU course
Complex knee or hip replacement (bilateral, obese, elderly, other medical complexities)
Congenital deformity
Hip or femur fracture
Medically complex conditions
Multiple trauma
Myopathy
Neurological disorders – e.g. Multiple Sclerosis, Guillain-Barre Syndrome, Myasthenia Gravis, Parkinsonism, Polyneuropathy, Demyelinating Diseases, and Muscular Dystrophy (new diagnosis, exacerbation or change in function)
Post-operative recovery (e.g. tumor excision, intracranial shunt, intrathecal baclofen pump, laminectomy)
Severe or advanced osteoarthritis
Spinal cord injury - traumatic or nontraumatic
Stroke (Cerebrovascular Accident)
Our Doctors/Medical Providers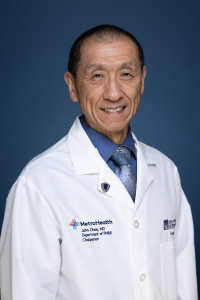 Department Chair of Physical Medicine & Rehabilitation
Physical Medicine and Rehabilitation