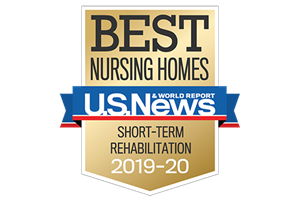 The Prentiss Center has been named to the U.S. News Best Nursing Homes list for 2019-20.
Admissions
Our patients and residents come to us from MetroHealth, other hospitals and health care facilities and throughout Cleveland and Cuyahoga County.
Admissions are accepted 24 hours, 7 days a week.
Payment methods include Medicare, private pay, managed care, insurance and Medicaid. If you're wondering whether your insurance may cover your stay, our admissions office can help you figure it out.
Expert Full-Time Medical Care
The Prentiss Center also offers medical care 24 hours a day. No matter what type of skilled nursing you or your loved one needs, our caring staff is highly trained to care for even the most complex situations.
Long-Term Care
Our long-term nursing care program serves both young adults and elderly people who can no longer live on their own because of illness or disability. Often, they need help with basic daily living tasks, such as bathing, dressing and toileting. They may also need help getting in and out of bed or a chair, or moving from one room to another without falling.
Dementia care is one of our specialties. We have a safe, secure special-care unit. We take a person-centered approach to dementia care that considers a person's lifelong interests and preferences—from their favorite clothes to their favorite foods. Our robust activity programs keep our residents connected and engaged—both at the center and in their religious or other communities.
MetroHealth's Sub-Acute Unit
Some people receive short-term skilled nursing services in a special part of the hospital: our sub-acute nursing unit. The unit provides the highest level of care for a skilled nursing facility in Ohio.
These patients typically have very short-term medical needs for conditions ranging from burns to trauma. Like our patients at the Prentiss Center, they receive care from a highly trained team.
Rehabilitation Services
Our highly qualified physical, occupational and speech and recreational therapists are licensed, registered and/or certified. They have a high degree of expertise in their specialty areas.
For instance, physical therapy might strengthen your lower body. Occupational therapy might help you relearn everyday tasks—from dressing to eating. A speech therapist might help with swallowing.
Respite Care Service
Our respite care service offers caregivers in the community a short, much-needed break. Many caregivers take the time off to relax, travel or do other things they enjoy or that need to get done.
During that time, your loved one will be well cared for in our comfortable center. Some insurance policies may help pay for this service. We can help you understand your options.
Services Offered
Wound care for bed sores
Long-term antibiotic therapy for our patients with severe infections
Respiratory care for those with breathing problems
Hospice care, through our collaboration with community organizations
Medical geriatric services seven days a week
Total parenteral nutrition
Tube feeding
A Homelike Environment
Each of our spacious rooms has a flat-screen TV, telephone and other comforts. We offer many daily social and recreational activities. Some mornings, you might catch us by the fireplace enjoying the news, coffee and conversation. After that, many of our patients take part in gentle stretching exercises.
Community outings include fishing trips, shopping, dining out and going to movies. And for a little fun and recreation, we've been known to play our own version of TV's The Price is Right.
Here are just a few of the diverse activities and perks you'll find here:
Arts, music, horticulture and recreational programs
A beauty and barber shop
A scenic courtyard with a fountain for outdoor relaxation
A large multipurpose room for family visiting, holiday get-togethers and entertaining
Patient library
Patient and family support groups
Religious services
Snacks, fresh fruit and sandwiches available 24 hours a day
Pet visitation program
Family members can visit anytime, seven days a week. Family can stay the night with you, if you'd like.