Medical Home For Children in Foster Care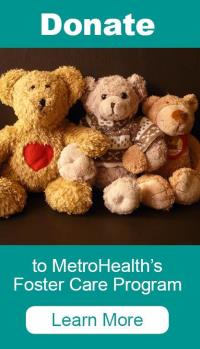 MetroHealth and the Cuyahoga County Division of Children and Family Services (DCFS) are working together to provide a centralized place for children in foster care to receive the routine and special medical attention they need.
The MetroHealth Medical Home for Children in Foster Care program started in November 2013. Since then, the foster care team has worked with thousands of children, providing triage visits and comprehensive follow-up appointments. In 2018, the team provided 2,722 triage visits.
"Our program means children in foster care no longer have to go all over the place or receive fragmented care," says MetroHealth pediatrician Susan Carlin, MD.
When a child is removed from a home, and before being placed in a new home, he or she receives initial health care during a triage visit. In 30 days, the child comes back for a follow-up visit at MetroHealth's main campus or one of its other health centers. Follow-up and ongoing care is scheduled based on a child's age and needs.
Other members of the foster care team include three nurse practitioners; two care coordinators, who follow up with case managers and help foster families keep track of doctor's appointments and referrals; a child psychologist and a social worker. A nurse practitioner is always on call in the event of evening and weekend visits.
The program receives operational funding from DCFS and MetroHealth, but that funding doesn't cover the "extras" – hygiene products and clean clothes, for example – that the staff gives children when they arrive for their first appointment. Nor does it cover items the team collects for goody bags distributed at follow-up appointments.
One of the biggest needs of the MetroHealth Medical Home for Children in Foster Care program is financial support to cover the salaries of two additional care coordinators.
For smaller items such as toiletries, books, stuffed animals and clothes, the staff gets a limited number of in-kind donations. "We're using some of our own funds to purchase items," says nurse practitioner Aliza Bartunek.
It's not uncommon for children in the foster care system to have health issues requiring immediate attention. In addition to asthma, obesity, poor nutrition or dental hygiene, a child might also have mental health and behavioral issues that stem from suddenly being separated from family and placed in one or more unfamiliar environments.
"Just being taken into foster care in and of itself is traumatic," Carlin says.
Since January 2016, the MetroHealth Medical Home for Children in Foster Care program has expanded its services to include a clinic geared toward young adults who are about to age out of the foster care system, or who have recently turned 18. The goal is to get them connected with a physician who has training in treating children and adults, so there is no gap in medical care.
"They are a really high-risk population, at higher risk of unplanned pregnancy, incarceration and homelessness," Bartunek says. "We're providing them with additional services and support."
To support the MetroHealth Medical Home for Children in Foster Care, go to www.metrohealth.org/foundation/ways-to-give