29th Annual Cleveland Review of Rheumatic Diseases
29th Annual Cleveland Review of Rheumatic Diseases
Friday, 18 December 2020 07:00 AM - Tuesday, 05 January 2021 05:00 PM
This comprehensive review is directed to rheumatologists, primary care physicians, rheumatology fellows, nurses and allied health care professionals.
Register for Virtual Conference Today!
Registration and Cancellation
Preregistrations are accepted online until 7 a.m. ET December 16, 2020. In case of cancellation, a partial refund will be made if cancelled by December 4, 2020.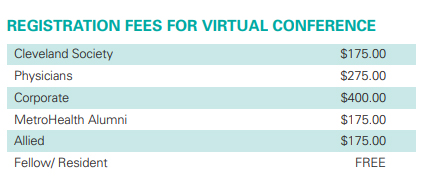 NO REFUNDS WILL BE ISSUED AFTER DECEMBER 11, 2020.