Dawn Arrington, Community Catalyst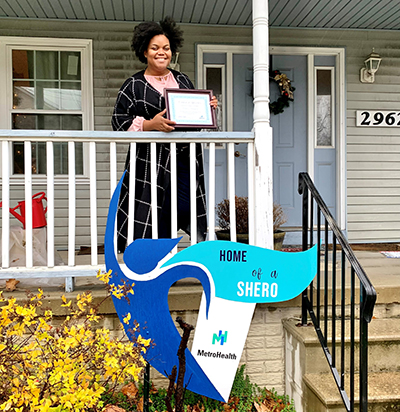 Dawn Arrington is a dedicated volunteer leader, writer and literacy advocate. With several years of experience in community network building, customer service and project development, Dawn sees her life's mission as one of service.
Dawn is the type of person who sees a need in the community and instead of just talking about how someone should fix it, she takes action to create a solution – which is what a 2020 MetroHealth Shero does.
In 2013, Dawn noticed hers was the only house in her Buckeye neighborhood decorated for Halloween and ready to hand out candy. She suspected this meant parents didn't feel it was safe enough for children to trick or treat in their neighborhood and were taking them to the suburbs. Knowing how trick or treating can be great for community building, Dawn co-created a "trunk or treat" event that attracted more than 200 participants. This year, Dawn secured personal hygiene and household care items in addition to candy for the hundreds of families who participated.
Dawn is passionate about the written word and has been involved with several projects including self-publishing a romance novel and returning to school to earn her second master's degree, in English and Creative Writing.
In 2018, after witnessing the effects of adult illiteracy firsthand, Dawn created Comics at the Corner. This innovative program helps improve the literacy skills of residents in the Buckeye- Shaker, Woodland Hills, and Mt. Pleasant neighborhoods using comic books with African-American main characters.
Dawn volunteers as a Board Member of Literary Cleveland, the Cleveland Leadership Center, and is the Board President of Larchmere PorchFest. Her professional life mirrors her values. She is the Cleveland Action Strategist for ioby (In Our Backyards), where she teaches Clevelanders how they can create successful crowdfunding campaigns to make neighborhoods greener, safer, more livable, and full of opportunity for all residents.