MetroHealthy Wellness Initiative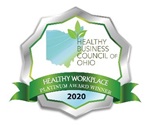 The MetroHealth System is committed to promoting a healthier community, including the well-being of our employees. We believe that it's important to care for ourselves so that we may care best for others. That's why we're proud to offer MetroHealthy, our nationally recognized and award-winning system-wide wellness initiative.
MetroHealthy provides programs, resources and information designed to empower employees to make healthier choices. Through the MetroHealthy Initiative, our goal is to inspire employees to be role models who commit to healthy living for themselves, our patients and the community. Employees who complete the MetroHealthy Rewards Program are eligible to receive a medical plan premium reduction and other incentives throughout the year.
The following are just a few wellness options available to our employees and their families:
Fitness center at MetroHealth Medical Center
Virtual fitness classes like yoga and bootcamp
Employee Assistance Program
Weight management programs
Stress management programs
Wellness Champion network
Special events and health talks
Clearly labeled healthy menu options in dining locations
If you already work for The MetroHealth System or you're thinking about joining our team, we invite you to learn more about our commitment to employee wellness. Contact the MetroHealthy Initiative team at 216-957-2020.

©Copyright 2023 The MetroHealth System | 2500 MetroHealth Drive | Cleveland, OH 44109 | 216-778-7800 | All Rights Reserved.
There is no rating available for this provider for one of two reasons: he or she does not see patients, or has not received the minimum number of patient survey responses.