Akram Boutros Biography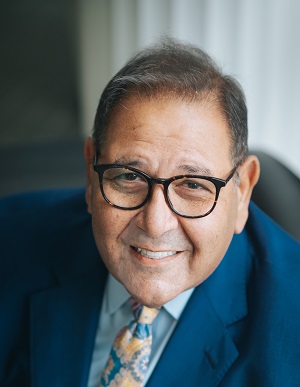 In 2021, Akram Boutros, MD, announced he would step down on December 31, 2022, after nearly 10 years as the President and CEO of The MetroHealth System, saying the time was right to turn over leadership to an executive who can continue MetroHealth's successful record of leading the way in health care.
He will hand that new leader a public health system vastly improved from the one he has overseen since 2013.
From the moment he arrived in Cleveland, Dr. Boutros' visionary thinking has inspired MetroHealth to elevate medical care by providing and integrating social services to build equity, promote justice and improve the health of people and the communities where they live.
With the 2019 creation of the Institute for H.O.P.E.™ (Health, Opportunity, Partnership and Empowerment), MetroHealth is connecting patients and neighbors to fresh food, stable housing, education, career training and other services that keep them healthy.
Dr. Boutros paired that work with a $1 billion reimagination of the system's main campus on West 25th Street. The new MetroHealth Glick Center, which opens in October 2022 and will be the first hospital in a park in the country, has sparked the rebirth of the surrounding neighborhood while preserving its Hispanic culture.
Just as important has been Dr. Boutros' focus on inclusion, diversity and equity. In 2021, 44% of MetroHealth's new hires were racially or ethnically diverse.
Under his leadership, MetroHealth has grown to more than 20 community health centers, four hospitals, five MetroExpressCare locations and 10 pharmacies. Those are in addition to MetroHealth's main-campus medical center, which is home to the area's most experienced Level I Adult Trauma Center, Ohio's only Ebola Treatment Center and the only adult and pediatric trauma and burn center in the state.
During his tenure MetroHealth's annual revenue grew from $785 million to more than $1.5 billion. MetroHealth now treats more than 300,000 patients at more than 1.5 million visits a year. Since 2013, the health system has created more than 1,800 new jobs, sent doctors into more than a dozen local schools and received the largest donation in its history – $42 million from JoAnn and Bob Glick.
In 2021, MetroHealth returned $239 million to Cuyahoga County in free care and community benefit programs.
Dr. Boutros' collaborative spirit has led to dozens of partnerships, including working with the Cleveland public schools to open what is believed to be the only high school inside a hospital. Its first class of seniors graduated in June 2019. Every senior – that year and the following three – has been accepted into college or other post-secondary school.
An internist with a 30-year record of successful hospital leadership at academic medical centers, community hospitals and specialty hospitals, Dr. Boutros cultivates personal relationships throughout the health system and the community along with an atmosphere of personal excellence for everyone he works with.
He is a graduate of St. John's University, SUNY Downstate Medical Center and Harvard Business School's Advanced Management Program. He received an honorary Doctor of Medicine degree from Northeast Ohio Medical University and an honorary Doctor of Humane Letters from Baldwin Wallace University.
He serves on numerous nonprofit boards and is the recipient of dozens of awards, including the 2019 Humanitarian Award from The Diversity Center of Northeast Ohio.
His community service includes serving on the boards of:
American Hospital Association Regional Policy Board
American Hospital Association Strategic Leadership Group for Urban Hospital Sustainability
Cleveland Leadership Center
Greater Cleveland Partnership
The MetroHealth Foundation
Select Assurance Captive
Vizient
He also serves as:
Chairman and President of CCH Development Corp.
Chairman of Lobesity LLC
Chairman of Lumina Imaging
CEO of The MetroHealth Foundation
Chairman, President and CEO of Select Assurance Captive
Some of his recent awards include being named:
Recipient of the 2022 Maurice Saltzman Award presented by the Mt. Sinai Health Foundation
One of America's 50 Most Influential Clinical Executives for 2021 by Modern Healthcare
The 2021 Albert B. and Audrey G. Ratner Community Leader by Global Cleveland
Recipient of the 2019 Humanitarian Award from The Diversity Center of Northeast Ohio
Recipient of the 2018 George V. Voinovich Municipal Service Award from The Cuyahoga County Mayors & City Managers Association
Recipient of the 2018 Richard H. Adler Community Leadership Award from the American Jewish Committee Cleveland
Recipient of the Stokes Community Leadership Award
A Nonprofit Hospital and Health System CEO to Know
One of Northeast Ohio's Power 150 by Crain's Cleveland Business
To Inside Business Magazine's Power 100 list