Akram Boutros, MD, FACHE
President and Chief Executive Officer of The MetroHealth System
"We cannot lift some members of the community and ignore others. We cannot leave behind our brothers and sisters, our mothers and fathers, our neighbors and friends. We cannot - ever - slip from the path of faith and hope and love toward our fellow man."
Dr. Boutros Named to Most Influential Clinical Executives' List by Modern Healthcare
MetroHealth President and CEO Akram Boutros, MD, FACHE, has been named one of America's 50 Most Influential Clinical Executives by Modern Healthcare.
Read More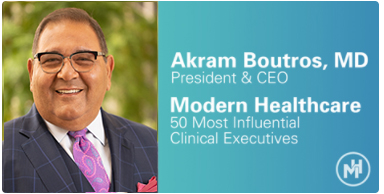 About Dr. Boutros
In his eight years as the President and CEO of MetroHealth, the public health system in Cleveland, Akram Boutros, MD, FACHE, has galvanized political leaders, entrepreneurs and the community around an inspiring and comprehensive model of health care that goes beyond traditional medicine to include distributing healthy food and providing educational opportunities, job training, legal services and more throughout the community it serves.
He speaks publicly about his passions:
Health care as a social justice issue
Investing in institutions that matter
The importance of public hospitals and the role they play in economic development, housing, education, violence, poverty and other social determinants of health
Advocating for the care of everyone, especially the underserved
Love as Leadership
He has spoken throughout the Cleveland area and across the country to graduating medical students, City Club audiences, at NEJM Catalyst and Becker's Hospital Review annual meetings and as the keynote of the Cleveland YWCA's "It's Time to Talk" forum on race.
Follow Us

@Akram_Boutros
To inquire about Dr. Boutros' availability email or call Diane Suchetka:
[email protected]
/ 440-592-1326