Peer Visitor Program
Peer Visitors are trauma survivors; having survived their own personal traumatic experiences and injuries.
The MetroHealth Peer Visitor program offers patients and their loved ones an opportunity to talk with a trained volunteer during their hospital stay.
The Peer Visitor program has been a standard of care at the MetroHealth System since 2013.
In 2019 alone, MetroHealth Peer Visitors donated nearly 600 volunteer hours and completed over 650 visits to patients and their loved ones.
Benefits of Meeting a Peer Visitor Include:
Sharing an experience with someone who can directly relate to what you are going through
Offering hope, wisdom, and perspective
Learning practical tips on moving forward
Receiving encouragement and support
Getting answers to questions from the perspective of someone who has 'been there'
Feeling less anxious, afraid, and alone
Peer Visitors can serve as positive role models for future recovery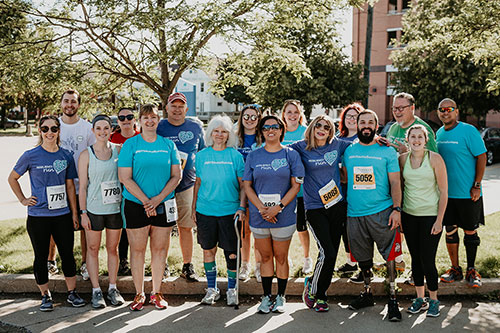 Helping Others Recover
A group of over fifteen survivors volunteer as a Peer Visitors. The experiences and injuries these survivors have overcome vary, but above all, each is dedicated to helping others recover.
Meet our peer visitors