Groundbreaking Ceremony
April 15th will go down in MetroHealth's history as a day of new beginnings for a community that has long been an afterthought in Northeast Ohio. Following years of planning, officials from Cleveland gathered to break ground on our new hospital. New MetroHealth Board of Trustees' president Vanessa Whiting, and former board president Tom McDonald welcomed more than 150 guests who attended the official groundbreaking event Monday afternoon.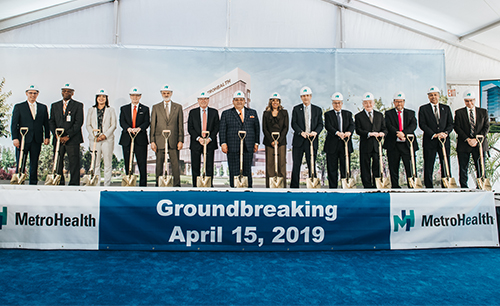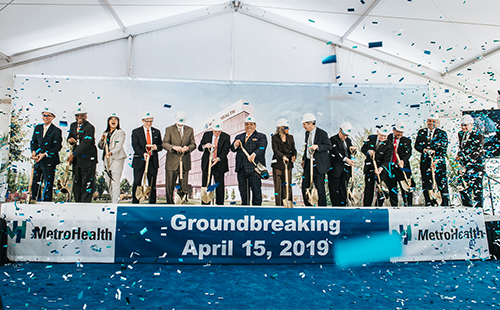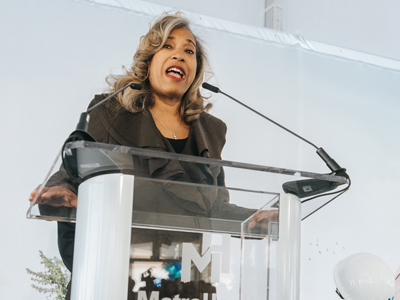 Vanessa Whiting, MH Board President.
"This is a great day for MetroHealth – for our patients, our staff, our neighborhood, our entire community," said Vanessa. "It is a day to celebrate more than the groundbreaking of our new hospital. It is a day to pay tribute to the transformation of the entire MetroHealth System. A health care system that is bringing care to the people, is committed to wellness and that, in its 182 years, has never forgotten its mission of caring for everyone."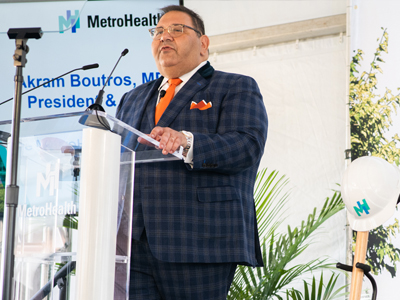 Akram Boutros, MD, President and CEO, welcomed guests to the standing room only tent that was erected directly across from the construction site.
"Today – with great joy and sense of triumph – we break ground on that new Cleveland landmark. A landmark that represents more than the future of hospital design," said Dr. Boutros. "It represents the future of health care – the all-encompassing care that – doesn't only treat disease – it prevents it.
This new hospital celebrates our community, lifts our neighborhood, honors our neighbors. And it will welcome all who seek care with compassion."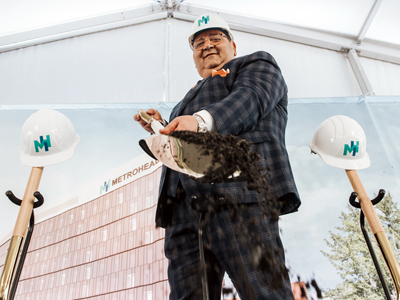 Dr. Boutros breaks ground for new hospital.
Senator Sherrod Brown, Senator Rob Portman (by video), Cleveland Mayor Frank Jackson and Armond Budish, Cuyahoga County Executive were among the special guests.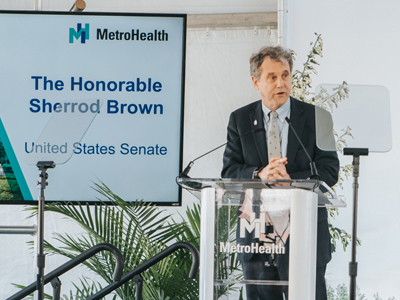 "Its commitment to community, the fact that MetroHealth served as a pioneer in this state in terms of Medicaid expansion and working with the governor during the Affordable Care Act. When you think about what it has done in terms of the fight against lead contamination, what it's done for fair housing, what it's done for home visitation projects. I particularly appreciate Metro leading the way in honoring the dignity of work by raising its wages to $15 an hour for its employees … and treating everyone who walks through these doors with dignity," said Senator Brown.
Senator Rob Portman taped a video message for the event.
"I'm with you in spirit," said Senator Portman, MetroHealth continues to be a really valuable health care provider in Northeast Ohio. You're all working diligently to better serve the health and wellness of the community, and this new hospital – along with the efforts to transform Metro's main campus – will serve as a key anchor to revitalize the West 25th Street area." Senator Portman also referenced MetroHealth's outstanding work with opioid crisis. "I remember being impressed with MetroHealth's comprehensive approach to this crisis and I'm impressed to this day with the results. MetroHealth is doing great work for the community."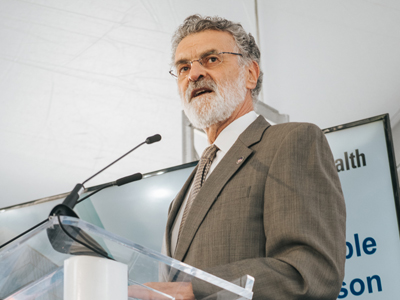 Cleveland Mayor Frank Jackson
"I want to congratulate Dr. Boutros, the MetroHealth board, and all of the MetroHealth employees," said Mayor Jackson. "This investment will allow MetroHealth to continue in its mission to provide high quality health care for everybody. It will make it more effective and efficient in doing that. It also will allow for economic growth and community development … in the entire city of Cleveland."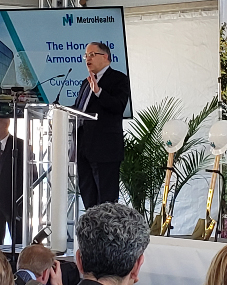 Cuyahoga County Executive Armond Budish.
Cuyahoga County Executive Armond Budish said, "I want to start by thanking Dr. Boutros for his dogged persistence in making this happen. He was set on making this happen and he did. This is quite an accomplishment. MetroHealth is an invaluable partner to the county. For years, I've had the pleasure of working with and getting to know the doctors, nurses and staff at MetroHealth; they are so passionate and committed to patient care. The only problem has been that the physical facility is older and past its time. This renewal has become so important for the future of this fine institution."