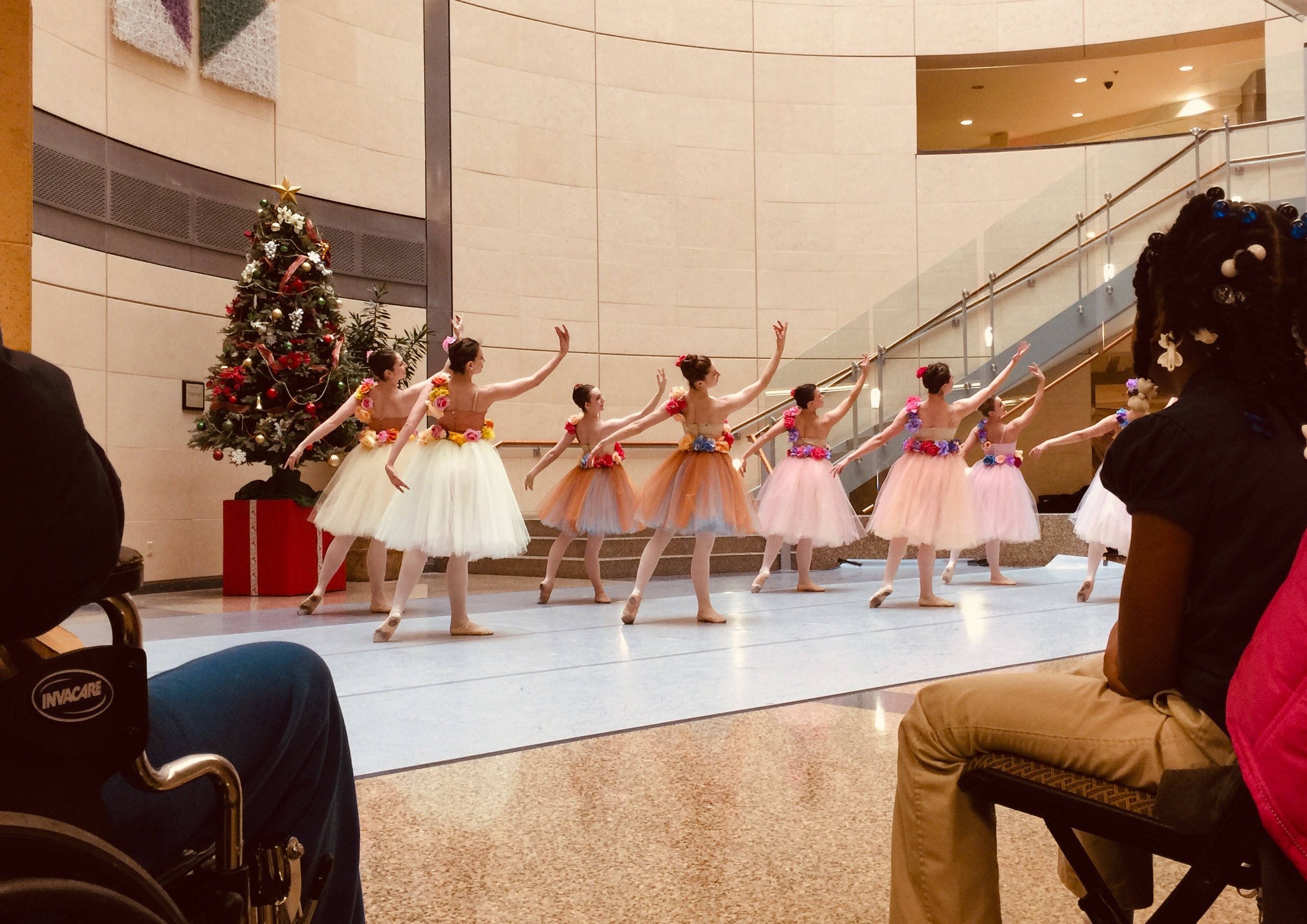 The Sugar Plum Fairy Does Come to MetroHealth
The MetroHealth System is about a lot more than check-ups and flu shots. The Arts in Medicine program is one example of the way we inspire joy and wonder in our patients – and our employees – to help reduce stress and keep them happy and healthy.
We sat down with director Linda Jackson to learn more about how the program she developed nearly four years ago brings art, music, theater and dance to MetroHealth.
So the Sugar Plum Fairy is coming to MetroHealth? Tell us more. The Cleveland Ballet brings the beauty of the holidays to our Main Campus every year by performing excerpts from "The Nutcracker" in the rotunda just outside the Emergency Department. It's free and open to the community, and students from some nearby schools attend. This year's performance will be on November 28. We'll announce the time soon.
Ballet at the hospital? How is that beneficial? There are proven positive effects of incorporating art of all kinds into the healing process. Every performance, presentation and opportunity to participate, listen to or view art helps enrich the lives of patients, staff, and the family and friends who come here to support them. It's part of our way of supporting MetroHealth's mission of creating healthier communities.
What else do you provide? We partner with artists and local organizations to provide live performances and interactive events and workshops. Two years ago, the Ringling Bros. and Barnum & Bailey Circus performed for us. On top of that, exhibits in our art gallery inspire a sense of hope, healing and community while representing MetroHealth's global diversity and local focus. And our art and music therapy program, which sends therapists into hospital rooms, benefits thousands of patients each year.
What's the newest aspect of the program? We've been finding ways to use arts to tackle serious problems, including the opioid epidemic and community trauma. Expressing ourselves is incredibly important when it comes to healing and to preventing us from getting sick in the first place. Our job is to help make that happen.
How can I find out what's next and where? Is there a schedule? There rel="noopener noreferrer" is a calendar on our website with a monthly list of live music and public performances. In October, we had musicians playing jazz guitar, flute, clarinet, cello, violin and harp, and Inlet Dance Theatre performed at our Main Campus. And don't forget, our art gallery at Main Campus is open year-round. It's in the hallway right around the corner from the coffee shop and gift shop. We hope to see you there. And hope you'll check back to see what's coming next.
(Photo caption: Every holiday season, MetroHealth's Arts in Medicine program welcomes the Cleveland Ballet to perform excerpts from "The Nutcracker" at our Main Campus. This year's performance is November 28. The community is welcome to attend.)