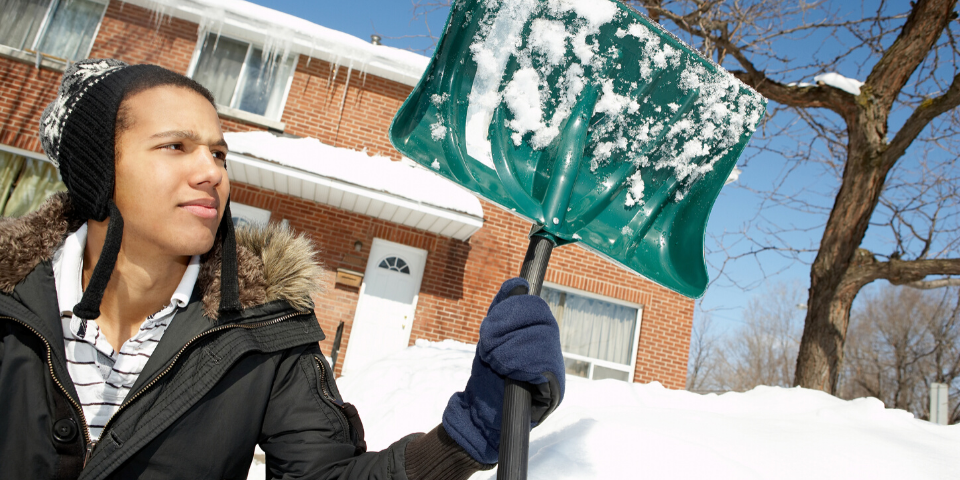 Staying Safe While Shoveling
Cleveland winters can really be a pain.
Improper shoveling technique is a leading cause of back pain over the winter months, said Dr. Travis L. Cleland, associate director of musculoskeletal medicine at MetroHealth. And while we can't prevent snowfall – this is Cleveland, after all – there are steps you can take to stay safe.
"Shoveling is a demanding physical activity that engages all of your major muscles," Dr. Cleland said. "By stretching beforehand and using the proper motions, you can help prevent aches and pains from becoming part of your winter routine."
Here are some tips from Dr. Cleland:
Stretch your muscles. Be sure to have the appropriate warm-up and stretching routine. Stretching should focus on the neck, shoulders, back and hips. Warm muscles stretch more easily, reducing the likelihood of injuries.
Lift with the legs – not your back – with little to no rotation of the torso. Also, don't throw snow over your shoulder. Instead, toss that fresh powder out in front of you. Use caution with heavy wet snow and do not overload the shovel.
Don't be afraid of an ergonomic shovel. For a few bucks more, an ergonomic shovel can make shoveling a whole lot easier. Typically, the handles are slightly curved and help reduce strain on the lower back, especially for pushing snow.
Ask for help. Shoveling can be a strenuous activity, so if possible, ask for help. If not, tackle the job over several hours instead of one marathon shoveling session.
Use caution with ice and black ice. Throwing down some salt or another deicing substance – before and after shoveling – can help.
Oh, and about that snowblower. Snowblowers – while expensive – can make snow removal a breeze. That said, be aware of the end point of a pull start. Sudden movements like these can tear or weaken groups of muscles and tendons, including the rotator cuff.
Contact MetroHealth's Spine Center with any new musculoskeletal ailments that may occur when shoveling. Injuries treated by the Spine Center can occur at any of these targets: neck, shoulder, elbow, wrist, back, hip, knee and ankle. To make an appointment, call 216-778-3700.