Reducing Opioid Prescriptions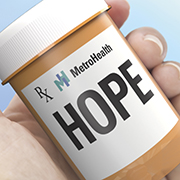 Helping Doctors Prescribe Fewer Opioids
How do you prepare a doctor for an angry patient demanding Percocet?
How do you train providers to write fewer opioid prescriptions?
And how do you help doctors still treat their patients' pain?
The latest episode of our "Prescription for Hope" podcast takes listeners inside our efforts to slow the flow of prescription painkillers.
Find it wherever you get your podcasts or listen right now here.