An Amazing – and Busy – 2019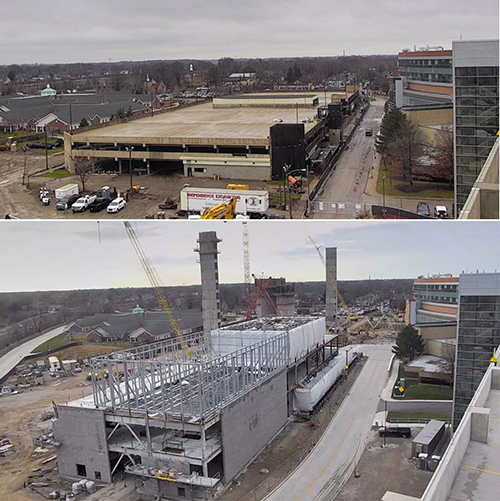 An Amazing – and Busy – 2019
If a picture is worth a thousand words, this is worth two grand.
On top is a photo of the site of our new hospital, taken one year ago, on Dec. 21, 2018. On the bottom is a photo of the same view, taken last week.
Compare the two, and I think you'll agree that it's been a very busy 2019. (Watch a time-lapse of the progress here.)
Here's a partial list of what's been accomplished by the Transformation team in the time between these two photos. We:
Demolished the old Southpoint parking garage (in the center of the top photo).
Opened our new parking garage, which sits a few hundred yards to the northeast of the old one.
Removed, cleared and recycled debris from the old garage.
Completed the design of the new hospital.
Prepared and excavated the site for construction.
Broke ground on our new hospital.
Poured more than 25,000 tons of concrete into more than 300 caissons (underground columns) that were bored into the bedrock up to 200 feet underground. These caissons will support the new hospital.
Built a storm water retention system for the new hospital.
Constructed stairwells and elevator shafts for the new hospital.
Erected steel and completely framed in our new central utility plant.
Rebuilt View Road, the service road behind our campus, and streamlined ambulance traffic to our Emergency Department.
Finalized bids on the entire project, giving us a good idea of the final timing and costs. (I'm a bit superstitious, but things look good.)
We did all of this with minimal impact to our campus operations and with no impact to the care of our patients. That's a credit to the members of the Transformation team, Metrohealth's leadership and board, and all the investors/stakeholders in this important project. We are grateful for their trust and guidance.
The holidays give us an opportunity to reflect on our gratitude and on the great start of this project.
They're also a good time to rest up, because 2020 is going to be just as fun.
- Walter Jones, Senior Vice President, Campus Transformation