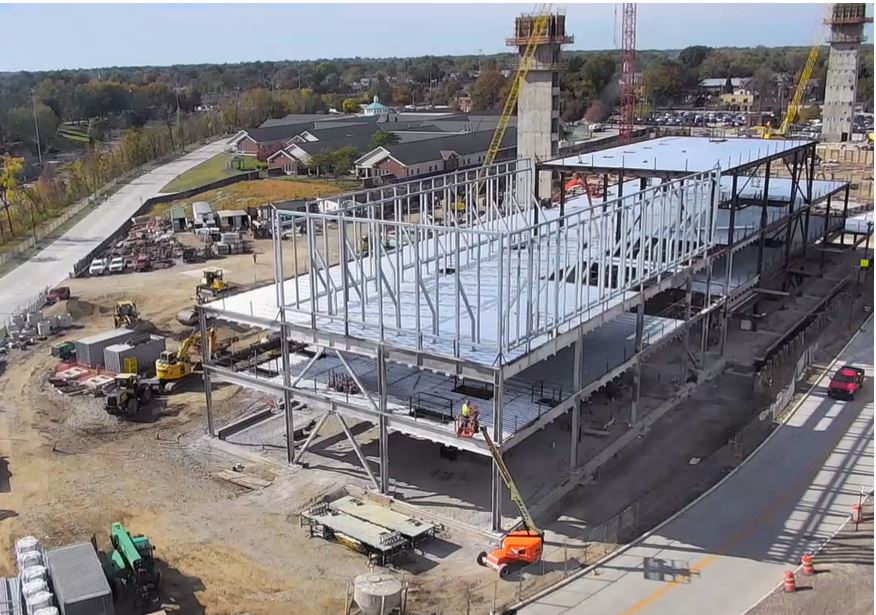 If you drive past our main campus right now, you'll see, on the eastern edge of our construction site, a new building, three-plus stories high and about 75 yards long, that already has all its structural steel in place.
That is not our new hospital. This is going to be our central utility plant, which the construction team simply calls it "the CUP." It's an essential part of the Campus Transformation.
Many campuses our size, whether they're hospitals, colleges or business headquarters, have a central location that houses core infrastructure like boilers, cooling towers, chillers, emergency generators, electrical switches and more. Right now, we don't have a central plant like that. That's because our campus has grown organically, with buildings being added and removed since City Hospital first arrived on Scranton Avenue in 1855.
As a result, we have major equipment scattered all over campus. By constructing a central utility plant, we'll be able to place all that core infrastructure in one place, under one roof. The benefits are significant:
It's easier and cheaper to maintain equipment when it's all in one location.
It's more efficient. For example, instead of separate chillers cooling the air for separate buildings, all the chillers for the new hospital will be in the CUP and will be able to do the work using less energy.
It's more reliable. Right now, we have emergency generators scattered around campus. If an outage happens and one of the generators fails, a building might lose power. In the CUP, we will have multiple generators providing redundancy and maintaining campus resiliency through emergencies.
It's flexible. The CUP is being constructed with the future in mind. As technology evolves, we will be able to replace outdated equipment without too much of a problem. And if we add more buildings and need more capacity, there will be room in the CUP to add more equipment.
When all the construction is finished, our central utility plant is going to sit in the shadows of the new 11-floor hospital, both figuratively and literally. And when the CUP does its job, we won't even notice it.
But that doesn't mean we can't take a moment right now and raise a gla-- … raise a cup to our central utility plant.
(Click here to see a live camera feed of construction on the CUP.)