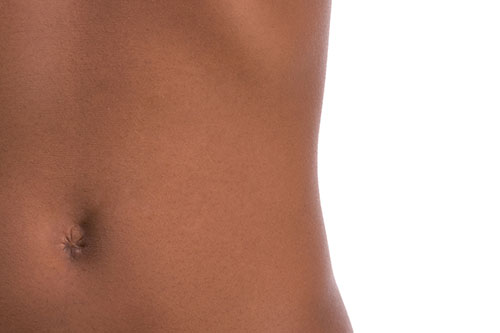 If you have raised scarring that doesn't subside in three to six months after an injury or surgery, or you have symptoms related to your scar, such as pain and itching, please call 216-778-4979 for an evaluation.
---
Sick of scars? Whether from an injury or surgical procedure, a scar can leave you feeling self-conscious about your appearance. But there's good news: A minimally invasive laser treatment is available to help smooth and remove scar tissue, improving how the skin looks. It can also offer relief from physical symptoms associated with scars, like pain, tightness and itching.
"For people with large, thick scars that might be itchy or sore, we have a noninvasive laser treatment that makes you look and feel better," says Anjay Kumar Khandelwal, MD, a general surgeon, burn reconstruction specialist and director of the Burn Care Center at MetroHealth.
About 10 years ago, reconstructive surgery that required the patient to undergo skin grafting or the removal of flap tissue consisting of skin, muscles and fat, was common for managing scars. "Now, surgery does not have to be the first option," he says.
Offering the most precise treatments, MetroHealth is one of the few facilities in the area to offer high-tech laser treatment with the latest devices. Originally designed for cosmetic procedures such as skin resurfacing and facial rejuvenation, the laser delivers a controlled, high pulse of energy to remove scar tissue. MetroHealth also offers unapparelled experience for treating burn scars with this laser.
Who Is a Candidate?
Laser treatment can benefit patients with scar tissue from burns or from surgery. Dr. Khandelwal commonly sees people who have surgical scars on their neck, chest, arms, legs or abdomen, including women who have undergone a C section. He can even treat stretch marks with the laser.
Many laser treatments offered by Dr. Khandelwal at MetroHealth are covered by insurance because they are considered reconstructive rather than cosmetic procedures. For an evaluation, patients can be referred to him by another provider, such as a surgeon or a primary care doctor.
What Are the Benefits?
Laser treatments can result in scars becoming:
Thinner
Less painful and itchy, especially in burn victims
More elastic, resulting in increased range of motion and flexibly
Softer and smoother in texture
A color that better matches surrounding skin
How Many Treatments Are Needed?
"Depending on the size of the scar, the treatment time will vary," Dr. Khandelwal says.
Patients with severe burn scars may need between four and eight laser treatments, he says. Surgical scars may need as little as one to three treatments. For incision scars, treatment time is about 5 minutes, while larger burn scars may take 30 to 40 minutes per session.
Dr. Khandelwal sometimes combines the laser treatment with Z-plasty — a plastic surgery technique that involves making a couple of incisions in the skin and stitching it back in different directions across a scar to minimize its appearance and relieve skin tightness. This combined approach is still much less invasive than reconstructive surgery, he says.
Contributor
Anjay Khandelwal, MD