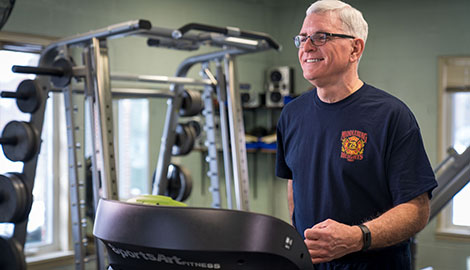 Caring for Your Heart Through COVID-19: Don't Delay Vital Care for a Vital Organ
Paramedic Has Close Call with the 'Widowmaker'
John Desmarteau, Assistant Fire Chief in Middleburg Heights and paramedic of 35 years, was cutting his lawn one morning when he started to feel a dull ache in his chest. The discomfort subsided after he rested, only to return and intensify when he tried to continue his yardwork.
He spent the day doing chores, but each time he exerted himself, the same body ache would return. He began having other symptoms too, such as nausea, diarrhea and chills. "I didn't have that 'wow' factor that you hear about with a heart attack — I didn't have numbness in my left arm or feel like there was an elephant on my chest," John said. Instead, he thought he might be coming down with COVID.
When John's son returned home from work that evening, he could immediately tell that his dad wasn't feeling well. The two men decided John should go to the hospital. Thinking they had time, John's son decided to take a quick shower before they left — and that's when John became nauseous and threw up. "I began to realize what a ticking timebomb I had inside of me," he said.
Now with a greater sense of urgency, John had his son drive him to MetroHealth's Emergency Department. As soon as he walked through the doors, he felt a sense of relief. Every staff member who rushed to his aid was wearing a mask and other protective gear to prevent COVID-19.
"Here I was, this aging guy with gray hair coming off the streets. They had no idea who I was." The veteran paramedic said he didn't get special treatment — rather, he knew that they treated every patient with the same excellent level of care.
A nurse quickly escorted John to a treatment room, where the medical team performed an EKG and diagnosed him with two blockages in his left anterior descending artery. "They never said it was the 'widowmaker,' but I knew it was really serious," John said. Without medical intervention, the 'widowmaker' — the informal name of a heart attack that results in 100 percent blockage — has a survival rate of about 12 percent.
The medical team wasted no time, rushing John to the catheterization lab, where physicians inserted two stents to open his blocked artery. After the procedure, he was admitted to the hospital for recovery. The catheterization team made sure that John's concerned family was given regular updates on his progress, for which he is forever grateful.
John said that going from a paramedic to a patient was eye-opening. "I feel like I have a better understanding of how symptoms of a serious cardiac event can sometimes get overlooked." He stressed the importance of listening to your own body and taking subtle warning signs seriously.
When he reflects on his care at MetroHealth, John is still in awe of the life-saving, compassionate care he and his family received. "You see professional athletes opting out of work because of COVID; none of these people opted out," he said.
MetroHealth is dedicated to keeping you healthy and safe. If you're having a medical emergency, don't wait. Visit one of our four Emergency Department locations — Main Campus, Brecksville, Cleveland Heights and Parma. To learn more, visit our Emergency Department page.
It isn't surprising news that heart health is essential to your overall well-being. However, in light of the COVID-19 pandemic, many people have been putting off seeing their doctors when they experience serious warning signs of heart disease such as chest pain, breathlessness and fatigue.
But seeking care as soon as possible for heart disease saves lives, according to William Lewis, MD, Heart and Vascular Center Director at MetroHealth. "People aren't taking care of their medical conditions and aren't communicating well enough with their physicians," he said.
The good news is that telehealth phone and video appointments make it easier for patients who have an established treatment plan with their cardiologist or who want to talk to a doctor about their overall heart health. Our physicians are here to help you prevent heart disease by managing risk factors such as high blood pressure, being overweight or obese, high LDL (bad) cholesterol levels, drinking too much alcohol and smoking.
MetroHealth offers outstanding COVID-19 safety protocols throughout our facilities, so all patients can feel comfortable visiting. Our cardiologists diagnose and treat congenital heart disease, heart failure and more. Referrals from your doctor enable us to match you with the right specialist. To schedule an appointment, call 216-778-2328 (BEAT). Learn more about our services at the Heart and Vascular Center.
Catheterization Lab at MetroHealth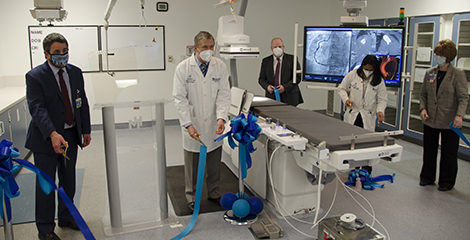 MetroHealth's new catheterization lab is now open and ready to help more patients like John. Cath labs use X-ray guided catheters to open blockages in coronary arteries or to repair the heart. The minimally invasive procedures are less traumatic to the body, allowing faster recovery for patients.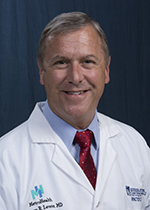 William Lewis, MD