Robert F. Hoey, PhD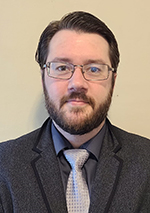 TITLE
Researcher, Department of Physical Medicine and Rehabilitation, MetroHealth System
BROAD RESEARCH PROGRAMS
Paralysis after Spinal Cord Injury
Autonomic Dysfunction after Spinal Cord Injury
Bladder and Bowel Dysfunction after Spinal Cord Injury
SUMMARY
Dr. Hoey is a researcher in the Department of Physical Medicine and Rehabilitation at the MetroHealth System. His previous research has focused on basic science in animal models that investigated the underlying mechanisms of bladder and bowel dysfunction after spinal cord injury.
Those rodent experiments have also evaluated interventions that may improve function in these areas including: locomotor treadmill training, peripheral stimulation of the dorsal genital nerves, and direct spinal cord stimulation using epidural electrodes.
His expertise in bladder and bowel function is now being applied to investigate interventions in humans that focus on reducing urinary and fecal incontinence to improve the quality of life after injury.
PUBLICATIONS
National Library of Medicine bibliography page
PROFESSIONAL SOCIETY MEMBERSHIPS
Society for Neuroscience
American Association for the Advancement of Science
SPECIFIC RESEARCH TOPICS
Bladder and Bowel Function after SCI
CONTACT INFORMATION
MetroHealth Old Brooklyn Health Center
4229 Pearl Road, SM-066
Cleveland OH, 44109
Email: [email protected]

©Copyright 2023 The MetroHealth System | 2500 MetroHealth Drive | Cleveland, OH 44109 | 216-778-7800 | All Rights Reserved.
There is no rating available for this provider for one of two reasons: he or she does not see patients, or has not received the minimum number of patient survey responses.