Gustaf M. Van Acker III, MD, PhD
Gustaf M. Van Acker III, MD, PhD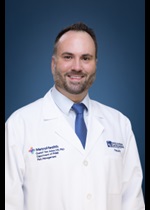 TITLE
Assistant Professor, Department of Physical Medicine, CWRU
BROAD RESEARCH PROGRAMS
Pain reduction
Paralysis after Spinal Cord Injury
SUMMARY
Dr. Van Acker is an Assistant Professor in the Department of Physical Medicine and Rehabilitation at the MetroHealth System and Case Western Reserve University (CWRU) School of Medicine. He is fellowship trained in Pain Management and his research has been focused on various investigations for treatment of chronic pain conditions, particularly using neuromodulation. His work includes using kilohertz frequency alternating current (KHFAC) and direct current (DC) to achieve a reversible block of the conduction of action potentials in nerves. This work has significant potential for use in the treatment of a variety of diseases including muscle spasticity and chronic pain.
PUBLICATIONS
https://scholar.google.com/citations?user=3sthinMAAAAJ&hl=en&authuser=1
PROFESSIONAL SOCIETY MEMBERSHIPS
American Academy of Physiatrists
American Academy of Physical Medicine and Rehabilitation
North American Neuromodulation Society
American Medical Association
SPECIFIC RESEARCH TOPICS
CONTACT INFORMATION
MetroHealth Old Brooklyn Health Center
4229 Pearl Road
Cleveland OH, 44109
Email: [email protected]

©Copyright 2023 The MetroHealth System | 2500 MetroHealth Drive | Cleveland, OH 44109 | 216-778-7800 | All Rights Reserved.
There is no rating available for this provider for one of two reasons: he or she does not see patients, or has not received the minimum number of patient survey responses.