Respiratory and Cough Function after SCI
Investigators
Anthony DiMarco, MD
Krzysztof E. Kowalski, PhD
Robert T. Geertman, MD, PhD
James Wilson, DO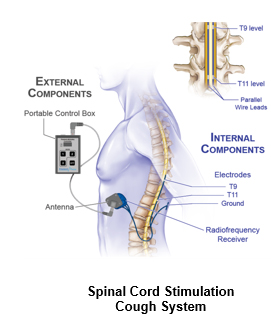 We have demonstrated in animal studies that activation of paralyzed inspiratory muscles can be achieved with upper thoracic high frequency spinal cord stimulation (HF-SCS) with low stimulus amplitudes. This innovative method results in a more physiologic pattern of inspiratory muscle activation than phrenic nerve (i.e., diaphragm) stimulation. However, prior to human studies, important aspects of this method require characterization and analysis. Therefore, our program includes animal studies to bring this promising technology to human application.
Animal Studies: Due to cervical SCI, many patients are dependent upon lifelong mechanical ventilation to breathe. Alternative technologies to assist respiratory function are badly needed.
Human Studies: Respiratory complications still account for most of the morbidity and mortality in traumatic SCI. Lack of an effective cough may result in frequent aspiration of material, which could lead to recurrent respiratory tract infections. Despite intensive respiratory management, SCI patients frequently develop atelectasis, bronchitis and pneumonia. We have developed the Spinal Cord Stimulation (SCS) Cough System which can be implanted using minimally invasive techniques. This technology may restore an effective cough and significantly reduce the difficulty in raising secretions, the need for caregiver support, the incidence of respiratory tract infections, and improves the quality of life for people with SCI.
For more information about research studies involving Respiratory Muscle Function after SCI, please contact:


Krzysztof E. Kowalski, PhD
Phone: 216-778-8239
Email: [email protected]