Community and Vocational Rehabilitation
Each year, specialists at MetroHealth's Benjamin S. Gerson Family Resource Center link more than 160 new patients with disabilities to educational information, support services and community agencies to enhance their quality of life. Examples of patients we serve include those contending with functional limitations from stroke, brain injury, SCI or major trauma.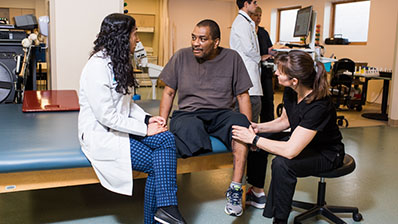 Helping Patients Reach Their Full Potential
Our specialists assist with the transition from rehabilitation to community reintegration for patients with disabilities, enabling them to reach their fullest potential. We are proud to be the region's only CARF-accredited Comprehensive Vocational Evaluation Program.
After our rehabilitation counselors conduct a needs assessment, we connect patients with resources to meet basic needs, such as medical equipment, housing, rent, food, utilities and transportation. We also help them apply for benefits such as Social Security and job and other entitlement benefits.
Vocational Rehabilitation Counselors work collaboratively with the rehabilitation teams and the Gerson Center to make referrals to financial counseling programs and help accessing other services to maximize independence. Additionally, we connect patients to mental health services, substance abuse programs, wellness services, childcare and legal assistance.
---
Agency Collaboration
We collaborate with a number of agencies, including Empowering and Strengthening Ohio's People, which offers housing and financial counseling, and Linking Employment, Abilities and Potential, which helps people with disabilities live independently, participate in the community and find and maintain jobs. We also work closely with Opportunities for Ohioans with Disabilities to assess patients for the proper level of vocational training needed to return them to the workforce.
---
Vocational Rehabilitation
As part of our vocational rehabilitation service, The MetroHealth Rehabilitation Institute offers comprehensive vocational evaluation, career counseling, job seeking skills training, job search assistance, job coaching and Work Matters Program. Housed at our main campus these services assess patients' transferable skills, barriers to work and assist individuals with determining feasible job goals. The Gerson Center also provides a work simulation program that helps patients acquire new skills and adapt to unfamiliar workplace settings.
---
Driving Rehabilitation
Another component of integrating patients back into the community and the workplace is driving rehabilitation. The Gerson Center refers patients to our Driver Rehabilitation Program, where they receive a thorough driving evaluation, training, necessary equipment such as wheel and hand controls and wheelchair adaptations, occupational therapy and physical therapy so they can better navigate operating a vehicle.