Laryngeal Papilloma
What is it?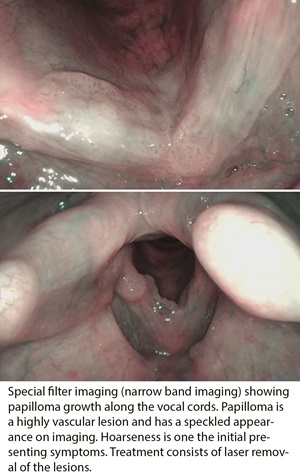 Recurrent Respiratory Papillomatosis (RRP) is a chronic disease caused by the human papilloma virus (HPV). It is characterized by wart-like lesions that commonly grow along vocal cords, interfering with vocal cord vibration and giving patients a hoarse voice. Currently, the infection cannot be eradicated and treatment is limited to simple removal of the lesions. Unfortunately, it is often unpredictable if and when papilloma grows back.
How it is treated?
Surgical removal with preservation of the functional vocal cord tissue is the mainstay treatment. In some cases, medication may be injected intralesional, e.g. Avastin® (bevacizumab), to reduce the risk of recurrence. Since many patients may have to undergo multiple RRP removal procedures throughout their lifetime, they are exposed to the risk of having their vocal cords damaged during each procedure.
At MetroHealth, patients have access to highly specialized vocal cord surgeons who use state-of-the-art KTP laser technology and other therapies to remove RRP in an atraumatic fashion while preserving normal vocal cord tissue. Many patients can be managed long-term in the office setting rather than having to go to the operating room under general anesthesia.
To schedule an appointment, call 216-778-5791.
Our Doctors/Medical Providers